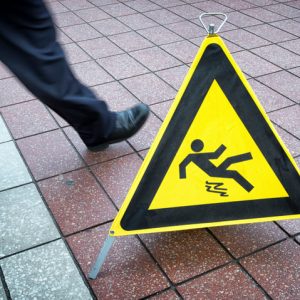 Slip and fall accidents occur when people slip and fall due to the negligent behavior of another. The entity at fault can be a person such as a landlord, a business that has not maintained their store or property adequately, or a government that has not repaired sidewalks. The reason? Landlords, businesses, and other property owners or responsible parties have a duty to keep their surroundings safe and free from dangerous conditions.
To be deemed liable, the responsible party must have known about the conditions and had sufficient time to repair and rectify them. The court must be convinced that the facts show a reasonable person would have thought a situation was potentially harmful and fixed it.
Curious about the top causes of slip and fall accidents in the U.S.? A slip and fall lawyer in Los Angeles outlines the top five.
Floor surfaces that are poorly maintained
The #1 reason people slip and fall are badly maintained floor surfaces. Whether it's loose tiles in a courtyard, broken and uneven concrete sidewalks, or area rugs in a waiting room that aren't anchored sufficiently, floors can be the cause of injuries.
Wet floors
Wet floors can be beautifully maintained in terms of their condition. But if a shopping mall, for instance, doesn't clean floors after people track in water from a rainstorm, or a grocery store doesn't clean up spilled shampoo, people can plummet to the ground. Wet floors should not only be cleaned up, but property owners should put up warning signs while it is being taken care of.
Weather conditions
In southern California, we're fortunate not to have ice and snow. But we can certainly have rainstorms, and sometimes those are even more dangerous because Californians are not always used to navigating in the wet. Slips and falls can happen on walkways, sidewalks and almost everywhere due to weather conditions.
Low or inadequate lighting
Lighting needs to be sufficient so people can see where they are walking. Low or inadequate lighting in stairwells, corridors, and city streets can make people slip and fall if they can't see adequately at all, or can't see obstacles such as potholes and broken sidewalks.
Lack of training
Property owners, landlords, and store managers are responsible for training their staff to clean and maintain the property. That means proactively noticing when conditions are dangerous and taking steps to make them safe again.
Potentially hazardous areas need to be barricaded or roped off, with warnings for pedestrians and users of the area. Equipment needs to be operated so it doesn't become a hazard. Steps to rectify potentially dangerous situations need to be taken quickly before a plaintiff's personal injury lawyer comes knocking.
Speak with a slip and fall lawyer
Slips and falls cause serious harm every year due to the negligence of organizations big and small. Slips and falls can be caused by the actions of landlords, small business owners, or businesses ranging from parks to malls.
If you feel you or a loved one was the victim of a slip and fall due to the negligence of another, please call the Salamati Law Firm today. We are experienced Los Angeles personal injury attorneys. Your case will be reviewed by seasoned professionals and there is no charge to you for an initial consultation.
Additional "causes of slip and fall accidents" resources:
National Institute for Occupational Safety and Health (NIOSH). Workplace Solutions. Preventing Slips, Trips, and Falls in Wholesale and Retail Trade Establishments. https://www.cdc.gov/niosh/docs/2013-100/pdfs/2013-100.pdf
Nova Southeastern University. Slip, Trip, and Fall Prevention Guide. http://www.nova.edu/risk/policies/forms/slips-trips-fall-prevention.pdf