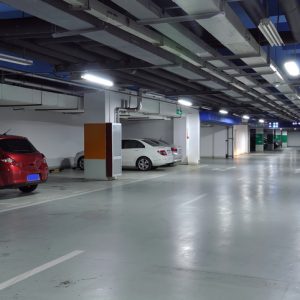 An experienced lawyer understands that a parking lot slip and fall accident can cause debilitating injuries that require months, or even years, of medical treatments and rehabilitation, leaving you with large medical expenses, lost income, and a reduced quality of life.
If you were injured in a parking lot due to someone else's negligence, you may be able to recover damages from the at-fault parties to compensate you for your medical expenses, lost income, and more. A slip and fall attorney from Salamati Law will review all of the facts and circumstances that caused your parking lot slip and fall injury, and will fight to recover the largest damages award available to make you whole again.
Can You Sue If You Fall in a Parking Lot?

Every accident is not a matter of negligence. However, there are many cases where it is possible to sue:
Broken or uneven pavement, pot holes, and cracked sidewalks
Inoperable or inadequate lighting that obscures parking lot tripping hazards
Narrow or poorly-marked pedestrian lanes that force people onto unsafe walkways to avoid cars in the lot
Bad drainage that leaves water puddles, black ice, and slick spots
Trash and other debris that the parking lot's operators fail to clean or remove regularly
Ramps and other elevations that are too steep or uneven
Damaged or poorly maintained stairwells
Inattentive drivers or pedestrians
Vehicle blind spots when backing out of a spot
It is a California property owner's duty to maintain a safe premises, free from hazards. If a risky situation arises, they are expected to take reasonable steps to warn others of the danger and remedy the matter as quickly as possible. Many parking lots are shifting to unmanned operations, yet the lot's owners and operators remain responsible for regular maintenance and safety inspections to verify that their facilities are reasonably safe for the people that use them.
Common Causes of Parking Lot Slip & Falls

Parking lots are a common location for slip, trip, and fall accidents. In many cases, negligence on the part of the property owner may be to blame. Our firm can serve as your legal counsel and pursue compensation on your behalf in any type of parking lot slip and fall accident, including those caused by:
Dim lighting. Many fall accidents in parking lots occur at night. Even when the parking lot is in otherwise fair condition, falls are a common occurrence when a parking lot has inadequate lighting. This can occur when a parking lot does not have lighting at all, or when poor maintenance results in numerous unlit lights.
Standing water. Poor design and maintenance of a parking lot could inhibit the ability of water to drain properly. Standing water is a common fall hazard, especially if algae forms and makes it more slippery.
Uneven pavement. Uneven pavement is another frequent cause of trips and falls in a parking lot. Pavement can be uneven due to poor construction, or it can become hazardous over time as pieces break, crack, or sink into the ground.
Trash or debris. Some of the factors that routinely lead to slip and fall accidents inside buildings can also be present in a parking lot. Accumulated trash or debris is a common fall hazard in any location. These hazards frequently occur near overflowing trash cans.
Steep ramps. A steep ramp or staircase could also result in a dangerous fall accident. These ramps can be difficult to navigate under the best conditions. However, they are especially likely to result in a fall in extreme weather.
The critical factor in each of these cases is that the accident could have been avoided. When a property owner fails to take reasonable steps to make a parking lot safe for pedestrians, they could be liable for damages when a fall injury happens.
Do You Need a Los Angeles Parking Lot Slip and Fall Lawyer?

If you've been seriously hurt with broken bones, head injury, joint issues, spinal cord damage, or another type of lasting injury in a parking lot slip and fall, call a Los Angeles slip and fall lawyer for a free case review to explore your legal options to compensation. If someone else's negligence contributed to your injuries, you may be able to recover damages to compensate you for your medical expenses, lost wages, related out-of-pocket expenses, and mental and emotional suffering.
A Los Angeles parking lot slip and fall attorney at Salamati Law can investigate all the facts and circumstances that caused your accident and let you know if it is within your legal right to pursue a lawsuit.
If you choose to partner with our firm, we can file the lawsuit on your behalf, paying all the upfront expenses of litigation and handling all the details on your behalf, including settlement negotiations with the defendant's insurer. We only get paid after a successful recovery, so you have nothing to lose by contacting us for a free consultation.
Common Parking Lot Accident Injuries

Common parking lot accident injuries that may form the basis of a lawsuit include:
Broken bones
Concussion and head trauma
Dislocated joints
Muscle tears
Neck and back injuries
Lacerations that cause scarring
The liable party could be responsible for your injury's costs today – and also in the future.
Who's to Blame if You Slip and Fall in a Parking Lot?

It's not always easy to discover who might be responsible for the parking lot hazard that caused your injury.
The Parking Lot Owner, Tenant, or Manager – The land on which the parking lot is located may be owned by one party, but leased to another party that owns and manages the parking lot operations.
Third Party Contractor or Maintenance Personnel – That lot owner and manager might contract with one or more third parties for services for the lot's operations.
A Local Municipality – Sometimes you may wind up suing a local municipality that owns a parking lot or causes a situation that leads to your injury. In these cases, you may have as little as six months to begin the formal complaint process.
Parking Lot Engineer, Architect, or Builder – In rare instances, it may be possible to sue a parking ramp engineer, architect, or builder for unsafe design and construction.
Motorists or Pedestrians – You can sue a motorist or another pedestrian who created a hazard that caused you to fall.
Any or all of these parties may be culpable in a personal injury lawsuit. Naming more than one entity in the suit can maximize the compensation you are able to obtain if there are valid legal grounds. Sean Salamati will investigate every party that might have responsibility to determine which of them are liable for damages to compensate you for your personal injury in a parking lot.
From accessing surveillance footage to interviewing witnesses, our team of investigators can look into every aspect of your injury to find evidence that the parking lot owner knew – or should have known – of the hazard that caused your slip and fall accident.
The Elements of a Fall in a Parking Lot Lawsuit
Like other California personal injury cases, proving negligence in a slip and fall lawsuit requires an injured party to show four elements:
The parking lot's owners or operators owed you a duty to provide a reasonably safe parking facility;
Those owners or operators failed to meet that obligation;
That failure was the proximate cause of your injuries; and
You suffered some financial or other loss or harm as a result of that failure.
Beyond these basic elements, an injured party should be aware of other procedural and evidentiary elements that will be critical in a parking lot fall lawsuit in California.
First, California's statute of limitations for slip and fall claims sets a deadline for when you can file a lawsuit. Specifically, you need to start your lawsuit no later than two years after you have suffered an injury in a parking lot fall. In a few rare instances, you may be able to extend this deadline, but your opportunity to recover damages for your injury will be stronger if you start your case sooner rather than later.
Second, you and your personal injury lawyer will need to document all of the evidence of your slip and fall accident, including evidence of the losses and harm you suffered. This includes photographs of any unsafe conditions that caused you to fall (e.g., uneven or cracked pavement, broken lighting, etc.), copies of medical diagnoses and bills for treatment and rehabilitation, and verification of all income that you might have lost due to your inability to work. We can also bring on forensic economists to determine what future expenses might still arise, so you are compensated for years to come.
Third, you and your attorney will also need to establish communications with the attorneys for the negligent parties and their insurance companies. Insurers like to settle slip and fall cases quickly with low settlement offers in exchange for an injured party's agreement not to continue with a lawsuit. Experienced slip and fall attorney Sean Salamati will shield you from this kind of predatory settlement strategy.
What to Do After a Slip, Trip and Fall in a Parking Lot

The immediate aftermath of a parking lot slip, trip, or fall can be confusing. You may not be sure whether you are seriously injured. A bump on the head could be a concussion. A backache could mean a slipped spinal disc. A twisted knee or misaligned hip may require joint replacement surgery down the road.
Here are a few tips to protect your right to sue:
Report the accident – Contact the police to let them know about your accident. Start a paper trail that will substantiate what happened. You don't want to end up in a situation of your word versus theirs, particularly if there were no eyewitnesses or surveillance footage to corroborate you were there at the date and time specified.
Reach out to witnesses – If anyone saw what happened, ask for their name and contact information, just in case you may need their account to substantiate the basic facts included in your statement.
Record what you know – Jot down as much information as you can remember – the date, time, what happened before you fell, how you fell, and what medical symptoms you are experiencing. Details can become hazy over time, so you want to write down precisely how the fall occurred.
Take photographs – Get pictures of the exact spot where you fell, the surrounding area, anything you bumped yourself on, and any conditions that led to the fall. Take images of any cuts or bruises sustained.
Seek immediate medical attention – Contact your physician or emergency room doctor to document your injuries and symptoms. This paper trail is especially important in proving the severity of your injuries. Keep track of the dates for any medical appointments and follow-ups.
Make note of how you're feeling – We encourage you to keep a pain and limitations diary, indicating how you're feeling each day and how the injury is affecting your quality of life. This type of evidence can be very compelling in court.
Call a lawyer right away – There is no need to wait in phoning our law office. All consultations with an experienced personal injury lawyer are provided on a complimentary basis. You are not responsible for the upfront costs of litigation. The sooner we can begin collecting evidence and working on your claim, the better. The state's statute of limitations is one legal technicality that can interfere with your ability to pursue your claim, so you want to take the initiative as soon as possible. If you are too hurt to stop into our office, we can connect by phone or come in to see you.
Los Angeles Parking Lot Slip & Fall Lawyer

Los Angeles injury lawyer Sean Salamati has recovered substantial damages for people who have been hurt in parking lot falls in Los Angeles and elsewhere throughout Southern California. Contact Salamati Law for representation by a skilled lawyer to help you recover the compensation that you are owed.
More information on parking lot dangers:
National Safety Council, Parking Lots are Riskier Than You Think, https://www.nsc.org/road-safety/safety-topics/distracted-driving/parking-lot-safety
Consumer Reports, 3 Parking Lot Dangers to Avoid, https://www.consumerreports.org/cro/news/2015/11/3-dangers-to-avoid-in-packed-parking-lots/index.htm