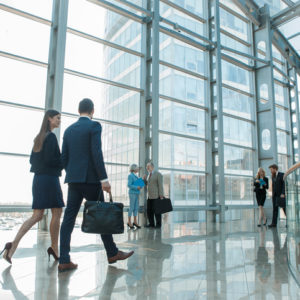 Salamati Law offers effective legal representation to Los Angeles residents who have been injured in a slip and fall accident in office and commercial buildings. Whether your accident resulted from a dimly lit stairwell, debris-cluttered walkways, defective elevator, or a wet floor, these incidents can produce serious and life-altering injuries—sometimes resulting in lasting disability. Sean Salamati brings more than 20 years of experience as a slip and fall lawyer in Los Angeles handling premises liability claims involving both residential and commercial settings and fights tirelessly to ensure business and property owners are held fully accountable for their negligence.
When representing a client who was injured in a slip and fall accident in Los Angeles, Salamati Law collaborates with medical experts, accident reconstruction specialists and investigators who may be called upon to provide testimony that speaks to both liability and the nature of injuries sustained. Maximize the value of your claim and secure the compensation to which you're rightfully entitled by working with an attorney who has years of experience winning cases just like yours.
Slip and Fall Accidents in California Office Buildings

Los Angeles County is home to scores of office complexes, skyscrapers, and large commercial buildings, including the Wilshire Grand Center, the Aon Center, US Bank Tower, and the Ronald Reagan State Building, among others. While most owners, management companies, and landlords of office buildings make reasonable efforts to keep their premises and parking lots safe for employees and invited guests, there are some that breach this important duty of care.
Careless maintenance and gross negligence are huge safety issues given the high traffic rate in commercial and office buildings, where falls are a principal cause of disabling injury.
Common Causes of Falls in Office and Commercial Buildings

Some of the most common culprits for office building falls include:
Parking lot potholes
Wet floors from spills or recent cleaning
Missing handrails
Objects in hallways/walkways
Loose carpeting or tiles
Faulty escalators or elevators
Electrical cords or wires cluttering the floor
Establishing Liability in Office Building Slip and Falls

Occupied by hundreds of workers and the site of heavy pedestrian traffic, large office buildings are the site for many fall-related accidents. The question in these premises liability claims usually boils down to whether the property owner or super was aware of a dangerous condition, failed to conduct routine maintenance inspections and repairs, or failed to block off or give notice about a known hazard.
Unfortunately, the burden of proving negligence in slip and fall injury claims is left to the victim, underscoring the need for a skilled and results-driven personal injury lawyer. The Salamati Law Firm is here for you and your family when you need a tenacious legal advocate to protect your interests and identify the slip and fall hazards in the office that caused your injuries.
Holding Negligent Parties Accountable

Attorney Sean Salamati has extensive experience carrying out effective strategies that produce favorable settlements in employee slip and fall claims and other cases involving office buildings. While physical injuries, medical bills, and lost wages are easy to demonstrate, how do you pinpoint liable parties?
Personal injury claims involving a slip and fall on commercial property and/or in an office building may have a number of potential defendants such as:
Building owners
Building management company
Building security company
Building landlords
Third-party contractors
The Salamati Firm will investigate the circumstances and events that led to your slip and fall injury, obtaining surveillance camera footage, eyewitness testimony, and building maintenance records to establish negligent parties. Our clients come from all over the greater Los Angeles metropolitan area and include employees, customers, and invited clients of office buildings and commercial establishments.
Properties that are open to the public for commercial purposes owe visitors the highest standard of care. When they fail to meet this obligation and injury or death results, victims have a right to seek fair compensation.
What Factors Will Influence a Slip and Fall Settlement?

There are several variables that will affect the value of your office building slip and fall claim. While every case is different, some key factors are:
Type of injury suffered: hard injuries such as concussions, traumatic brain injuries, broken bones and fractures are easily documented and tend to net more money than soft tissue injuries like muscle strains
Medical costs for treatment, including surgeries, doctor visits, ambulatory equipment, and prescription medications
If medical treatment was provided by non-M.D. healthcare providers
Length of the recovery period
Amount of lost income
Reduced capacity to earn
Permanent injury: scars, disfigurement, loss of mobility
Emotional distress
Loss of enjoyment of life
What if the Fall Was Partly My Fault?

You can still seek damages even if you were partly to blame for your injuries. We have successfully negotiated slip and fall insurance settlements where plaintiffs were partially responsible for slip and fall accidents. California is a pure comparative negligence state, so even if you were 99 percent at fault for your accident, you can still recover financial compensation for your injuries. The total amount of damages you incurred will be reduced in proportion to your share of the fault for the accident. For example, if you suffered $2 Million in damages from a slip and fall in the parking lot of an office building and it is determined that you were 90 percent at fault, you would be awarded 10 percent of $2 Million, which is $200,000. In other words, even if you were mostly responsible for your accident, it can still pay to file a claim.
What to Do if You Were Hurt in a Slip and Fall Accident

If you were injured in a fall-related accident in an office building, there are steps you can take to protect your rights.
Report your accident to the building manager or landlord. This establishes documentation of the date, time, location, and nature of the accident.
Seek immediate medical attention. Particularly in the aftermath of a slip and fall accident that may have occurred in front of dozens of people, some victims will be so embarrassed that they shrug off any pain they may be feeling. Others may not feel any pain in the moment due to the adrenaline surge following the accident. And still others may have experienced an injury that may not surface until several days later. No matter how embarrassed you are, and even if you do not feel any pain in the moment, it is still best to see a medical professional immediately. The longer you wait between the accident and your first visit with a medical professional, the harder it will be for your slip and fall accident lawyer to prove that this fall caused your injuries, meaning the value of your case may be affected.
Follow your doctor's instructions. This may seem to be obvious, but many slip and fall accident victims do not do it. Especially in cases where the victim was seriously injured, the defendant may very well hire a private investigator to follow you and observe your every move for a period of time. If you severely injured your leg and your doctor told you to avoid all physical activity for several weeks, yet the defendant presents evidence that you were working out two days later, your credibility – and the value of your claim – could take a serious hit.
Document the accident scene by taking photos or video. As soon as the property owner is notified of your accident, they will have every incentive to act immediately to fix, remove, block off, or warn about the dangerous condition that caused you to fall. While part of their incentive is to ensure that no one else is injured, many property owners do this so quickly in order to create the appearance that there was no reason for you to fall: there was nothing for you to slip on, you entered an area where you were prohibited, or there was a sign clearly advising you of the dangerous condition. By immediately documenting the accident scene with pictures and videos, you protect yourself from this unscrupulous tactic. In fact, one client of ours slipped and fell on a wet floor and suffered a head injury. The defendant claimed that our client suffered no lasting injuries, as the medical bills totaled less than $30,000, and that our client slipped while walking between two yellow caution signs and was therefore responsible for the fall. Thanks to our aggressive discovery and court intervention, we were able to show that the defendant actually fabricated evidence. We then reached a $700,000 settlement on behalf of our client.
Write down all the details leading up to the accident. Your memory is often best in the immediate aftermath of the accident, so the longer you wait to write down these details, the more opportunity you give the defendant to create the perception of doubt or uncertainty surrounding your claim.
Get contact information of eyewitnesses. Keep in mind that people move and/or change phone numbers, so obtaining multiple sources of contact information for each eyewitness is best.
Speak to a premises liability lawyer
Partner with an Experienced LA Slip and Fall Attorney

If you have suffered a slip and fall injury in a commercial building or office complex, you want an attorney who is knowledgeable and adept at negotiating large settlements or going all the way to trial and winning if necessary. Contact a skilled Los Angeles slip and fall lawyer from Salamati Law for a free case review. You will not receive a bill from us unless you win your case.