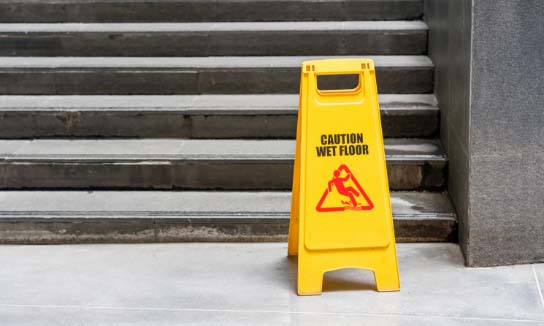 Falls are one of the leading causes of accidental injury, and wet and slippery floors are often a common factor. There are numerous ways a floor or surface can get wet, but it is the responsibility of the property owner or operator to address this hazard, or at least warn visitors of its presence.
If you slipped on a wet floor in a public place or business in California, you may be eligible for legal compensation. Even private homeowners can be held liable for a slip and fall accident. Not sure if you have a case? A slip and fall attorney from Salamati Law has ample experience litigating premises liability claims and can help you determine whether you are entitled to monetary damages.
Salamati Law Can Help You

Serious injury claims require legal advocacy of the highest caliber, and attorney Sean Salamati has been helping clients throughout Southern California for over a decade. A proven attorney, he can maximize your compensation and pursue justice on your behalf.
Wet floor slip and fall accidents can happen just about anywhere: supermarkets, restaurants, shopping malls, stores, movie theaters, and office buildings, to name a few places. A sudden fall on a hard surface can result in debilitating injuries that are not only painful but costly to treat. You shouldn't have to pay for the negligence of another. A successful personal injury claim can recoup compensation for hospital and medical bills, lost income and future wage losses, and your pain and suffering.
What Causes Wet Floor Slip and Fall Accidents?

Floors and other walking surfaces can become wet and slippery from spills, detergents and polishes, or water that is inadvertently tracked in. Property owners and managers are expected to place anti-skid rugs and extra absorbent mats near the entryway where wet or slippery surfaces pose dangers.
Other factors that increase slip hazards:
Spilled oil, grease or cleaning products
Leaking roofs
Melted snow or ice
Burst pipes
Leaking containers
Condensation from an air conditioner
Spilled food or beverages
Recent mopping, waxing or polishing
Injuries from Falling on a Slippery Floor
Falls on wet floors often can result in traumatic injuries, such as:
Facial fractures
Broken ribs
Neck and back injuries
Torn ligaments in the knee and ankle
Contusions, pulled muscles
Given the often dire consequences of a wet floor slip and fall accident, it's important to work with a qualified and results-focused attorney who can build a solid case and improve your chances of getting a favorable insurance settlement.
Does a Wet Floor Sign Protect Owners from Liability?

If the property owner places a wet floor sign in the area where you slipped and fell, can you still sue for damages? That depends on the circumstances of your accident. If the sign was placed in a visible location, and you elected to walk there anyway, you may have a difficult time getting sympathy from the courts.
However, there are some scenarios where a wet floor sign may not be enough. Property owners may still be held responsible if:
The wet floor sign was not clearly visible from your perspective
The area was so poorly lit, you could not see the sign
Obstacles left you no choice but to walk through the hazardous area
Wet floors, whether inside or outside of a property or business, are a dangerous condition that owners need to address promptly. If you slipped on a wet floor or deck and there was no warning sign, this would indicate a clear breach of the duty on the part of the property owner.
Free Case Evaluation with Salamati Law

Establishing liability in slip and fall claims can be complicated by many factors. If you were harmed after falling on a wet surface, an experienced Los Angeles slip and fall lawyer can fight for your rights. The legal team at Salamati Law understands the nuances of California premises liability laws, and offer free case evaluations to all prospective clients.
There are strict time limits for pursuing compensation in a slip and fall accident, so reach out for a free consultation today to discuss your options.