It's a Friday night, and you're taking in a movie at a local theatre with some friends. There's a lull in the action, and you decide to get a refill on your soda. Unfortunately, some of the small light bulbs that are supposed to illuminate your path aren't working. You think nothing of it until you miss a step, fall, and break your wrist in the process. If you've been hurt in an accident like this, you need to contact Long Beach slip and fall lawyers with Salamati Law.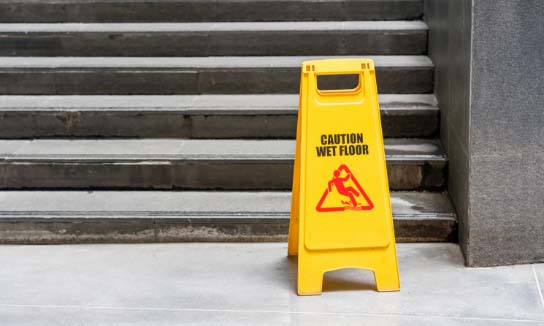 You may be able to recover damages that can pay for your medical bills and hold the liable property owner accountable for their negligence. To accomplish this, you'll need a skilled and talented slip and fall lawyer in Los Angeles working hard on your behalf.
Property owners have a responsibility to provide a relatively safe environment
Companies that manage public spaces such as movie theatres, shopping malls, stores, and apartment complexes must provide a safe environment for their customers and patrons. This means they must perform routine maintenance and upkeep. For example, property owners and managers must make sure that stairs and other obstacles are visible and well-lit. They should also keep construction sites neat and properly sectioned off from public access. Unfortunately, a slip and fall attorney in Long Beach, CA, will tell you that many property owners cut corners regarding building and walkway upkeep.
With inadequate maintenance, a trip, slip, or fall could happen anytime, resulting in an injury. By seeking legal action with a slip and fall attorney in Los Angeles, you can hold property owners responsible for their negligence and help make the world safer for the rest of us. You can also seek damages while you recuperate.
Where Do Slip and Fall Accidents Occur?
Slip and fall accidents can occur anywhere— but some of the most common locations here in Long Beach include the following:
Shopping malls, stores, and grocery stores
Schools and colleges
Stadiums, arenas, and convention centers
Workplace and construction sites
Airports, bus stations, and train stations
Hotels
Office buildings
Government buildings
Apartment complexes
Nursing homes
Parking lots
Stairways and stairwells
Sidewalks
What do I Need to Prove to Win My Case?
No matter where your slip and fall accident takes place, it could result in serious injuries. At Salamati Law, we feel that it is crucial to know that as long as you are not trespassing, you have the right to expect reasonably safe conditions. An experienced slip and fall lawyer in Long Beach knows that property owners are obligated to take reasonable steps to ensure that you are not put in harm's way.
To establish a successful slip and fall claim against a property owner, you will need to establish that the defendant was negligent. This involves proving the following elements by a preponderance of the evidence, which means that it is more likely than not:
The defendant owed you a duty of care. For example, you are at a grocery store and ignore signs that prohibit you from entering the back of the store. However, you do so anyway and slip and fall. In that case, you likely would not have grounds for a slip and fall lawsuit because you trespassed. However, the management owes you a duty of care if the floor has been mopped and is slippery.
The defendant breached the duty of care. This typically involves the defendant allowing a dangerous condition to develop on the property– and failing to remedy it in a reasonable amount of time. For example, you just bought some popcorn at the AMC Marina Pacifica 12. As you walk into the aisle to find your seat, someone spills a giant cup of soda on the floor. You may slip and fall and suffer a severe injury. However, it would not be reasonable to expect theater staff to have done anything about the spill in a matter of seconds. On the other hand, an ice machine in the food court at Long Beach Towne Center has been leaking for two weeks, and nothing has been done to fix it or even block off the area. In this case, the defendant would be breaching their duty.
The breach of this duty must have caused your accident. For example, if you slip and fall while walking on the slippery surface caused by the leaking ice machine– then this breach clearly would have caused your fall. However, if you tripped over your own shoelaces just as you entered that area, then the breach of this duty would not have caused your fall.
You must have been injured in your slip and fall. If you broke your arm two days before your fall but did not sustain any new injuries or exacerbate any pre-existing injuries in your slip and fall, you would not recover financial compensation. If, on the other hand, you broke your wrist when you fell, you would be eligible for compensation.
Damages Slip and Fall Victims May Pursue
Some slip and fall accidents cause only relatively minor injuries that may not require an extended recovery period. However, others can be more severe. An experienced slip and fall attorney Long Beach will tell you that the more serious your injury is, the more financial compensation you will be eligible to receive. Here are some of the common types of damages that a Long Beach personal injury attorney may help you pursue in a slip and fall lawsuit:
All past and future medical bills
Lost wages
Loss of earning capacity, which accounts for the gap between what you would have made had you not gotten injured and your post-injury income
Home repairs and remodels necessitated by your disability caused by the slip and fall accident
Physical pain and suffering
Psychological anguish
Loss of companionship and loss of consortium
Burial and funeral expenses
Punitive damages for particularly egregious behavior by the defendant
Schedule a free consultation today
Meeting with a Los Angeles slip and fall lawyer from Salamati Law won't cost you a dime. These no-obligation consultations are confidential. Further, they're the best way to find out whether you have a case. We can examine the details of your accident, as well as help guide you along to the next steps in the process. We strive to be accessible to anyone suffering from injuries sustained in an accident that wasn't their fault.
Don't spiral into debt while the liable party offers you a meager settlement. Instead, come in for a consultation today with a Long Beach slip and fall attorney and take control of your situation.
No upfront legal fees
After your consultation, if we decide you have a case, we can get to work right away with no upfront legal fees. Our payment is contingent on your winning damages or agreeing to a fair settlement. In other words, we don't get paid unless you do. When dealing with injuries that require expensive medical treatment and physical therapy, the last thing you need is an additional financial burden associated with legal expenses. Don't let money be a barrier between yourself and justice. Call the Long Beach slip and fall lawyers at Salamati Law today; we can help.