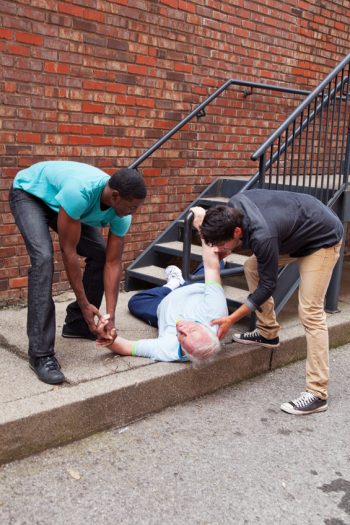 Falling down stairs leads to more than one million emergency room visits per year– that's one every 30 seconds. In fact, an estimated 12,000 people die from falling down the stairs each year. While any slip, trip, or fall can lead to serious injury, tumbling down a flight of stairs is a greater threat for many reasons:
There is a longer way to fall, with increasing speed due to gravity.
It's possible to flip head over heels on the way down.
Falling downhill is associated with head and back injuries.
Each stair represents a hard surface capable of causing injury.
If people who are injured falling down stairs do not know their rights, they may be left with steep medical bills and unaddressed medical needs. For those dealing with injuries from this type of accident, an experienced Los Angeles slip and fall lawyer from Salamati Law can help. We know what it takes to succeed in a premises liability claim so those injured can be fully compensated.
Do You Need a Stairway Accident Attorney?

It is not always necessary to have the representation of a law firm. Individuals can go to their local courthouse, pay the filing fee, and file all the required paperwork to pursue a lawsuit on behalf of themselves – "pro se." However, personal injury and premises liability claims are difficult to prove without substantial resources. A law firm can subpoena documents, investigate the defendant, take depositions, and consult with outside experts who can lend credibility to your claim. They'll make sure you have all the evidence necessary to obtain the maximum settlement value.
You might need the help of stairway accident attorneys if:
You sustained a head or back injury, broke a bone, or have injuries not likely to heal in a few weeks.
Your injuries resulted in the need for medical care, therapy, medication, or other out-of-pocket costs.
The stairs you fell on were in a state of disrepair, wet, dimly lit, or lacking a handrail and no-slip strips.
It has been less than two years from the date of your injury.
Sometimes the property owner's insurance company will contact you right away, offering a quick settlement. The first amount is rarely enough to cover the total cost of your injuries. A personal injury firm can advise you as to whether a settlement offer is sufficient or fair. Often, a letter from a law firm is enough to make the insurer take your claim seriously.
Common Causes of Stair Falls

Some of the more common causes include snow or ice buildup and slippery surfaces from spilled liquids. Clutter piled up near stairwells is a frequent cause of falling. Further, people are less likely to fall when there is even stair height, nosing overhang on each step, and handrails with a "power grip."
One thing we always look for in these injuries is whether the stairway was in compliance with the building code. Some common violations include the wrong size stair riser height and tread width, poor lighting, loose handrails, loose flooring material, and lack of anti-slip coating on the treads. Hazards on the stairs can include a buildup of snow or ice, worn carpeting, or even objects left on the stairs.
When your fall occurs on stairs owned by another person– with negligent maintenance involved— you may be able to file a lawsuit seeking financial compensation for your serious injuries.
Common Injuries from Falling Down Stairs
In addition to broken bones— particularly the hip– falling down stairs can cause serious injuries. These are a few of the more common injuries after a slip and fall accident: 
Traumatic brain injuries – Falls down stairs are a common cause of traumatic brain injury, especially among the intoxicated and the elderly. Symptoms can be mild, like fatigue and confusion, or severe, with depression and cognitive disability. 
Spinal cord injuries – Compression of discs and slipped discs may occur when falling down a flight of stairs. Surgery is commonly prescribed as a treatment, but results vary, and rehabilitation is lengthy.
Sprains and strains – Soft tissue tears are common and could result in the need for surgery or lengthy physical therapy.
Joint damage – A twisted knee or misaligned hip can lead to bone-on-bone arthritis in the years that follow, particularly if the individual is elderly or overweight.
Deep lacerations – Serious gashes may require sutures and scar a person for life, hurting self-esteem, job prospects, and quality of life.
Internal organ damage – A rib can puncture an internal organ, causing life-threatening injuries.
Falling down stairs is an occupational hazard in some industries

In some professions, falls down stairs are among the most common causes of injury and fatality, so the risk should not be taken lightly. Industries where workers are especially at risk of a stair fall, include the:
Service industry
Manufacturing industry
Construction industry
Food and drink industry
Worker's compensation is often woefully inadequate at covering all of the expenses associated with a serious accident, so it's worth contacting us at Salamati Law for a free consultation to explore your full range of options.
How to Tell if Injuries from a Fall Down Stairs Are Serious or Not

Falling down the stairs can be a shocking event. Seek immediate medical attention if:
There is a loss of consciousness. Even if you "come to," you should still get to the ER.
You suffer a severe headache, nausea, vomiting, drowsiness, or confusion.
You have severe bleeding that persists longer than 15 minutes.
Your bones are displaced, severely bruised, painful, numb, or feel unusually warm/cold.
Walking, seeing, or speaking becomes difficult after your fall.
Who is Responsible for a Stairway Slip and Fall Accident?

A stairway slip and fall accident is a type of premises liability claim. This is where the owner, manager, or another party responsible for maintenance can be liable for the accident if they knew (or should have known) of a dangerous condition. Yet, they did not fix it or warn those who would encounter it.
If you suffer an injury from a fall down stairs, it may not take long to realize the value of having an experienced personal injury lawyer by your side. Even more so than in other personal injury situations, insurance companies and property owners will quickly assume that the victim was at fault. After seeing many stairway accidents, we know that this is overly simplistic.
Can a Tenant Sue a Landlord for Falling Down the Stairs?

The landlord, property management company, or another party responsible for maintenance may be liable for a slip and fall in an apartment building if the tenant can show that any of these parties knew of the hazard but failed to take "reasonable" action.
If you are considering suing your landlord– or someone else– begin your claim early to strengthen your case. As soon as possible, it is beneficial to gather evidence of your accident, like the names and contact information of witnesses and photos of the location of the fall. This will be helpful later if there are conflicting stories of the condition of the stairs or if the responsible parties try to push blame.
Accident attorneys can conduct a full investigation to see if the stairs were up to the local building code, if the venue has a history of similar accidents, and whether anything could have or should have been done to prevent your fall. At Salamati Law, we have the resources to bring in outside experts who can substantiate your claim, including the severity of your injuries, matters of liability, and future costs for your rehabilitation.
Compensation for Falling Down Stairs

Slip and fall compensation, or what a stairway injury is truly worth, will depend on factors like:
Seriousness of the injury and prognosis for recovery
Amount of medical bills
Related medical treatment anticipated for the future
Lost wages and future lost income
Extent of disability due to the injury
Whether the victim was partly at fault for the fall
If you or a loved one has been injured in a fall on someone else's property in Los Angeles, you may be entitled to significant compensation for your losses such as medical bills, lost earnings, and pain and suffering. We have recovered settlements worth $250,000 to over $1 million on behalf of slip and fall victims. A Los Angeles personal injury attorney from Salamati Law is here to answer your questions and fight for fair compensation.
Contact a Lawyer as Soon as Possible

Injuries from falling down stairs can be serious and a cause of lifelong disability. Sometimes you don't realize how serious the harm is until years later. Unfortunately, California's statute of limitations for slip and fall accidents is just two years. Sometimes your attorney can fight for your claim, arguing that the litigation clock should start ticking upon the "realization of harm" rather than the original date of injury. However, it is wise to act as soon as possible for a stronger case.
Contact Us for a Free Consultation

Salamati Law Firm is committed to fighting aggressively for your rights, but we never charge a legal fee unless we win an award on your behalf. We work with skilled experts to prove your case and provide thorough communication, so you are always aware of your claim's status. Call today to set up a free consultation with a skilled Los Angeles slip and fall lawyer.
Additional stairway accidents resources:
Reuters, Injuries on stairs occur in all age groups and abilities, https://www.reuters.com/article/us-health-injuries-stairs/injuries-on-stairs-occur-in-all-age-groups-and-abilities-idUSKBN1CE1Z4
Church Mutual, Risk Alert: Recognizing the importance of slips and falls on steps and stairs, https://www.churchmutual.com/media/riskalert/pdfs/RAStairandStepSafety.pdf
National Safety Council, Slip, Trip and Fall Prevention will Keep Older Adults Safe and Independent, http://www.nsc.org/learn/safety-knowledge/Pages/safety-at-home-falls.aspx