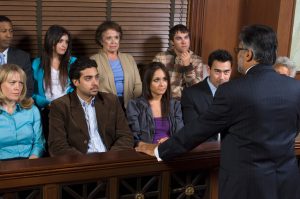 Not every slip and fall accident is the result of another party's negligence. However, a plaintiff can only recover compensation for injuries when they can prove that a defendant was directly negligent or legally responsible for someone else who was. Liable parties may be responsible for some or all of the economic and non-economic damages caused by the fall, so it is important to know what you need to prove in a California slip and fall case.
In the aftermath of a slip and fall injury, talk with an experienced slip and fall lawyer. At Salamati Law, our team has extensive experience handling these and other types of personal injury cases. Speaking with an attorney as soon as possible means you have a better opportunity to preserve evidence, establish liability, and recover the monetary compensation that you deserve.
Proving negligence in a slip and fall case

In most types of personal injury lawsuits in California, an injured party needs to demonstrate negligence on the part of the defendant. Los Angeles slip and fall lawsuits are no different. Proving a defendant's negligence means establishing that:
The defendant owed a duty of care to the plaintiff;
The defendant breached that duty;
The defendant's breach was the proximate cause of the plaintiff's injuries; and
As a result, the plaintiff suffered damages.
In most slip and fall negligence cases, the defendant is a property owner, like a landlord, or property occupier, like the store renting space. These entities are usually responsible for the negligence of their employees as well under a theory known as respondeat superior or vicarious liability. Other individuals or businesses may also be liable if they had the responsibility to keep the area safe.
What Evidence Do I Need in a Slip and Fall Claim?
You'll need to provide evidence that the other party's negligent behavior led to your slip and fall injuries. Some of the most common evidence personal injury attorneys use to verify slip-and-fall claims include:
Photographic or Video Evidence
Perhaps the most substantial evidence you can present in a slip-and-fall case is a video. If your fall occurred in a public place, cameras might have captured it. Photos of your injuries and the accident scene can also be beneficial even if you don't have video evidence. These images can verify that the defendant's negligence caused your fall and that your injuries were sustained during the accident.
Eyewitness Statements
Often, slip-and-fall accidents occur around other people. If possible, interview any eyewitnesses about what they saw. This can provide an unbiased description of the accident and help prove your claims.
Accident Report
When you report your fall, the police or paramedics may create an accident report. It may include information about the nature of your injuries, the circumstances that led to your fall, or a description of the environment where the accident occurred. Your attorney can use this document to strengthen your case.
Medical Records
Medical records are another vital component of many slip and fall cases. You can use them to establish that the injuries you sustained resulted from the incident and were not preexisting. Medical reports can also help your attorney determine the size of the damages you seek.
Bills, Receipts, and Other Documentation of Incurred Expenses
You'll need documentation to prove your economic damages if you win your case. They can include expenses like vehicle repairs, medical bills, and rehabilitation costs. By providing these documents, you can demand a more extensive settlement package.
Duty of care in slip and fall negligence cases

Slip and fall cases come under the heading of "premises liability" cases; the central question is whether someone in charge of the premises breached their duty of care. A landowner or occupier in California has a legal duty to repair, protect against, or give warning of dangers that he or she either knew about or reasonably should have known about.
Some of the elements that your lawyer will look for include:
Whether the defendant was aware of a dangerous condition
Whether the defendant had any policies or procedures to check for dangerous conditions
Whether there was a reasonable explanation for delays in correcting the dangerous condition
Whether other factors, such as comparative negligence, contributed to the slip and fall accident
Common causes of slip and fall accidents

Knowing exactly how you were injured in a slip and fall accident is the starting point of proving negligence. Some of the most common causes include:
Spills
Leaks
Environmental conditions like tracked-in rainwater
Uneven floors
You will also be required to explain how the defendant's actions caused or contributed to these causes. For example, a customer may have spilled a fountain drink in a restaurant, and an employee waited an unreasonably long time to clean it up or post a warning sign. Without making the connection between the cause and the defendant's actions, your case may not be successful.
Comparative negligence and negligence defenses in California

California recognizes the doctrine of comparative negligence; owners and occupiers are not responsible for damages that you caused by your own negligence. If you are partly to blame for your fall, you may still recover damages, but they will be lowered in proportion to your share of the fault.
Expect to see property owners and their insurance companies raise arguments to shift some or all of the blame to you. Common arguments include:
You were distracted by a cell phone
You were trespassing
The owner had posted warning signs in obvious and well-lit locations
If your case goes to trial, it will be up to a jury to determine how much of the fault each party bears for the accident and reduce your damages in proportion to your responsibility. For example, if your damages total $100,000 but you bear 30% of the blame, your award will be reduced to $70,000. If your case is one of the vast majority that is settled with the insurance company, the insurance adjuster or defense counsel will negotiate the issue of responsibility with your attorney. In either case, you are best served by having a strong advocate on your side.
Discuss elements of negligence in your slip and fall case with seasoned professionals at Salamati Law

It seems simple: you were injured in a slip and fall accident and believe someone else's negligence caused it. However, bringing a successful claim means following tedious court rules and deadlines, and producing evidence of each of the elements of negligence. A seasoned Los Angeles slip and fall lawyer at Salamati Law understands this process and will package the information most persuasively so that others recognize the value of your case.
Unless an exception applies, you only have two years from the date of your injury to file a lawsuit in California. This time can pass quickly and it does not take long for evidence to disappear. Take action as soon as possible to protect your case. Do not delay; call Salamati Law to schedule a free, confidential case review.