Residents of South Gate frequently face the possibility of serious injury due to a slip and fall accident. While some falls are unavoidable, others are not. If you suffer an injury due to the negligence of another person, you deserve financial compensation for your injuries. The experienced South Gate Slip and Fall Lawyers at Salamati Law are ready to help you secure monetary damages for your injuries.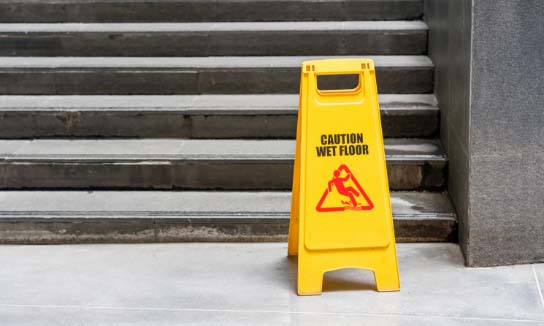 Duty to maintain a safe environment
When a property owner opens their residence or place of business to guests or customers, they assume a duty to keep those premises safe. An experienced slip and fall lawyer in South Gate is well aware of Part 3 of the California Civil Code 1714, which states that a property owner is required to provide "ordinary care or skill in the management of his or her property."
Often, this means remediating potential hazards like wet floors or loose gravel. Other examples of exercising ordinary care include– blocking off a dangerous area, such as a slippery surface or a staircase with a defective railing. In other cases, it may require a landowner to warn guests or customers of a natural hazard on the property that cannot be fixed. When a property owner fails to meet this burden, an experienced Los Angeles slip and fall lawyer might be able to hold the negligent property owner responsible by filing a slip and fall lawsuit.
What is Ordinary Care?
The law requires that property owners and businesses exercise ordinary care. For example, if every grocery store could hire two employees to monitor each aisle at all times– they could immediately address dangerous issues. It would almost certainly reduce the amount of slip and fall accidents. However, that is well beyond ordinary care.
On the other hand, there are shops, big and small, where it doesn't seem as if there are any employees, except at the register. In this context, it is quite feasible that a spilled bottle of olive oil would not be addressed for a long time. This clearly does not meet the standard of ordinary care.
In another example, parents with a young child visit the Azalea Regional Shopping. The little boy spills his drink, and the father slips and falls. It would not be reasonable for the property owner to mop up the spill in such a short amount of time. However, if there is surveillance footage that shows that the floor remained slick hours or days later– then the property owner did not meet the standard of ordinary care.
Damages available in a slip and fall accident
When you suffer an injury in a slip and fall accident, you are entitled to file a lawsuit and seek compensation from the responsible property owner. An important role of every slip and fall attorney in Los Angeles and elsewhere is determining the type of damages available in a slip and fall injury claim. Some of the damages available include:
Future medical expenses
Lost wages
Pain and suffering
Permanent disability
Diminished earning capacity
You Don't Have to Fight This Battle Alone
If you are injured in a slip and fall accident, there is a good chance that you will be receiving a phone call from the property owner's insurance adjuster. Remember that insurance companies prioritize their bottom line. It is crucial to realize that no matter how friendly the insurance adjuster sounds, their primary objective is to minimize the amount of your financial recovery.
They may offer a lump-sum settlement to you. However, most of the time, this offer will fall significantly below the actual market value of your claim. With medical bills piling up, intense physical and emotional pain, and an inability to return to work, some people will accept this lowball offer.
At Salamati Law, we strongly advise that you consult with an experienced slip and fall attorney in South Gate. This consultation will help you better understand your legal rights. It will also help you understand the strengths and weaknesses of your case, as well as an estimated value of your claim.
How Much Time Do I Have?
Whether or not you hire a South Gate slip and fall attorney, time is still of the essence. California's statute of limitations is two years for slip and fall accidents. Therefore, you have two years from the date of your fall in which to file a lawsuit or risk losing all legal rights to your claim. If you hire an experienced slip and fall lawyer, they will ensure that you do not miss any legal deadlines. Please note that there are multiple exceptions to the statute of limitations, so even if you fear you have waited too long, your personal injury lawyer in South Gate may discover that you still have time.
No upfront fees
When you hire South Gate slip and fall lawyers with the Salamati Law Firm, you can count on our skilled attorney moving forward with your injury claim without any upfront fees. We are paid on a contingency basis, which means we only receive our fees if we are successful in recovering damages on your behalf. In other words, we will not get paid until you get paid.
If your claim is ultimately successful, our fees are paid through a pre-determined percentage of the amount we recover on your behalf. If we are unsuccessful in our attempts to recover compensation, you will owe our firm nothing. You deserve to be represented by a skilled personal injury attorney regardless of your ability to pay an upfront fee. With the Salamati Law Firm, you never have to worry about your lack of funds preventing you from pursuing your legal claim.
Contact Salamati Law Today
If you or a loved one suffered an injury due to a slip and fall accident, you do not have to sit idly by and let the medical bills pile up. You are entitled to file a lawsuit and seek recovery from the property owner responsible for your fall. However, the process of recovering damages can be complicated and may take away energy that would be better focused on recovering from your injuries. To get the help you need to pursue an injury claim, contact the Salamati Law Firm today and schedule your free consultation.