The "End of the Santa Fe Trail," El Monte is a beautiful city where most residents feel safe. Unfortunately, dangerous slip and fall accidents happen everywhere. According to The Los Angeles Times, the Insurance Information Institute reports there are nearly 3 million falls each year, which includes 14,000 fatalities. From walkways to sidewalks, shopping malls and movie theatres, public parks, schools, and the common areas of apartment buildings, there may be hazards around every corner. Though most property owners are responsible and maintain a safe environment for the public, some cut corners to save money, and thus allow a dangerous situation to arise. If you've been hurt due to unsafe conditions on someone else's property, you should contact El Monte slip and fall lawyers with The Salamati Law Firm. Only with the help of talented Los Angeles-area slip and fall lawyer can you be sure your rights are being protected.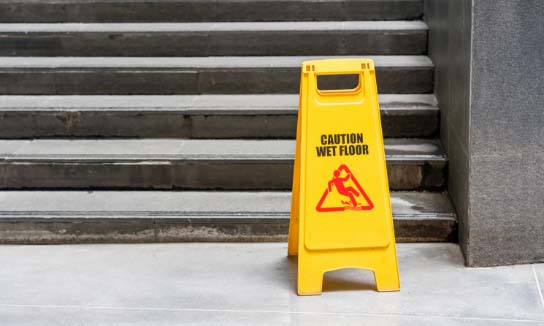 The law is on your side
Both California state law and federal law are designed to protect the public. If property owners fail to create a reasonably safe environment, we can hold them accountable. A slip and fall attorney in Los Angeles can fight for compensation that will cover your emergency medical expenses, ongoing medical care, and physical therapy, as well as funds to cover missed paychecks, and a sum to make up for your pain and suffering. Holding property owners accountable for their negligence also dissuades others from skipping routine maintenance and makes the world a safer place for everyone.
Common hazards that cause slips and trips
Here are some of the most common causes of slips, trips, and falls in L.A. County:
Loose carpeting
Uneven sidewalks
Poorly lit passageways
Wet floors due to mopping or spills
Poorly kept construction areas
Faulty railings and handrails
Damaged stairs
Long extension cords running through a walking area
If you've experienced injuries from any of these hazards, you may have a case worth pursuing.
What is Negligence?
A slip and fall lawyer in El Monte will apply the doctrine of negligence to your case. This means that you must prove that the property owner was careless– by allowing the dangerous condition that caused your fall to remain on their property. Because slip and fall claims are adjudicated in civil court, the burden of proof is a preponderance of the evidence. You must prove that it was more likely than not that the defendant was negligent. This is a relatively low burden of proof– it only requires more than a 50 percent certainty. Here are the four elements that must all be satisfied to prove negligence:
The defendant owed you a duty of care. As long as you were not trespassing on the defendant's property, this element will almost always be met. For example, an entire carton of milk spills in the aisle at Green Farm Market. The duty owed to you and everyone else is to either clean it up in a reasonable amount of time or clearly warn patrons.
The defendant breached this duty of care. The defendant must have known or reasonably should have known about the dangerous condition yet still failed to fix it. For example, you are at the El Monte Mall, and a young child drops an entire container of marbles on the floor. You slip and fall on them within a matter of seconds. In this scenario, it would not be reasonable to expect the property owner to have protected you from this dangerous condition. Therefore, the duty of care would not have been breached. On the other hand, if the marbles were dropped yesterday and remain today and cause you to slip and fall, the property owner would have breached their duty of care.
The breach of this duty of care is what caused your slip and fall. To use the example above, if you stepped on a marble and slipped and fell, that breach is clearly what caused your fall. However, if your friend sticks out his foot and trips you right as you walk through the marbles, then there would not be any causation link between the property owner's breach and your fall.
Slip and Fall Accidents Can Cause Life-Changing Injuries
In some slip and fall accidents, the only thing wounded is the victim's pride. However, other accidents can cause serious, life-changing, or even fatal injuries. If this happens to you, our lawyers at Salamati Law strongly suggest that you schedule a consultation with an El Monte slip and fall attorney. Some of the common injuries caused by slip and fall accidents include the following:
Fractured or broken bones, particularly in the wrist or arm, as the victim tries to cushion their fall.
Cuts and lacerations, which may occur due to your impact with the ground or other inanimate objects.
Joint and ligament damage may include the ankle, knee, hip, or shoulder due to an awkward fall.
Back, neck, or spine injuries may be caused by whiplash or forceful impact.
Head injuries, such as Traumatic Brain Injury, are caused by your head crashing into the ground or another inanimate object.
Schedule a free consultation today
Don't sit at home with mounting medical bills and wonder what could have been. The only way to know whether you have a case is to meet with a legal professional. Contact an El Monte personal injury lawyer with the Salamati Law Firm today. Consultations are free, confidential, and you're under no obligation to retain our services. We can examine the details of your accident and estimate a fair settlement amount. A legal expert from our firm will help you decide what your next steps will be.
We work on contingency fees
If we decide you have a case, the El Monte slip and fall lawyers with The Salamati Law Firm can get to work building evidence right away with no money down. All of our partners work on contingency fees, which means our payment is contingent on you receiving damages or agreeing to a settlement. We do not get paid unless you get paid. In the unlikely event you do not receive compensation, you won't owe us any legal fees at all. Since 1995, The Salamati Law Firm has been fighting for the people of Southern California. Contact us today and see what we can do for you.