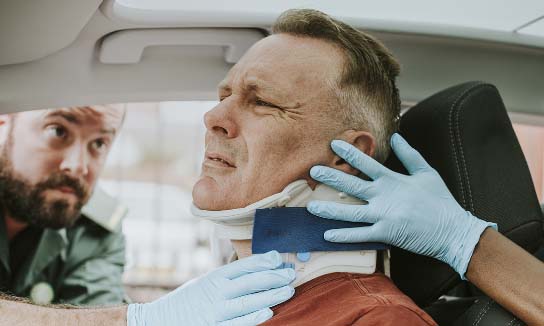 Personal injuries, such as medical malpractice, slip and fall, premises liability, among others– occur every day in Burbank and can vary significantly in severity. If your serious injuries resulted in physical, mental, or emotional hardship, you might be entitled to pursue a personal injury lawsuit.
To recover compensation, you must establish that negligence led to your damages. You are under no obligation to hire a personal injury attorney in Burbank to take on your case, but the failure to do so could be a costly error. Instead, let our team at Salamati Law help you pursue your personal injury or wrongful death lawsuit.
Personal injury lawyers in Burbank, CA
We are prepared to handle all types of personal injury cases, including:
Slip and falls. Slips, trips, and falls are frequent causes of severe injuries in Burbank. These falls can happen on flat surfaces or from great heights which can lead to permanent injuries. Speak to a slip and fall lawyer as soon as possible.
Car accidents. Collisions between two or more passenger vehicles also can cause serious injury. In fact, car accidents are the biggest reason for personal injury cases each year in Burbank.
Medical errors. When doctors make medical errors, the result is often severe or life-altering.
Truck accidents. Given the size difference between these trucks and passenger cars, the injuries these accidents cause are often life-threatening.
Defective Products. Dangerous or defective products can also lead to significant personal injury settlements. Common defective products include toys, food, automobiles, and kitchen appliances.
Compensation for your injuries
We can advise you on the potential compensation you might recover if you retain a personal injury lawyer in Burbank. Whether you secure a settlement or win at trial, your compensation could comprise many different types of damages.
Lost wages. For many people, the financial hardship that comes with a serious injury is compounded by their inability to earn a living. If your injuries cause you to miss time from work, your lost wages could quickly turn your budget upside down. A personal injury settlement will replace your lost wages.
Pain and suffering. The physical pain that comes with a serious injury can be overwhelming. Because you would not have experienced this pain due to the negligence of another person, you might be able to recover compensation for it.
Medical bills. Medical care is costly. Even minor injuries may lead to steep financial hardship, especially if emergency medical care is involved.
Burbank Courthouse Information
The Los Angeles Superior Court of California is located in Burbank. It is where personal injury lawsuits are filed each year and is located at:
Burbank Courthouse
300 East Olive
Burbank, CA 91502
There are other options for contacting the clerk outside of appearing in person. For example, you can contact them online or call (818) 260-8400 to speak with the clerk's office.
Personal Injury Attorney in Burbank, CA
If you are dealing with serious injuries through no fault of your own, a Burbank personal injury attorney might be able to help. To learn more about your legal options moving forward, call Salamati Law today for your free consultation. We are fierce advocates for our clients, and because we work on a contingency fee basis, there are no upfront legal fees.