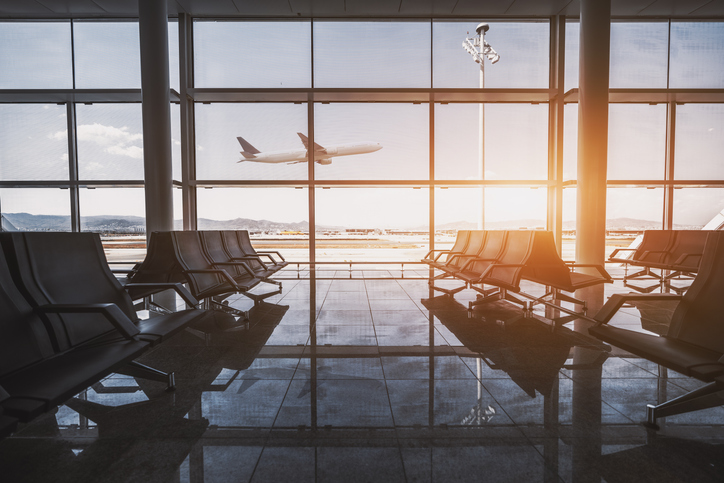 Southern California is home to some of the country's busiest airports, serving millions of passengers every year. Whether flying through LAX, Ontario, or John Wayne International Airport, the hectic environment, jostling people, and multiple distractions raise the risk for serious accidents.
It's no surprise that airport terminals, common areas, and jetways are rife with slip and fall injuries.
Knowing who is responsible for your fall is the first step to seeking justice. Before you speak with an insurance adjuster about your accident, contact a Los Angeles slip and fall attorney at Salamati Law about your legal rights and options. Discuss your case with an experienced airport slip and fall lawyer who can identify liable parties and suggest the best strategies for achieving a successful outcome.
Liability Issues & Potential Defendants

Uneven flooring, poor lighting, slippery floors, and other hazards are all too common in airports, which owe a duty of care to invitees. Under theories of premises liability, all property owners and operators have a duty to perform routine maintenance, check for dangerous conditions, repair known hazards, and warn guests about anything that could cause a person to suffer injury.
For example, if you are waiting for your flight to board and trip over a piece of loose carpeting in the gate area and fracture a hip, you would have a strong claim for damages. The next logical question is who will pay for your medical bills and related expenses?
LAX Accidents
A slip and fall accident that occurs in the airport's public areas would likely be brought against the airport authority. If you slipped and injured yourself at LAX because of a dangerous condition, Los Angeles World Airports (LAWA) would likely be named the defendant since it is the governing body for LAX.
John Wayne Airport Accident
If you are walking from one gate to another, and tumble over some cords that were negligently left by an employee, you may be able to file a claim against Orange County, which owns and operates JWA.
Burbank Airport Accident
Liability may rest with the Burbank-Glendale–Pasadena Airport Authority if you fall and injure yourself because of a hazard that was not repaired or warned about at the Hollywood Burbank airport (BUR).
Is Airport Accident Liability Always Clear?

There are some situations where liability isn't as clear-cut. Consider this scenario: an airline staff member is escorting a passenger in a wheelchair to the gate for boarding. When rolling over some damaged tile, the wheelchair goes sideways, tipping the passenger out. In this accident, both the airport authority and the airline may share legal responsibility.
Identifying the correct defendant in a slip and fall accident can be complex. If your injury took place inside one of the airport's retail shops, eateries, or bars, liability may fall upon the operators of these establishments rather than the airport authority.
Regardless of which party is to blame, you can rest assured that the slip and fall lawyers in Los Angeles at Salamati Law will fight for fair compensation on your behalf. Even if it is shown that you were partly responsible for the accident, you can still recover compensation under California's comparative fault laws.
Airport Slip and Fall Injuries

After motor vehicle accidents, falls are the leading cause of accidental injury and death in the U.S. Common slip and fall injuries include:
Broken bones – fractured wrists, hands, arms, hips, legs, and ankles are common in fall accidents. People over the age of 65 are more susceptible to fall-related injuries like head trauma and broken hips.
Soft tissue injuries and contusions – Sprains, strains, and soft tissue injuries can leave victims with long-lasting effects.
Brain injuries — Falls are one of the leading causes of concussions, a type of traumatic brain injury.
How Much is an Airport Slip and Fall Worth?

No two slip and fall injuries are exactly the same. When determining the value of your airport slip and fall accident claim, a Los Angeles slip and fall lawyer will look at two categories of compensation: economic damages and non-economic damages.
Economic damages are measurable, out-of-pocket expenses that result from your injury. These are calculated by adding up:
Your lost wages and earnings
Hospital and medical expenses
Anticipated recovery costs
Loss of potential income as a result of your injuries
Non-economic damages are not so easily quantified. While they are more difficult to assign a dollar figure, general damages still merit fair compensation:
Emotional distress
Pain and suffering
Loss of enjoyment of life
Loss of consortium
A claim for non-economic damages is subject to greater scrutiny during settlement negotiations, underscoring the need for a competent attorney to represent your case.
Contact a Los Angeles Airport Slip and Fall Lawyer from Salamati Law Today

Sean Salamati is a Los Angeles slip and fall attorney who is dedicated to ensuring clients recover the maximum compensation to which they are due.  If you need sound legal guidance after an airport slip and fall accident, contact us today to arrange a free case review.