Falls are a leading cause of disability and death, particularly among senior citizens. Falls can happen anywhere, like at Downey's famed Apollo Park or the Columbia Memorial Space Center. If you've fallen and sustained a severe injury due to someone else's negligence, you shouldn't have to pay. Let the Downey slip and fall lawyers at Salamati Law help you pursue compensation for your losses.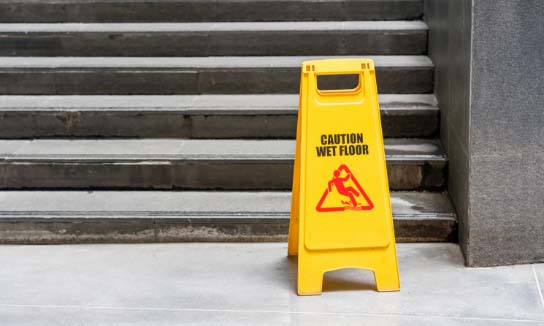 We have a track record of success when it comes to developing a winning personal injury strategy. Whether your fall occurred on private property or in a government-owned building, our team is ready to help you maximize your financial recovery. Contact a Downey personal injury lawyer right away to get started.
Liability Issues in Slip & Fall Incidents
Our Los Angeles slip and fall lawyers have years of experience proving liability in court. In legal terms, liability refers to a fault. When someone is found at fault for causing an accident, that person may be ordered to pay compensation to the victim. In the case of slip and fall incidents, an at-fault party might be the property manager or owner. Under California law, three elements must be proven to establish liability in a slip and fall case. They are:
The property owner owed a duty of care to the victim.
The property owner breached that duty of care.
The victim sustained injuries as a direct result of that negligence.
It can be difficult to prove liability in a slip and fall case. Therefore, it's essential to consult an experienced legal team that handles these cases regularly. When you choose to work with us, you'll work with a veteran Los Angeles slip and fall attorney who knows how to investigate your case, gather all the necessary evidence, and craft a compelling argument.
Common Examples of Slip and Fall Injuries
While injuries to your arms or legs could require extensive medical care, injuries involving your head or neck may have steeper consequences. Some common examples of slip and fall injuries include:
Sprains and strains
Cuts, bruises, and lacerations
Internal bleeding
Skull fractures
Concussions and other traumatic brain injuries
Rib fractures
Paralysis
It is vital that you seek immediate medical treatment in the aftermath of a slip and fall injury. Even if your injuries feel minor, there is a possibility that your condition could worsen over time. The sooner you seek medical care for your injuries, the more likely you will make a full recovery.
It is also important to speak to a Downey slip and fall attorney once your medical needs have been addressed. Seeing a doctor right away usually strengthens your personal injury case. Moreover, we can help you obtain the medical records you need to pursue your case. In short, there are many ways a slip and fall attorney in Downey could help you get the most out of your financial recovery.
Compensation For Your Injuries
If your case is successful, there are different types of compensation you might be entitled to recover. A slip and fall lawyer in Downey would review your injuries and other losses before helping you pursue fair compensation. Some of the types of compensation you might be entitled to recover may include:
Diminished future earning power
Loss of consortium
Pain and suffering
Past and future medical bills
Property damage
Mental anguish
Disfigurement
Disability
Contact us at Salamati Law to schedule a free consultation for your slip and fall injury
A slip and fall attorney in Downey could help you secure the compensation you deserve and hold the negligent property owner accountable for their negligence. We are proud to fight for the injured, and we are ready to put our experience to work in your case.
If you have questions about your right to pursue legal action, we have the answers. Reach out right away for a free consultation and learn more about your legal options.