It's a typical Saturday afternoon in beautiful Southern California. You're making a quick trip to the supermarket to pick up groceries. Naturally, getting hurt is the furthest thing from your mind as you stroll through the aisles of your local store. Unfortunately, a negligent employee forgot to place a warning sign near a recently mopped area. As a result, you slip, fall, and injure your back.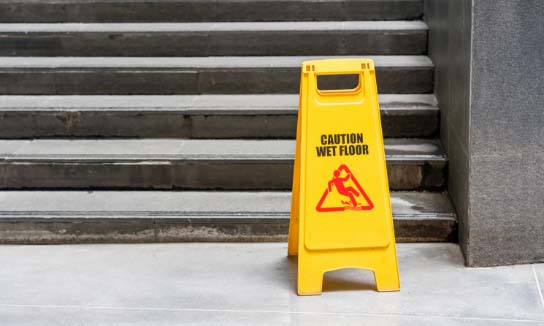 Thankfully, the law is designed to protect victims. If you've been hurt on someone else's property, contact our team at Salamati Law. With expert Los Angeles slip and fall lawyers on your side, you can seek the compensation you need to get back on your feet and rebuild your life.
What hazards can lead to a fall?
Numerous hazards can lead to a slip, trip, or fall. Some involve slick surfaces where you lose your balance, and some are building or infrastructure defects– here are a few of the most common causes:
Ice
Snow
Spilled food or drink
Trash and debris
Loose or bunched carpeting
Extension cords
Wet floors
Uneven pavement
Poor lighting
With the help of an Inglewood slip and fall lawyer, you can pursue a claim for compensation. Let a personal injury lawyer guide you through the litigation process step-by-step.
Do I have a case?
Every case is different, so it's essential that you come in for a free consultation with a legal professional at The Salamati Law Firm. Here, you can explain the unique circumstances of your accident. If you've been injured in a store, shopping mall, municipal building, movie theatre, on a public walkway, or any common areas in an apartment complex, you should explore your legal options. California state law asks three main questions to establish negligence on the part of the property owner:
Was the cause of the accident not obvious to the victim and preventable?
Was the dangerous condition under the control of the property owner?
Did the property owner know of a dangerous condition but fail to take action?
In addition to these main factors, others may include: How long have the unsafe or hazardous conditions been there? What were the reasons that led to any dangerous conditions? Also, was poor lighting or lack of warning a contributing cause to the accident? These are important points and questions we'll take into consideration when we discuss your case and decide on an appropriate litigation strategy.
What are the benefits of a free consultation?
At Salamati law, we offer a free consultation with an Inglewood slip and fall attorney. We understand that the aftermath of a serious injury can be challenging. Your initial consultation is an opportunity to get important information such as the strength of your case, the potential defendants, and even what your case might be worth.
An initial consultation also gives you the chance to learn about our law firm. We are proud advocates for injury victims and have served as slip and fall lawyers in Inglewood for years. We can evaluate your case and advise you on your options at no cost to you.
Contact us at Salamati Law for a free consultation
Our team at Salamati Law is ready to advise you of your legal options and help you pursue a fair monetary award. Call right away for a free consultation. In addition, we work on a contingency-fee-basis, so there are upfront legal fees.