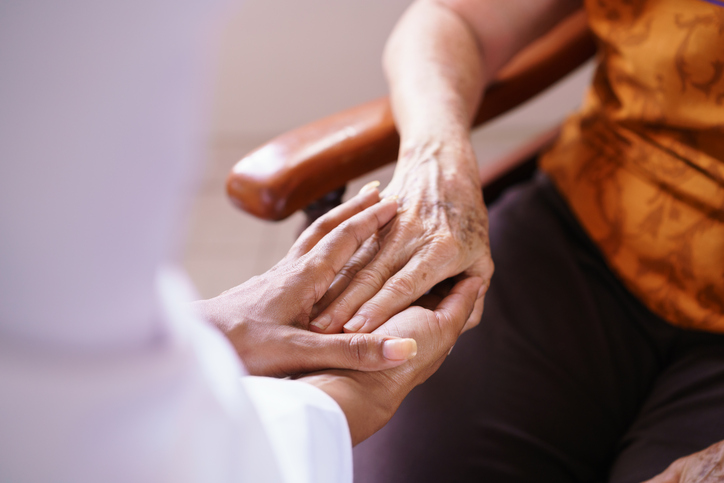 While California has made a concerted effort to improve the care provided in assisted living facilities, slips and falls remain a staggering – yet preventable – problem. The repercussions of these incidents can be catastrophic for the victim and their loved ones. The nursing home slip and fall attorneys at Salamati Law are experienced in handling insurance claims and lawsuits in these heartbreaking situations.
A Los Angeles slip and fall lawyer can help you understand your rights, and take appropriate steps to achieve justice and hold negligent parties accountable. Our legal team strives tirelessly to obtain the maximum monetary recovery for victims, and there are no fees unless a settlement or judgment is obtained.
Prevalence of Falls in Nursing Homes

How common are slip and fall accidents in nursing homes? Approximately 1.4 million people reside in American nursing homes, and with Baby Boomers coming of age, that number is expected to more than double – to 3 million – by 2030. Approximately 75% of nursing home residents will experience a fall in any given year. To put the matter into perspective, a 100-bed nursing home can expect to see 100-200 falls per year.
A slip and fall accident resulting in a hip fracture is one of the more commonly reported occurrences in nursing homes. Hip fractures are difficult to recover from even among the young and healthy. Older people have lower bone density and less muscle mass, making them more susceptible to these fractures, which are incredibly dangerous. According to recent statistics, one in three adults over the age of 50 dies within one year of sustaining a hip fracture. Prolonged recovery periods and extended bed rest can lead to further health complications like bedsores, blood clots, and infections, which increase the risk of death.
Causes of Nursing Homes Falls

Nursing home residents can fall for many reasons, including their own infirmity, problems with facility layout, inadequate care plans, employee negligence, and a combination of these factors.
Some of the common causes of nursing home falls that we see include:
Understaffing
When facilities attempt to save money by reducing skilled nursing staff, it can lead to incidents such as:
Residents trying to navigate to a restroom on their own
Employees skipping safety protocols regarding how and when to transport a resident or to engage the side-rails on beds
Overworked staff who are not adequately training new employees in safety measures
Inadequate Planning or Care
Failures with the nursing home itself or its staff increase the risk of a slip and fall:
Poorly designed floor plans place nurses' stations unreasonably far from resident rooms, increasing the distance residents need to travel for assistance
Negligent care plans that result in medication errors, which can increase the likelihood of a fall
Delays in housekeeping leave urine, food, or drinks on the floor as a hazard
Inadequate supervision
Hazards in the Environment
A failure to repair or clean up wet floors and other environmental hazards is a key factor in fall injuries in nursing homes, responsible for up to 27% of accidents among residents. According to the CDC, some of the biggest culprits include:
Rugs or carpets that aren't properly secured
Food trays, carts, and other objects left in hallways create slip or trip obstacles
Mobility Issues
Seniors, especially those who require special nursing care, may be at increased risk of falling due to:
Dementia
Lack of balance caused by medication
Loss of strength and flexibility
Decreased mobility
Impaired vision
Lack of Adequate Falls Protocol in Nursing Homes
All nursing home centers should have fall prevention protocols in place, in conjunction with ongoing training for staff. When facilities fail in this basic duty, and an elderly loved one is injured in a fall, the care facility may be held liable.
Falls protocol in nursing homes should encompass these basic tenants:
Staff education and training regarding high-risk residents and appropriate measures to ensure their safety
Installation of equipment such as raised toilet seats, handrails, bed rails, grab bars, and visual cues indicating changes in elevation
Using bed alarms to alert nursing home personnel if a high-risk resident leaves their bed
Ensuring all areas are well lit
Keeping common areas and walkways free of clutter and debris
Performing routine inspections of patient mobility aides to ensure proper working order
Evaluating if medications are causing disorientation, loss of balance, or dizziness
Common Nursing Home Slip and Fall Injuries
The elderly are at greater risk of falling, as well as at greater risk of becoming injured in a fall. Falls are the leading cause of injury and death in Americans over the age of 65, and between 10 and 20 percent of nursing home falls cause serious injury.
Some of the most common nursing home injuries include:
Herniated disc
Compression fracture
Nursing home falls also cause a decline in a resident's ability to function, impair independence, and cause feelings of fear, helplessness, and isolation. Falling on the stairs, slipping on a wet bathroom floor – whatever the circumstances– it's imperative to consult a nursing home injury attorney in Los Angeles who can begin investigating as quickly as possible.
Reporting a Fall in a Nursing Home

Anyone – any person or organization, not just the resident or their family members – may file a complaint about neglect, abuse, or unsafe conditions, including under-staffing and poor care with the Licensing and Certification Division of the California Department of Public Health. For those looking to resolve a specific dispute, the California long-term care ombudsman can help try to reach a resolution with the facility.
Who is responsible for falls in nursing homes? There are many reasons nursing home residents fall. In some cases, no one is to blame. In others, the nursing home and/or its employees did something it should not have or failed to do something it should – this is called breaching a duty of care.
Proving Nursing Home Liability
A nursing home may be liable for the fall if it breached a duty of care. In a civil lawsuit, the burden of proof is on the plaintiff to show, by a preponderance of the evidence, that the facility did not meet its duty.
Proving liability for a nursing home slip and fall accident requires in-depth knowledge of the industry and the rules it is required to follow. Salamati Law is intimately familiar with this process and works with experts who can prove if a facility or its staff failed to develop or adhere to a patient's health care plan, particularly regarding fall risk. Investigations may also uncover that a resident fell because of lack of supervision, negligent premises maintenance, or a failure to provide assistive devices like wheelchairs, canes, or walkers.
How Much is My Nursing Home Fall Case Worth?

You or your loved one may be entitled to damages including:
Past and future medical expenses
Pain and suffering
Loss of quality of life
Loss of earnings
In the case of wrongful death, damages may also include:
Loss of care, companionship
Loss of economic benefit to heirs
Funeral costs
If elder abuse is suspected, special damages may include:
Civil penalties for violations of statutes
Punitive damages
Attorney fees
How Long Do I Have to File a Nursing Home Fall Lawsuit?

Generally, in California, if a claim alleges that an injury was caused by someone else's negligence, the time frame is two years from the date of the injury. If the claim involves a wrongful death or allegations of professional negligence, the deadline may be only one year.
It is crucial to speak with a qualified personal injury lawyer to determine the statute of limitations for your claim. If a claim is not filed by the proper deadline, it will be barred.
Southern California Nursing Home Slip and Fall Attorneys

If a loved one was injured in a nursing home slip and fall accident in Los Angeles, reach out to Salamati Law for sound legal guidance. We provide compassionate client-focused advocacy on behalf of personal injury victims throughout Southern California, and look forward to discussing your case during a free and confidential consultation.