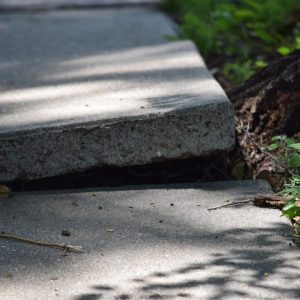 Los Angeles is estimated to have more than 10,000 miles of sidewalk, and more than 4,600 miles of it needs to be repaired. These poorly maintained sidewalks present a real threat. Parents headed down the street to work, and teens headed to the bus stop, even small children running carefree down the block—are at risk for an uneven sidewalk trip and fall.
At Salamati Law, we fight for fair compensation for victims of slip and fall accidents in Los Angeles and Southern California. From slipping on ice to tripping on sidewalk cracks, we tackle each case focusing on the unique issues it presents. With decades of experience successfully pursuing premises liability claims, a Los Angeles slip and fall lawyer from Salamati Law has the knowledge and expertise to represent your rights.
Common Causes of Sidewalk Injuries

The most common causes of sidewalk injuries include:
Tripping on cracks, whether from uneven settling of segments of the pavement, or destruction by tree roots– to name just two examples.
Stepping in potholes that are created by cold and ice or damage that causes holes to break in the concrete.
Ice and snow, which are often deceptive, can be difficult to see and are incredibly slick.
Tripping on debris— including household items, yard waste, bicycles, and many others.
Common Injuries Following a Fall
Many injuries can occur due to a slip, trip, and fall, whether the accident occurs on private or government property. For many people, a fall will result in little more than minor pain and embarrassment. Unfortunately, these accidents also cause devastating bodily injuries– typically most severe when a person lands on their head or neck.
Trauma to these parts of the body can result in life-altering injuries. An impact to the head could lead to a traumatic brain injury (TBI). Landing on the neck or upper back could lead to fractures, spinal cord damage, or even paralysis.
A fall does not have to lead to potentially life-threatening injuries to impact your life. Sprains, strains, and broken bones could lead to overwhelming medical bills and cost you your ability to earn a living. Some of the most common injuries that can result from a fall include:
Broken arms
Broken legs
Hip fracture
Sprained wrists
Skull fracture
Neck injuries
Spinal cord damage
Paralysis
Cuts and bruises
Any of these conditions can require extensive medical care, physical therapy, or other treatments. A personal injury lawsuit can help you recover compensation for the cost of this treatment. If you were injured in a slip and fall accident, let an attorney from Salamati Law advise you on liability for a slip and fall accident.
Can You Sue if You Trip on a Sidewalk?

In certain circumstances, you can sue for a sidewalk injury. The questions are—who owns or who is responsible for the sidewalk, and if they are negligent. In this type of lawsuit, there is usually at least one of two probable defendants:
The municipality that owned the sidewalk; or
The property owner responsible for creating the sidewalk hazard
Are Sidewalks Private Property?

Sidewalks are not private property, but the adjacent property may be, which could impact your case. In California, cities generally own sidewalks. The municipality will be responsible if it was negligent and if that negligence caused the slip and fall injury. What this usually means is the plaintiff must be able to prove that:
The sidewalk was unreasonably dangerous; and
The municipality knew or should have known about its condition.
When it comes to private property owners, they have a responsibility to keep the sidewalk safe. For example, if the roots of a tree planted by the adjacent homeowner cause an uneven sidewalk injury, that individual can be held liable.
Who is Responsible for Sidewalk Repair?

The question of who is responsible for sidewalk maintenance and repair can be trickier in Los Angeles than in other cities. This is especially true following a slip and fall on a city sidewalk.
The general rule in California is that the cities own the sidewalks but that the property owners are responsible for their maintenance and repair. In Los Angeles, however, there has been a significant settlement between the city and an ADA (Americans with Disabilities Act) lawsuit because the notoriously bad condition of Los Angeles' sidewalks presents accessibility challenges for those with disabilities.
In fulfilling its end of the ADA lawsuit settlement, the City of Los Angeles has adopted the Safe Sidewalks LA program—which will reimburse property owners for half the repair cost, up to $10,000. Still, the responsibility for sidewalk maintenance is not uniform across the state or even across Southern California. To understand who might be responsible for your injury, speak with a personal injury lawyer at Salamati Law.
Do You Need a Sidewalk Accident Lawyer?

Technically, you can pursue a sidewalk injury claim on your own, but it is not advisable for two reasons.
First, when dealing with an uneven sidewalk trip and fall in Los Angeles, the city has instituted a claims process, but it usually does not benefit those injured. The city denies nearly all claims and generally does not inform the claimants of this. This threatens the statute of limitations, which means the claimant can lose the right to file a personal injury lawsuit.
Second, in these types of cases, defendants often aggressively blame the victims. They will dig for evidence that the injury occurred because the plaintiff was doing something careless– sending text messages rather than watching the path or that the injuries were pre-existing conditions.
Resolving a Slip and Fall Lawsuit

When it comes to a slip and fall injury claim, there are two ways to resolve them favorably. The first and most common option involves a negotiated monetary settlement. The second option is obtaining a verdict following a trial with the help of a sidewalk slip and fall accident attorney.
Slip and fall claims rarely go to trial. In most cases, the parties reach a negotiated settlement where the defendant offers a monetary payment in exchange for the plaintiff's promise not to file a lawsuit.
Sometimes a settlement is not an option. When a defendant lacks the financial means to settle a case or rejects liability for the plaintiff's injuries, a trial could be inevitable. If a plaintiff prevails at trial, they will have a judgment for the amount of their damages.
Trip and Fall Lawsuit Settlements

Like any personal injury claim, there is no standard amount for injury settlements. Instead, it will be based on factors such as:
The amount of medical bills incurred
Level of disability sustained
Lost income
Anticipated cost of necessary future care
Impact on life, including loss of ability to participate in enjoyable activities
The extent that the plaintiff might have contributed to the fall
At Salamati Law, we work side-by-side with experts to prove these factors so we can maximize your compensation while you focus on recovering.
Time Limits for Filing a Slip and Fall Injury Lawsuit

If you believe you have a viable claim for compensation following a slip and fall accident, understand that your time limit for pursuing legal action is limited. There is a firm deadline that applies to your claim, known as the statute of limitations.
These deadlines are intended to prevent lengthy delays between the date of the injury and the date a lawsuit is filed. This is primarily to protect the property owner from the risk of a surprise injury claim years after the accident. It can be challenging to develop a strong defense. Evidence can disappear, and witnesses can move away and be impossible to locate.
In Los Angeles, the statute of limitations for a slip and fall injury claim is two years. It begins to expire the date the fall occurs. If an injured person fails to file a civil lawsuit before that two-year window closes, they are likely barred from ever filing a lawsuit. An experienced attorney will ensure that you protect your claim and avoid violating the statute of limitations.
The Injury Lawsuit Process

Every slip and fall injury lawsuit begins with a complaint. This legal document is filed with the court and initiates the lawsuit. It outlines the general claims raised by the plaintiff and sets out the reasons why the court should enter a judgment against the defendant.
After the complaint is filed, the plaintiff must serve these documents to the defendant. This service requirement exists to ensure the property owner has notice of the lawsuit against them. Once service has been completed, the defendant will file an answer disputing the plaintiff's claim.
The next step in the process is known as discovery. During discovery, each side, plaintiff and defendant, exchange the evidence they will use at trial. This is usually comprised of written questions and document requests. Discovery can also involve the use of depositions.
When discovery ends, and there hasn't been a settlement– it is time to prepare for trial. At the trial, both sides will have the opportunity to call witnesses and make their case. At the close of evidence, the judge or jury will determine if a monetary award is necessary.
Rely on Salamati Law after a Sidewalk Slip and Fall

Sidewalk injury claims are complex. To make sure you present your best case, speak with a Los Angeles personal injury attorney with experience handling slip and fall cases. Call today to schedule a free case review. We work on a contingency fee basis, so there are no upfront legal costs.