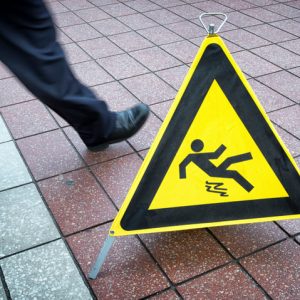 Every year in America thousands of painful injuries are caused by slip and fall accidents. According to national figures, such incidents account for more than 20 percent of all spinal cord injuries and 15 percent of all accidental fatalities in the United States. As any experienced Los Angeles personal injury lawyer can tell you, other injury-producing accidents in public and workplace environments, many slip, trips and falls are preventable.
Accidental falls are the third leading cause of accidental death in our country, and the number one cause of serious injury and death in the elderly, according to the Centers for Disease Control and Prevention.
Below are some of the most common causes of slip and fall accidents.
Floor Hazards
Slippery or wet surfaces are responsible for countless falls each year. Other floor hazards include:
Loose or torn rugs, floorboards, carpeting or mats
Wet floors
Ice or snow that hasn't been salted or removed
Clutter, trash or debris on the floor
Recently waxed or mopped floors
Structural Hazards
Traumatic injuries, ranging from broken bones and torn ligaments to paralysis can be traced back to tripping hazards caused by:
Poorly constructed or poorly constructed stairs
Loose tiles
Lack of handrails on steps and ramps
Loose or defective handrails
Cracked cement
Liability issues in slip and fall accidents
All property owners and caretakers have a duty to use reasonable care to keep their premises safe for patrons, employees and invited visitors. When business owners, employers and managers fail to maintain their property or fail to warn customers and hired staff about potential slip and fall dangers such as a spilled liquid or a recently waxed floor, they may be held liable by an injured party and their personal injury attorney for any ensuing damages.
In California, it is the proprietor's duty to perform routine inspections and maintenance and warn guests and visitors of any on-site dangers.  This holds especially true for health care providers and administrators in nursing homes and assisted living facilities, where senior residents are more prone to debilitating injury.
Some 25 percent of nursing home falls are attributed to environmental hazards, including poor lighting, slick floor surfaces and clutter left about.
Have you been injured? Click here to call our office now!
California premises liability lawyer
Whether a slip and fall accident occurred in a nursing home, movie theater, at a neighbor's house or in the workplace, victims may have a legal claim for compensation. The personal injury lawyers at Salamati Law understand the financial burdens and emotional toll of serious personal injury and has the expertise and resources to help victims obtain justice and the money damages they deserve. A successful claim can secure compensation for past and future medical bills, lost income, rehabilitation, pain, suffering and permanent disability.
For a free case evaluation with a Los Angeles slip and fall lawyer who is dedicated to client success, please call 1-855-476-1115.
Additional Slip and Fall Accident Resources:
CDC, Falls are leading cause of injury and death in older Americans https://www.cdc.gov/media/releases/2016/p0922-older-adult-falls.html
National Floor Safety Institute, Slip & Fall Quick Facts, https://nfsi.org/nfsi-research/quick-facts/
National Safety Council, Slip, Trip and Fall Prevention will Keep Older Adults Safe and Independent http://www.nsc.org/safety_home/HomeandRecreationalSafety/Falls/Pages/Falls.aspx