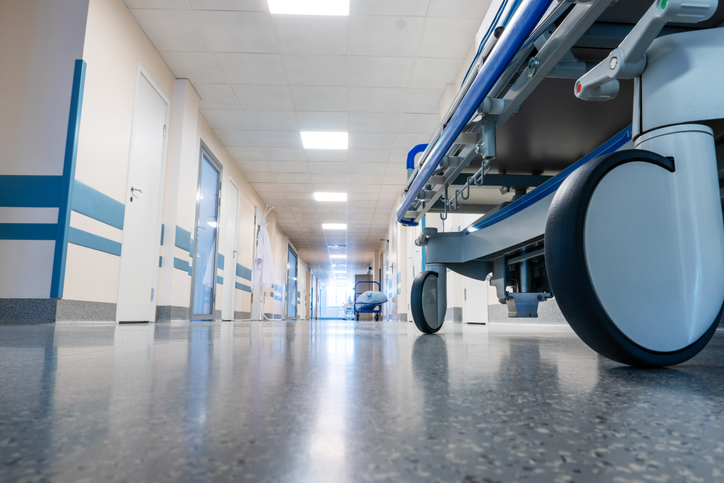 Spilled liquids. Recently mopped floors. Uneven walking surfaces. These are just some of the more common causes of slip and fall accidents. Hospitals and other health care settings are not immune to premises liability lawsuits when it can be proven that the defendant either knew or should have reasonably known of a dangerous condition on its grounds.
Whether you're a patient or a visitor, hospitals have a duty to their invitees to maintain safe premises and provide visible warnings of hazardous conditions. If you or a loved one were injured in a slip and fall accident in a hospital, you may be in line for monetary compensation, but make sure to contact a skilled slip and fall attorney to make sure the job is done right.
Legal recourse for falls in hospitals

At Salamati Law, we fight for victims' rights and ensure our clients obtain the legal damages they are rightfully owed.  Southern California's hospitals are big business with an arsenal of attorneys protecting them. Our dedicated legal team does not back down from difficult cases and has the resources and breadth of experience to prove liability, maximize the value of your case, and advocate on your behalf so you can focus on your health and recovery.
If staff violated safety protocols and procedures, or you suspect hospital negligence was the reason for your slip and fall accident, do not wait to seek legal counsel. Explore your options for recourse with a Los Angeles hospital slip and fall lawyer who consistently gets exceptional results. Call the office of Salamati Law for a free case evaluation regarding your injuries.
Slip and fall in hospital accidents: common causes

Hospital employees and administrators have specific protocols for maintaining a hygienic and safe premises. This includes patient rooms, dining areas, waiting rooms, corridors, elevators, stairwells, bathrooms, lobbies, and other areas occupied by staff, patients, and visitors.
Forgetting to put up a "wet floor" cone can have disastrous consequences, as can a number of other lapses where potentially dangerous conditions or defects go ignored. The following are some prevalent causes of falls in hospitals:
Uneven walking surfaces
Puddles from rainwater
Leaking ceilings or rooftops
Cluttered aisles and walkways
Liquid spills
Bunched carpet
Trip hazards from electrical cords
Hospitals and health care clinics must take adequate precautions to warn patrons about unsafe conditions.  They have a duty of care to address hazards within a reasonable time frame. If they fail to do so and injury results, a Los Angeles slip and fall lawyer can work to make sure that negligent parties are held accountable and seek fair and full compensation for medical expenses, lost wages, pain, suffering, and long-term disability.
Steps to take after a hospital fall accident

California laws on premises liability state that property owners are liable for injuries on land they own, possess, or control. In the event of a fall in a hospital, follow these steps to preserve evidence and protect your rights.
Report your accident immediately to hospital administrators.  
Take photographs of what caused you to slip and fall (example: a broken handrail, a puddle of cleaning liquid, etc.)
Identify witnesses: Did anyone see you slip and fall? Ask eyewitnesses for their name and contact information.
Seek medical attention. Some injuries may not be evident at first but can have serious long-term implications. You need medical records that document your injuries to advance your legal claim. 
Get legal representation from a respected hospital slip and fall attorney in Los Angeles who can take on large companies and their insurers. 
Filing a Hospital Slip and Fall Lawsuit

Your burden of proof when you file a hospital slip and fall lawsuit is the same as claims against other property owners.
In your filing, you need to claim that:
The hospital knew or should have known about the dangerous condition that caused you to fall and injure yourself
The hospital failed to rectify the hazardous situation or to warn visitors and guests about it
The condition was the direct and proximate cause of your slip and fall accident
You could not or were unable to avoid the dangerous condition
You suffered injuries and losses as a result of the slip and fall.
In many cases, a hospital might respond that the condition was temporary and could not resolve it or post warnings before the injured party fell. Therefore, you should try to gather as much information and evidence as soon as possible.
Under California law, you have two years from the date of your accident to file your hospital slip and fall lawsuit. If you wait that long, however, witnesses' memories will likely fade, and other evidence may no longer be available. You will have a better opportunity to collect a greater damages award when you promptly retain an experienced California slip and fall attorney, who can preserve all the critical evidence to prove the claims in your lawsuit.
Further, in certain situations where you were an inpatient at the hospital, your fall might also form the basis of a medical malpractice claim. The hospital and your care providers might have malpractice liability if, for example:
They prescribed medications that made you unsteady, and the hospital failed to monitor you sufficiently such that the instability resulted in a fall
Your physicians failed to diagnose a stroke or other condition that impaired your balance, leading to the fall and your resulting injuries
You were assigned a bed with inadequate or missing guardrails and safety restraints.
In every case where you suffered injuries due to a hospital slip and fall, you should retain a knowledgeable accident and negligence lawyer. They can assess the full scope of your claims and file the most robust hospital slip and fall lawsuit to help you recover the compensation you deserve.  
Slip and fall lawyer Los Angeles residents trust

In complex premises liability lawsuits, expert witness testimony can make a world of difference in how the courts perceive your injuries and their impact on your life. Salamati Law works with a number of experts – ranging from economists to life care planners — who can bolster the credibility and value of your slip and fall claim.
Our firm handles cases on a contingent-fee basis, so there is zero financial risk to you. Contact Salamati Law to speak with a top-rated Los Angeles slip and fall lawyer about the facts of your case.