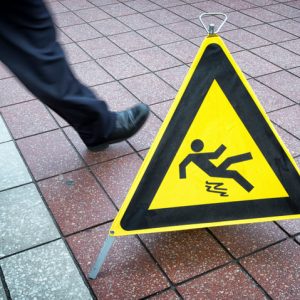 There are not many personal injury situations as likely to turn into a factual dispute as a slip and fall. The impediment or defect that made the spot dangerous may not remain apparent long enough to document it and even when it is documented, the condition may or may not lead to liability. But your Los Angeles personal injury attorney must be able to prove that there was a dangerous condition on the premises and that the owner or occupier was legally responsible.
Slips and falls injure thousands of people in California and across the country each year. They occur for any number of reasons, ranging from pure carelessness on the part of the person taking the tumble to recklessness by a property owner in concealing a defective condition. L.A. attracts a lot of visitors and property owners have a duty to take reasonable precautions to prevent injury.
Owner liability for slips and falls
A slip or fall may just be the result of bad luck. On the other hand, if you are injured and suspect that reasonable precautions may have prevented the accident, then your slip and fall injury may have been the result of negligence. A property owner is under a duty to keep the premises maintained and to warn visitors of defects that it knows about. Therefore, in CA the property owner may be liable if:
The owner or an employee must have caused the hazard;
The owner or an employee must have known about the hazard but did nothing to fix it; or
The owner or an employee reasonably should have known about the hazard, yet did nothing to fix it.
Gathering evidence of liability for a slip and fall
Evidence can be fleeting in a slip and fall case. When it involves, for example, a spill of liquid or some other material is involved, it will need to be cleaned up before other people are harmed. Boxes that a negligent worker placed in the aisle will likely be moved. A poorly lit area may receive a new light bulb. It is a good idea to take photos of the scene and gather the names and contact information of any witnesses who can corroborate what was present at the site at the time of injury. This will be invaluable to help your personal injury lawyer prove your case.
A common complication is that one person or business owns the property but someone else controls it or is responsible for cleaning and maintaining it. It is not always clear which party bears responsibility for inspecting the premises and making it safe. A personal injury lawyer can help sort this out by serving what is known as "discovery requests" to obtain the information necessary to answer those questions. All of this is necessary for a plaintiff to meet his or her burden of proof in court.
Work with a Los Angeles personal injury lawyer
If you have been injured on someone else's property in Southern California and believe it was someone else's fault, speak with Sean Salamati, a respected slip and fall lawyer in Los Angeles. Slip and fall cases can be tricky to prove but The Salamati Law Firm has the resources and expertise to make the case. Call for a no-obligation consultation.
Additional "slip and fall fault" resources:
Justia, California Civil Jury Instructions (CACI), 1003. Unsafe Conditions, https://www.justia.com/trials-litigation/docs/caci/1000/1003.html
Justia ,California Civil Jury Instructions (CACI), Series 1000 – Premises Liability, https://www.justia.com/trials-litigation/docs/caci/1000/