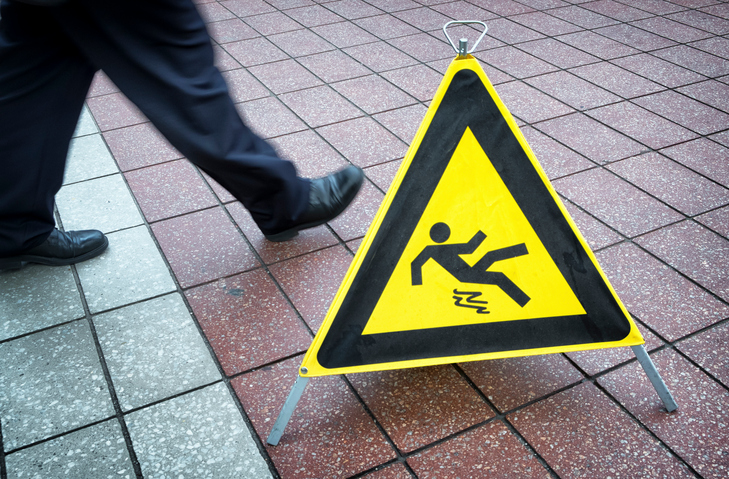 If a property owner's negligence caused you to fall and seriously hurt yourself, you may have the right to file a lawsuit to recover the cost of medical bills and other damages. But if the fall occurred on government property, the procedure can be different.
If your injury occurred on public property, it is a good idea to speak with a government property slip and fall attorney Los Angeles residents can rely on for knowledgeable and experienced representation. Los Angeles slip and fall attorney Sean Salamati understands the unique process involved in government claims and is committed to protecting the rights of injured individuals in Southern California.
If you have been injured in a slip and fall accident, contact us as soon as possible to find out whether you have a case because accidents involving government property have limited windows in which to file a claim.
Liability for slip and fall accidents on government property

In California, property owners – including government entities – are not liable for accidents on their property unless they were negligent. As in other types of slip and fall cases, a government entity may be liable only if the plaintiff can prove each of the necessary elements:
The fall was caused by a hazard on the property;
The entity or its employee caused, knew about, or reasonably should have known about the hazard; and
The entity or its employee failed to repair, remove, or warn about the hazard
How to know that a fall occurred on government property
It is not always clear whether a property is owned by a private party or by the government. In the case of slip and fall accidents in office buildings, the premises may be clearly recognized as public or private property, but many other settings are more ambiguous. For example:
A park may appear to be public property but may actually be privately owned by developers. In that case, a normal personal injury claim can be filed in court.
A shopping area may appear to be private property but actually be a part of a public university campus or government hospital, requiring special claims procedures.
Typically, a homeowner or business is responsible for slip and fall injuries caused by poorly maintained sidewalks adjacent to its property. Some California cities have enacted a law shifting responsibility for sidewalks from private homeowners to municipalities, so a personal injury claim may need to follow special steps.
If you mistake a public setting for private property, you may fail to follow the proper procedure for filing a claim and be barred from pursuing compensation. Speak with a personal injury lawyer to be sure a claim is followed according to the right procedure.
Deadlines for filing claims against the government

All personal injury lawsuits must be filed within the statute of limitations. Slip and fall cases against private property owners must be filed within two years of the injury unless an exception, like the age of the plaintiff, extends it. However, slip and fall lawsuits against the government follow shorter deadlines, and the deadlines are different for a slip and fall on city property, state property, or federal property.
Slip and fall injuries on state property

California has adopted the Tort Claims Act (Gov. Code, § 810 et seq.), which can affect claims for slip and fall accidents in schools, in state government buildings, in state parks, and on other state government property. Under the California Tort Claims Act, an injured party has six months from the accident to report a personal injury claim against the state government via an administrative claim using a government-supplied form. The State Board of Control must respond within 45 days and then the injury victim has six months from the response to file a lawsuit.
Slip and fall injuries on federal property

Claims for injuries that occur on federal property, such as in federal parks, post offices, and other U.S. Government buildings, fall under the Federal Tort Claims Act (28 U.S.C. Part VI, Chapter 171). The FTCA requires a claimant to file an administrative claim with the federal agency that they believe is at fault for the injury. The claim must be filed within two years of the date of injury and it must be detailed, outlining evidence of the slip and fall accident and the exact amount of damages claimed. The federal agency then has six months to respond and if it refuses to pay the claim, the claimant has six months from the date of rejection to file a lawsuit in federal court. A personal injury attorney will know all the appropriate notice and timing requirements for the claim.
Discuss your Los Angeles slip and fall case

If you believe there is a chance your slip and fall injury may have occurred on government property and that negligence or a defective condition may be the cause, do not delay speaking with a skilled Los Angeles personal injury attorney. Failing to act in time and follow the required claim procedures could bar you from bringing a claim altogether.
Los Angeles slip and fall lawyer Sean Salamati understands the process and is here to help you determine who is liable for your injuries. Contact Salamati Law today to discuss your case for free.