You had plans, but a serious car accident changed them, possibly forever. Because of the actions of a negligent or reckless driver, you face a long recovery, large medical bills, loss of income, and possible job loss. In addition, you may not have the ability to provide for or care for your family.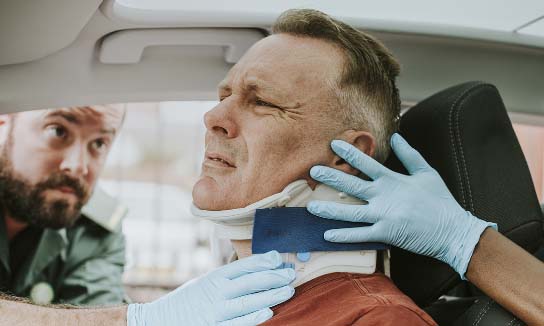 The Los Angeles area ranks among the top for the number of motor vehicle accidents. Further, car accident injuries run the gamut, from those who eventually heal to others suffering from permanent impairment.  A Los Angeles car accident attorney at Salamati Law protects your rights and helps you receive the maximum compensation for your injuries.
Types of Car Accident Injuries
The type of car accident injury an accident victim suffers depends on various factors and includes:
Speed
Road and weather conditions
Whether a seat belt is worn by all vehicle occupants
How many vehicles were involved
Size of the vehicles involved
Most Common Car Accident Injury
Every car accident is unique, but the most common injuries include:
Amputation – Serious accidents can lead to the loss of limbs or digits.
Broken bones – A broken arm, leg, ribs, or multiple fractures are common.
Burns –Scars and disfigurement may linger long after burns have healed.
Head injury –Traumatic brain injuries (TBIs) after car accidents range from concussions to severe head trauma. The latter can lead to long-term rehabilitation, but the patient may never fully recover. As a result, some TBI victims can no longer live independently and require nursing home care.
Internal bleeding –The collision may cause blood vessels to rupture, leading to internal bleeding. Prompt surgery is necessary to stop bleeding and repair blood vessels.
Internal organ damage –Damage to the liver, spleen, kidneys, and other internal organs often occurs in high-speed crashes. These organs may no longer have the ability to perform their functions. This leads to permanent health issues and extensive and ongoing medical treatment.
Neck injury –Whiplash and other soft tissue injuries may result from even low-impact collisions. Higher impact crashes may cause herniated or slipped discs. These injuries can all lead to chronic conditions and disability.
Penetrating injuries –A serious car accident often involves penetrating injuries. Glass shatters all over the occupants, or loose objects within the car become missiles upon impact.
Spinal damage –A spinal cord injury can leave a car accident victim a paraplegic or quadriplegic.
PTSD and Car Accidents
Not every car accident injury is physical. Victims of serious car accidents frequently have Post-Traumatic Stress Disorder (PTSD). In fact, motor vehicle accidents are the leading cause of PTSD in the U.S.
PTSD may involve the constant reliving of the event. Victims may suffer from sleep disorders, anxiety, depression, loss of focus, and panic attacks.
Seek Medical Attention Right Away
Anyone involved in a car accident should seek immediate medical attention, even if they initially think they were not hurt. While severe injuries are immediately apparent, others are not. Some people think they are fine, but the adrenaline rushing through the body after an accident often masks pain.
In addition, those with mild TBIs are especially vulnerable. Often, the victim does not realize they are acting abnormally due to the brain injury, and it is family and friends who first realize something is wrong.
Going to the emergency room or at least an urgent care center after a car accident is imperative for two reasons. First, you want to ensure you are not seriously injured. Second, waiting too long after an accident to seek medical attention can harm your claim. The insurance company can argue that your injuries were not as serious as stated or not caused by the car accident.
Speak With a Car Accident Injury Attorney
If you or someone you know suffered a severe car accident injury because of another party's negligence or recklessness, contact an experienced California car accident attorney at Salamati Law. Schedule a complimentary, no-obligation case review. There is no fee unless you receive compensation.