It is hard to describe the thrill that comes with riding a motorcycle. Unfortunately, sometimes this thrill can be quickly derailed when an accident occurs that causes serious injuries. If you've been injured through no fault of your own, contact our team at Salamati Law. We aggressively advocate for all of your clients, so they receive a fair settlement.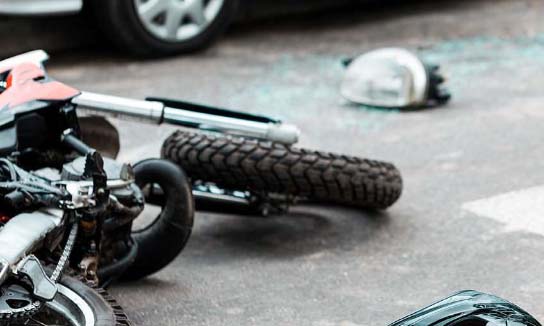 What Kind of Injuries Do Bike Crashes Cause?
An experienced motorcycle accident lawyer in Downey understands that many bike accident victims suffer serious or even life-threatening injuries. Some common accident causes include lack of visibility, unsafe lane changes, and driving above the speed limit.
Here are some of the injuries commonly associated with motorcycle crashes:
Road rash
Bone fractures or breaks
Severe cuts and lacerations
Burns
Damage to ligaments
Internal injuries
Neck, back, and spine injuries
Head injuries such as Traumatic Brain Injury (TBI)
Permanent scarring or disfiguration
Amputations
Paralysis
Death
Types of Damages Motorcycle Accident Victims Can Pursue
Not only can these injuries impact your life for many years, but your family may be suffering also– both emotionally and financially. A Downey motorcycle accident attorney will explain that the legal system provides recourse for victims and their families. They can receive financial compensation to adjust to all the new challenges.
Some of the types of damages that you may pursue could include:
All medical costs, which include transportation by helicopter or ambulance, trips to the emergency room, hospital stays, surgeries and procedures, doctors' appointments, assistive devices, prescription drugs, physical therapy, and in-home care.
Lost wages, which compensate you for the time you were forced to miss from work due to your injuries. In addition to your salary or wages, this may also include benefits, sick leave, personal days, vacation, and retirement accounts.
Loss of earning capacity, which can fill in the gap between the income you would have made had you not been injured. For example, you were earning $100,000 working in management before the accident. However, your injuries have rendered it impossible for you to resume your previous role. As a result, you may now be relegated to an administrative position where you earn $50,000. Loss of earning capacity would fill in that gap for you.
Pain and suffering.
Loss of companionship
Loss of consortium
One Mistake That You Need to Avoid
Some motorcycle accident victims try to pursue a case alone. However, soon after your crash, you will be hearing from an insurance adjuster. Please note that their sole focus is minimizing the amount of financial compensation you receive– and will extend a lowball offer to accident victims. Many victims make the mistake of accepting this settlement offer before consulting with an experienced motorcycle accident attorney in Downey. While that does provide an immediate pay-off, you may be losing a significant amount of money.
We strongly suggest that you consult with an experienced Downey personal injury lawyer before accepting any offers from the insurance company. In this consultation, you will learn about your legal rights and gain an understanding of the estimated value of your claim. This will help you avoid adding financial insult to your physical and emotional injuries. You want to ensure that you and your family receive the financial compensation you deserve.
Contact Us for a Free Consultation
At Salamati Law, we leave no stone unturned in our aggressive pursuit of justice. We fully understand the physical, emotional, and financial stress you feel in the aftermath of an accident. We do the heavy lifting to make sure that you can focus on the healing process. At the same time, we investigate and build your case.
If you have been injured in a motorcycle accident, call us today to schedule a cost-free case review with a Downey lawyer for motorcycle accidents. We work on a contingency fee basis, meaning our clients never see a bill from us unless they win their case.