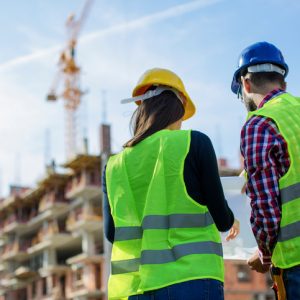 Year after year, falls remain one of the top causes of death on construction sites across the nation. According to the Occupational Safety and Health Administration (OSHA), from 2003 through 2013, falls were responsible for more than 3,500 workplace deaths in the industry. During this decade, falls from rooftops accounted for nearly 35 percent of all construction worker fatalities. The real tragedy in this figure is that most of these deaths are preventable with proper training, the right equipment and planning.
In 2016 alone, 360 construction workers fell to their death while on the job. It is no surprise then, that falls are one of OSHA's "Fatal Four" – the principle safety hazards that account for the lion's share of construction worker deaths. The Fatal Four, which include falls, electrocutions, struck-by accidents and getting caught in-between incidents, are responsible for more than 67 percent of all reported deaths in the construction industry.
Occupational fatalities caused by falls
Fall hazards are prevalent at all construction sites and are defined as any factor that can cause a worker to lose their balance or support resulting in a fall. Any time you are working at heights more than four feet, you are at risk for a serious fall-related injury. OSHA mandates that fall protection must be furnished when working at 6 feet in the construction industry, or in environments where one is working above heavy equipment or dangerous machinery.
Major types of fall hazards in construction
What are the most prevalent fall hazards in construction? Anecdotal evidence and accident reports have shown these to be the biggest culprits:
#1: Unprotected roofs, roof edges and leading edges on structural steel.
Example provided by OSHA: An iron worker standing on a concrete wall fell 30 feet to the ground and suffered spinal injuries resulting in paralysis below the chest. He was wearing a harness at the time, but was not tied in.
Example: A worker preparing to remove masonry fascia from a build site fell from the third level of a welded-frame scaffold. There was no guarding system on the scaffold. And the surface was coated in ice, making it extra slippery. 
#3: Dangerous portable ladders.
Falls from unsecure ladders result in 100 deaths annually. Example: A worker fell 12 feet from an unsecured 24-foot extension ladder, which he had leaned against the façade board of a building wall. He suffered leg fracture injuries and was hospitalized for over a week.
Employer responsibility
Construction workers must be provided with proper training on how to identify fall hazards, whether working on scaffolds, ladders, or other building structures more than 6 feet in height. Employers are obligated to follow OSHA regulations by providing:
Personal Protection Equipment (PPE)/Personal Fall Arrest System
Ensuring portable ladders and scaffolds are properly used and in good condition
Performing routine worksite equipment inspections
Training on the use of fall protection equipment
Legal recourse for victims
When employers fail to ensure their workers have the right training and fall protection equipment, catastrophic injuries often result. OSHA's regulations are in place to help minimize needless injuries and deaths and create a safe working environment.
The Salamati Law Firm is well-versed in the various hazards common to the construction industry. When negligence plays a role in serious personal injury, victims deserve an advocate who will fight for their rights to fair compensation.
To schedule a complimentary case review with a skilled construction accident lawyer Los Angeles residents have come to trust, call our offices today at 213-817-8888.
Additional Resources on Construction Fall Hazards:
Construction Connect, Avoiding OSHA's Fatal Four – Fall Hazards https://www.constructconnect.com/blog/construction-safety/avoiding-oshas-fatal-four-fall-hazards/
Safety and Health Magazine, Falls in construction: A deadly hazard http://www.safetyandhealthmagazine.com/articles/14832-falls-in-construction-a-deadly-hazard
OSHA, Fall Hazards https://www.osha.gov/dte/outreach/construction/focus_four/falls/falls_ig.pdf