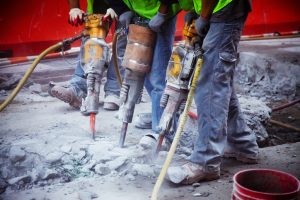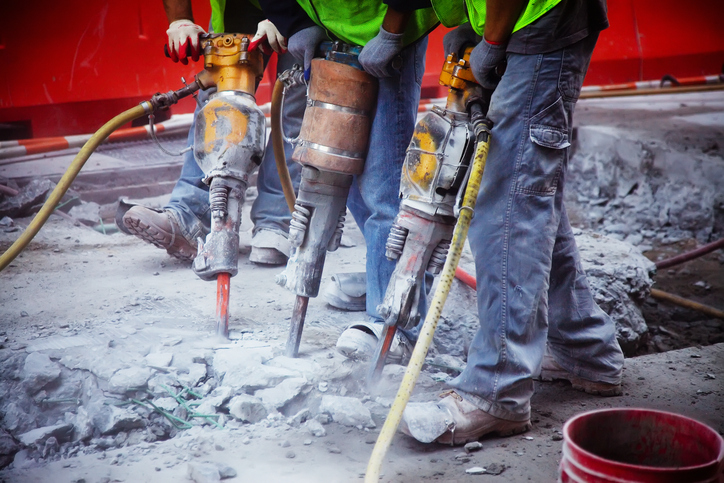 Construction sites can be hazardous places. Workers are often performing tasks at high elevations, with equipment that can be dangerous. Many construction risks, such as falling from a height without being restrained by proper safety equipment, are well-known by both construction workers and the general public. But others are not so well-known.
Here are 4 construction site injuries that you may not be aware of.
Hand-Arm Vibration Syndrome (HAVS)
Hand-arm vibration syndrome (HAVS) is the result of damage to the fingers, hands, and arms caused by working with vibrating tools or machinery, such as jackhammers. HAVS can cause neurological symptoms, vascular symptoms, or musculoskeletal symptoms, or a combination of all three.
Neurological symptoms manifest as tingling, or numb hands or fingers. Long term, this can cause permanent damage. Patients might have difficulty with common hand functions, like using keys. Carpal tunnel syndrome is a type of neurological HAVS.
Vascular symptoms affect the small blood vessels and cause them to constrict. Sufferers may notice that their fingers turn white or blue and become numb.
Musculoskeletal symptoms can include arthritis and tendonitis. Sufferers may not be able to grip as well as they used to, and may suffer pain in their arm or hand.
Hearing Loss
Construction sites are noisy. Jackhammers, excavation machinery, and other heavy equipment can be very loud. Some construction workers may be around as older buildings are dynamited, so that new construction can be built. Dynamiting is extremely loud.
As a result, hearing loss is common among construction workers. Safety equipment, such as protective ear plugs, should always be worn. Unfortunately, however, these are not always sufficient to prevent hearing loss.
Brain Lesions
Electrocution causes 1,000 deaths each year in the United States, on average. Electrocution on construction sites can result from contact with exposed wiring, faulty handling of electrical appliances, coming into contact with power lines, or accidents involving electrical outlets.
Electrocution can be fatal, or if not, can cause extensive physical injuries, including amputation of limbs and affected tissue.
Electrocution can also cause lesions to form on either brain tissue or the spinal cord. These can result in cerebellar disorders, spinal muscular atrophy, Parkinson's disease, or sensorimotor peripheral neuropathy.
Post-Traumatic Stress Disorder (PTSD)
Electrocution can cause post-traumatic stress disorder. While all construction site injuries can cause stress, electrocution is particularly traumatic, and the psychological effects can be as severe as the physical injury. PTSD can affect one's ability to concentrate, focus, and remember things.
When You Need a Construction Site Accident Lawyer in Los Angeles
Construction site accidents cause serious harm and even death every year to hard-working individuals who deserve better. Construction accidents can affect the ability of workers to ever work again, and can affect their health and quality of life for the rest of their lives.
If you or a loved one has been hurt on the job in southern California, please call Los Angeles construction accident attorney Sean Salamati today. There will be no charge to you for an initial consultation. We charge no fees unless we win money for you!
Additional "Construction Site Injury" Resources:
Alcumus Group. Top Ten Health and Safety Risks in Construction. https://www.alcumusgroup.com/blog/october-2014/top-ten-health-and-safety-risks-in-construction
Electrical Injury. Chicago Electrical Trauma Rehabilitation Institute. https://www.cetri.org/electrical_injury.html