Motorcycle enthusiasts know that there is nothing like the feeling of experiencing the open road on your bike. However, an experienced motorcycle accident lawyer in Carson knows that the thrill associated with motorcycles often comes with some risk—such as an accident that result in serious injuries. If this has happened to you, contact us at Salamati Law. We have the resources and experience to fight for your right to fair compensation.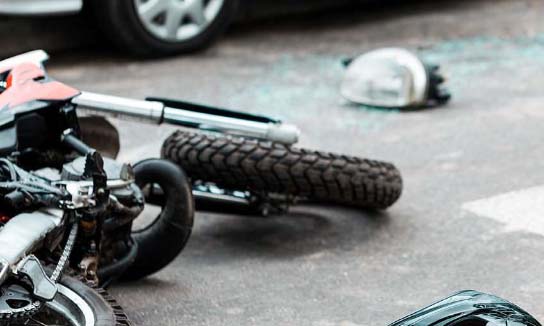 What Causes Motorcycle Crashes?
Occupants of trucks or other vehicles can also get severely injured in an accident. However, riders and passengers of motorcycles are at an increased risk due to the lack of safety devices and the massive disparity in size and weight. Because of that, the life of a motorcyclist can change in the blink of an eye. There are many potential causes of a motorcycle crash in Los Angeles, but here are some of the more common causes:
Lack of visibility: Motorcycles are much smaller and therefore harder to see. Drivers are not trained to spot them, which could result in an unsafe lane change or a left-turn crash.
Aggressive driving: Because of the widespread stigma against bikes, some drivers do not treat motorcyclists with the same respect and care that they do with larger vehicles. This may result in any number of unsafe driving maneuvers that stem from the driver essentially disregarding the motorcycle's presence.
Following closely: Whenever motorists fail to maintain a safe distance, the risk of an accident increases where the driver in front is rear-ended.
Speeding accidents: While drivers certainly speed, so do many motorcyclists. The higher your rate of speed, the less time you have to adjust and react to unexpected dangerous conditions such as road hazards, debris, or other negligent drivers.
What You Should and Should Not Do Following a Bike Crash
If you are involved in a motorcycle accident, the most important thing is to make sure that you and your bike occupants are okay. Assuming you are physically capable of doing so, here are some steps that an experienced Carson motorcycle accident attorney would advise that you take in the immediate aftermath of a motorcycle accident to maximize the financial value of a bike crash lawsuit:
Call the police and see to it that an accident report is filed when they arrive.
Seek medical attention even if you feel fine. Many injuries will not surface until several hours later once your adrenaline wears off, while others may not appear for several days. An experienced Carson personal injury lawyer will tell you that the longer you wait until you seek medical attention, the more opportunity you give to the defendant to poke holes in your claim. This can significantly reduce the amount of financial compensation you ultimately receive.
Take pictures of your injuries, the injuries of others involved in the crash, any property damage, the exact location of the accident, the visibility and weather conditions at that moment, and any residences or businesses in the surrounding area.
Obtain the contact information of anyone who witnessed any part of your crash.
Do not admit fault to anyone, even if you feel that you were partially responsible.
Do not post anything about your crash on social media.
Schedule a consultation with an experienced motorcycle accident attorney in Carson, as they will be able to explain your legal rights and provide an estimate of how much your claim may be worth.
Contact us for a free consultation
Since 1995, at Salamati Law, we have been standing up for the rights of injured victims. For example, one client was riding a motorcycle with the right of way and got hit by a car trying to clear a 6-lane road. They suffered a mild traumatic brain injury (TBI) in the crash. We were able to establish a significant impairment in his life and secure a $2 million settlement on his behalf.
If you have been injured in a motorcycle accident, call us today to schedule a zero-cost, zero-obligation consultation with a Carson motorcycle injury lawyer. We never charge any fees unless you win your case.