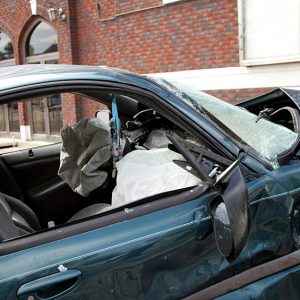 Uber and Lyft are gaining momentum as America's largest and most popular ride-hailing companies, serving hundreds of cities throughout the country. Thousands of happy customers will attest that taking an Uber is an easier, cheaper method of transport compared to traditional cabs. For the uninitiated, summoning a ride is as simple as a few quick taps on your smartphone— no more flagging down cabs on busy roads. The quality of the drivers for ride-hailing companies is definitely improving, and the rates are much more affordable, but what happens if you're in a crash while riding passenger?
The odds of getting into a Lyft or Uber accident aren't so low when you consider that drivers often work long, tiring hours shuttling customers to unfamiliar neighborhoods and towns. In fact, traffic accidents involving Uber and other ridesharing drivers are becoming more commonplace, as increasing people use this service.
Steps to take after an Uber crash
Even in crash scenarios where the passenger escapes serious or life-threatening injury, medical bills can still add up, compounded by the loss of income and out-of-pocket expenses. In any type of Uber or ridesharing accident in which you are the passenger, it's essential to take some basic steps to protect your legal rights.
Even minor incidents that seem to produce no evidence of physical injury should be reason enough to see a doctor for a medical evaluation. Soft tissue injuries like whiplash – often sustained during a rear-end collision—may not have any symptoms for hours or even days. Headaches, neck tension, pain and other symptoms often manifest much later.
If you live in California, safeguard your rights by taking the following steps after a crash:
Call 911
Using your smartphone, take photos or video of the accident scene including damage to all vehicles
Get the full name of the Lyft or Uber driver
Take down the names, email and contact information of any witnesses to the accident
Print screenshots of your ridesharing receipt that shows the date and route taken
Check yourself for injuries and seek medical attention
Speak with a qualified attorney about your rights
Insurance & liability issues
If the Uber or Lyft driver is at fault for the crash, passengers are covered by a $1 million liability policy. Note that this insurance coverage does not apply to UberSUV, UberTaxi ride or UberBLACK, which has a separate coverage of $300,000 per accident or $100,000 per person. In cases where another party is to blame for the crash, that driver's own insurance policy would be tapped. If their policy isn't adequate to cover all hospital and medical costs incurred, Lyft and Uber have policies that cover underinsured motorists.
Without the guidance of an experienced attorney, Uber passengers will likely face an uphill battle when it comes to obtaining just compensation. If you were involved in a ridesharing crash as a passenger, Los Angeles auto accident lawyer Sean Salamati will ensure you obtain the settlement monies you deserve. Call today for a free, no-obligation consult.
Additional Resources on Uber Crashes & Legal Liability:
Time, My Uber Got Into a Wreck. Can I Sue? http://time.com/money/4851877/my-uber-got-into-a-wreck-can-i-sue/
Fortune, Here's what happens when you get in an Uber crash http://fortune.com/2015/10/13/uber-crash-insurance/
WIRED, CALIFORNIA FORCES UBER AND ITS RIVALS TO BOLSTER INSURANCE https://www.wired.com/2015/07/california-forces-uber-rivals-bolster-insurance/