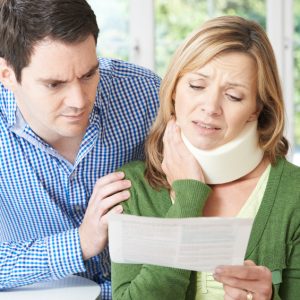 The Salamati Firm is staffed with experienced whiplash injury lawyers who have negotiated substantial settlements and won generous jury verdicts in court. We will not let you settle for less than you deserve! When you call our California personal injury law firm, you not only gain access to a whiplash attorney, but a full team of car accident experts and medical professionals who can help you figure out what happened and move forward.
There is no harm in taking a closer look at the factors leading up to the crash and assessing damages with The Salamati Firm's free case review. We take clients on a contingency basis, meaning that you pay us absolutely nothing unless we take your case and win.
What Is A Whiplash Injury?
Whiplash injuries occur when people are rear-ended in automobile collisions, causing hyperextension and hyperflexion in the neck and upper back. The sudden, forceful movement causes the muscles and ligaments to overstretch and sometimes tear. The joints within the neck and upper back can sustain damage as well.
Tests like x-rays, CT scans, and MRIs are typically ordered to rule out bone fractures, herniated discs, and complete ligament ruptures. Damage to surrounding nerves can cause a variety of adverse effects.
What Are The Lasting Effects Of Whiplash From Car Accidents?
According to disability claims experts, whiplash is one of the most common car accident injuries — and one of the most enduring. Studies show that 1 in 5 whiplash victims suffer long-term, chronic pain. A third of all cases result in serious disabilities lasting longer than one year. While we tend to think of whiplash as a "pain in the neck," the ramifications can be much more severe. Whiplash from car accident injuries have been linked to Traumatic Brain Injury and spinal cord injury.
Negative side effects of whiplash may include:
Tightness or spasms in the neck/back muscles
Headaches and dizziness similar to concussion
Difficulty moving the neck or shoulders
Sleep disturbances
Forgetfulness
Blurred vision
Abnormal burning sensations
Ringing in the ears
Debilitating fatigue
Anxiety, Fear, Avoidance of cars
Most people suffering whiplash fully recover within three months, given appropriate care.  One study found that roughly 12% of whiplash victims took longer than six months to recover. Risk factors for a slower recovery included female gender, older age, neck pain on palpation, chronic muscle pain, pain radiating from the neck down the arms, and headache.
What Is the Value of My Whiplash Injury Case?
The average auto insurer spends roughly $2.7 billion a year on whiplash injury compensation. There are several factors affecting how much money you can expect for a whiplash settlement, including:
Car Accident Liability – Crash diagrams, testimony from crash reconstruction experts, and witness testimonies will be used to show legal liability. The clearer the cause of the accident and the other party's fault is, the better your payout.
Whiplash Treatment – Seeking an immediate medical assessment of your injury is crucial. Did you require several therapy sessions? Surgery? These factors will contribute to your overall settlement amount.
Recovery Time for Whiplash – Longer-lasting injuries, permanent damage, and disabilities generally receive the highest offers. If you recovered in less than a month, you probably will not receive as much as someone who suffered years of disability.
Impact on Daily Life – People whose daily lives were seriously disrupted due to injury will receive the most compensation. Athletes, dancers, or physical laborers may receive more money for their injuries.
We recommend keeping a daily injury diary that tracks pain, symptoms, doctor's visits, tests, prescription drug usage, massage or chiropractic treatments, missed work, and amounts paid for your whiplash care.
If successful, a California whiplash lawsuit can be adequate enough to cover past, present, and future medical bills, lost wages, and possibly an estimated amount of pain and suffering.
Statute of Limitations for Whiplash Injury in California
Whiplash injuries can take days, weeks, or months to manifest. The State of California  allows car accident victims up to two years from the date of the accident to file a personal injury lawsuit.
It is a good idea to seek the opinion of a medical professional right away, even if you just "feel a little sore." During your physical examination, the doctor will carefully evaluate your pain level, mental state, ability to feel sensations, reflexes, coordination, strength, and the mobility of your neck. These early reports serve as important evidence. Injuries can worsen and become costlier over time, but the typical whiplash lawsuit takes some time to resolve, too, so it's okay if we need to update your records and present new evidence for compensation as your lawsuit progresses.
Get a California Whiplash Injury Attorney with a Track Record of Success
It takes an experienced serious injury lawyer in Los Angeles to get you maximum compensation for your injuries. Whiplash claims are among some of the most hotly contested in California court rooms. The defense counsel and insurance adjustors fight aggressively to have claims outright dismissed, mitigated, or blamed on past injuries.
Luckily, we have our own team of crash reconstructionists, medical professionals, claims adjustors, investigators, and credible experts who will testify on your behalf and lend credence to your legal argument. Contact California's leading car accident and whiplash injury team at the Salamati Law Firm for your free, no-obligation case review.
Additional whiplash injury resources: