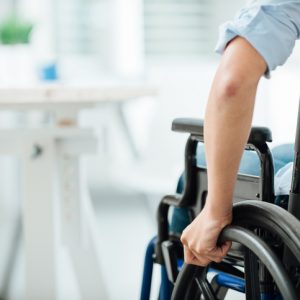 Injuries resulting from vehicle accidents can leave victims with life-altering impairments. From herniated discs and broken bones to traumatic brain injuries, these types of physical trauma can impact every facet of one's life, leading to anxiety, depression, lack of mobility and serious financial hardships. An injury claim against the at-fault party can seek certain monetary damages, but in certain cases, you may be eligible to receive disability benefits for auto accident injuries as well.
How do you know if your car crash injuries qualify for benefits from the Social Security Administration (SSA)? Only specific kinds of physical and psychological impairment are eligible for disability benefits, and there are strict requirements for submitting an application.
Do you qualify for disability benefits?
In order to apply for disability benefits after a car accident, you must meet the following requirements:
You have sustained documented physical or mental impairment that has lasted for one year (or is expected to last this long), and
You are unable to engage in the work you performed in the past, and
You are unable to receive training for alternative or less demanding work
Regardless of the types of injuries sustained in an auto accident, it's vital to get prompt medical attention and have a licensed health provider provide thorough documentation on the diagnosis, treatment plan and prognosis. If your doctor or surgeon makes a written statement that he or she has determined your injuries are severe enough to keep you from gainful employment, this can help your claim for disability benefits. For those who are suffering from lasting emotional trauma or PTSD that makes working impossible, you will need a psychiatrist or similar mental health professional to recommend that you receive disability benefits.
Injuries that qualify for SSA disability benefits
While this is not an exhaustive list, the following are some types of car accident injuries that may qualify for disability:
Non-healing fractures of the leg or arm
Back disorders including spinal arachnoiditis, lumbar spinal stenosis or vertebral compression
Soft tissue injuries of the ligaments, tendons muscles, nerves, and blood vessels that have lost functionality for 12 months
Severe burns of the extremities that restrict functionality and limit the ability to perform routine duties related to everyday living
Hip and neck injuries
Severe gastrointestinal bleeding requiring a blood transfusion
Speech impairment stemming from a traumatic brain injury
Vision or hearing loss
Certain anxiety disorders
The Social Security Administration has a long list of impairments, but it is still possible to apply for disability benefits if you suffered a type of injury that a health professional deems medically equivalent to another condition on the list.
Expert legal assistance in Los Angeles
One of the most important steps to achieving the financial help you deserve after an injury is to contact an experienced law firm that focuses on car accident litigation. Los Angeles residents have come to trust Sean Salamati for skilled representation and compassionate, personalized service.
If you have a lasting disability after a collision, we encourage you to reach out today for a free case review with an LA car accident lawyer at Salamati Law.
Additional Resources:
CA Disability Benefits, California State Disability Insurance (SDI): FAQs https://ca.db101.org/ca/programs/income_support/sdi/faqs.htm
EED.CA.gov, SDI Online, https://www.edd.ca.gov/disability/sdi_online.htm