Located just 19 miles from downtown Los Angeles, West Covina experiences the heavy traffic so common in the greater LA area. Many riders enjoy getting out on their motorcycles for recreation or basic transportation.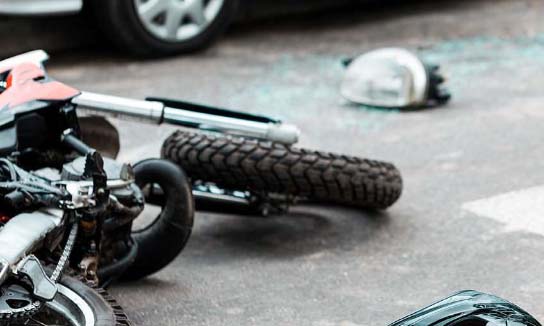 However, accidents involving collisions between motorcyclists and larger vehicles happen too often. The more vulnerable motorcyclists tend to suffer more serious or fatal injuries. The number of these types of accidents in West Covina has increased in recent years. If you were one of these victims, obtain legal counsel as soon as possible.
The motorcycle accident attorneys in West Covina at Salamati Law will protect your rights and fight so that you receive the maximum compensation you deserve for your injuries.
Motorcycle Accident Injuries
When a motorcyclist is hit, there is nothing to shield them from the full impact of the crash.
Common motorcycle accident injuries include:
Burns
Degloving
Fractures
Loss of limbs
Spinal cord damage
Traumatic brain injury
Many of these injuries result in long-term or permanent impairment. Medical and rehabilitation expenses are costly. The injured person may no longer have the ability to work to support themselves and their family. If a motorcyclist is killed in a crash, family members should consult an attorney regarding a wrongful death lawsuit.
Motorcycle Accident Causes
Many factors may cause or contribute to a motorcycle accident. Although there are similarities, no two motorcycle accidents are the same.
However, the most common include:
Distracted driving
Driving under the influence
Lane splitting
Failure to yield
Tailgating
Other frequent motorcycle accident causes not related to other vehicles:
Bad weather
Poor road conditions
Inexperience
Dangerous road design
Missing or obstructed traffic signs
Motorcycle defects
Motorcycle Accident Damages
Compensation in a motorcycle accident, known as damages, may include:
Medical bills, current, and future
Lost wages
Loss of earning capacity
Property damage
Pain and suffering
Mental anguish
Disfigurement
Keep careful track of every expense connected to the accident. That includes transportation, rehabilitation, home modifications, and many others.
An injured motorcyclist may receive damages in California even if they are partly at fault. California is a comparative negligence state. The court determines the percentage of fault for plaintiffs and defendants, and any awards are adjusted accordingly. For instance, if the motorcyclist is deemed 30 percent at fault and the award is $100,000, they will receive $70,000.
Note that all motorcyclists must wear Department of Transportation-approved safety helmets under California law. Therefore, those injured in an accident while not wearing a helmet may find this fact negatively affects their compensation.
How a West Covina Motorcycle Accident Attorney Can Help
The insurance company may prove eager to quickly settle a claim for a low amount but agreeing to such a settlement is a mistake. Once the matter is settled, it is over– even if it turns out the injuries are much more severe than they initially appeared. Instead, let an attorney negotiate with them to achieve a fair settlement.
If the insurance company is not amenable to this, the matter may go to trial. Your attorney evaluates your case, collects evidence, and will consider all potentially liable parties based on the circumstances.
The statute of limitations in California for filing a personal injury case is two years. However, if the accident involved any public entity, such as debris left in the road by the city or a collision with a public-school bus, the statute of limitations is much shorter. It is six months from the accident date– that is why it is imperative to contact an attorney right away.
Contact a Motorcycle Accident Lawyer in West Covina for a Free Consultation
If you or a loved one were seriously injured in a motorcycle accident due to another party's negligence, a West Covina personal injury lawyer at Salamati Law could help you to begin rebuilding your life. Call or text our West Covina motorcycle accident law firm 24/7 to arrange a free, no-obligation consultation or submit our online form. We work on a contingency basis, so there is no fee unless you receive compensation.