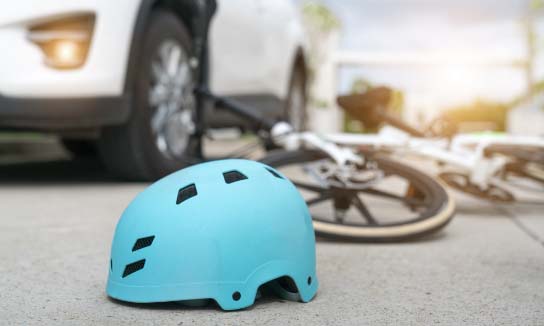 Cycling is a popular and essential form of transportation in West Covina. However, the most recent accident statistics report that motorists killed 726 bicyclists, and at least 50,000 cyclists suffered injuries after being struck by cars.
If this happened to you, now is the time to seek legal counsel. A bike accident lawyer in West Covina may be able to provide skilled legal guidance for your injury case. At Salamati Law, we are ready to serve as your advocate as you seek financial compensation.
Who is responsible for a bicycle accident?
When you work with a West Covina personal injury lawyer, they will work to identify the party who is responsible. Determining liability for your accident is crucial, as you are only entitled to recover compensation if negligence was a factor. In some bicycle accidents, the question of liability is straightforward. For example, a driver runs a red light or rear-ends you at a stop sign. In these cases, negotiations often focus on your potential settlement amount.
In other accidents, it might not be immediately apparent who was at fault. This is common when there are multiple vehicles involved in the same accident. As a result, it can be challenging to identify who caused it. One of the benefits of working with a West Covina bike accident attorney is leaving issues of liability in our hands. We carefully evaluate the facts of your accident and determine who is responsible for your damages.
How do bike accidents happen?
Often, these accidents occur due to the carelessness of a negligent motorist.
However, each accident has its own set of unique fact patterns and may include:
The weather. Bicycle accidents are far more common in inclement weather. This is especially true in rain or fog when a cyclist is obscured from the vision of a driver.
Intersections. This is the most common location for bike accidents. They are especially common when a cyclist attempts a left turn in front of a vehicle.
Distraction. Distracted drivers frequently collide with cyclists.
What damages could I recover?
There is no way to predict with certainty the amount of your financial settlement. Your West Covina bicycle accident lawyer will determine your potential recovery by reviewing the nature of your injuries.
Your physical, financial, and emotional losses in the aftermath of a bike crash will determine what your case is worth. Some types of compensation could include:
Lost wages
Pain and suffering
Mental anguish
Bicycle repair expenses
Medical bills
Emotional distress
Disability
Loss of consortium
Disfigurement
Several other factors could also impact the value of your injury claim. These include whether the party who injured you is insured or if you shared any fault in the crash. A bicycle accident attorney in West Covina will handle all these elements in your case.
Bicycle Accident Attorney in West Covina, CA
If you are living with the consequences of a significant injury suffered in a bicycle accident, now is the time you discuss your legal options. We can provide you with clear guidance and advocacy. A serious bicycle accident could require the guidance of a wrongful death lawyer. The team at Salamati Law is here to provide compassionate legal service. Call for your free consultation right away.