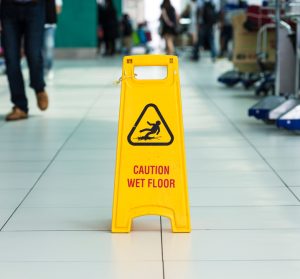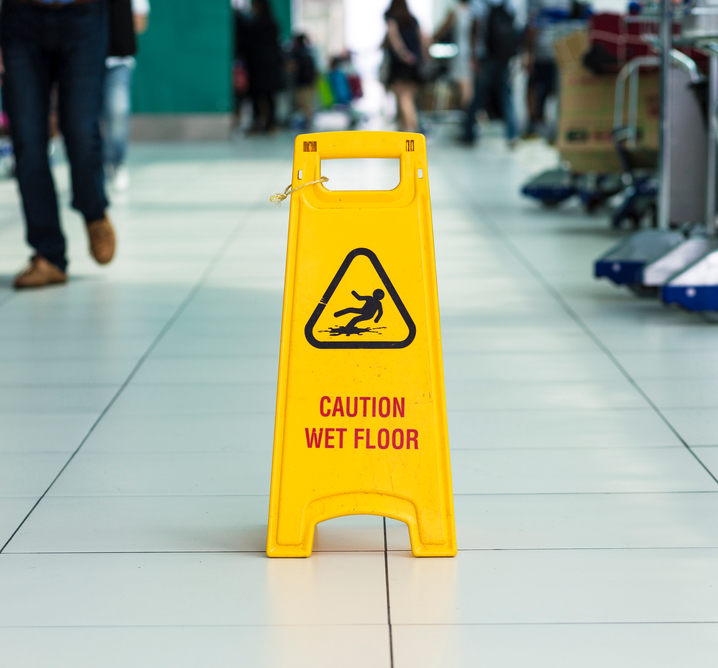 A slip and fall accident, when caused by a property owner's negligence, can give rise to a viable claim for compensation. Wet surfaces are one of the greatest risks for a serious slip and fall injury.  According to the National Floor Safety Institute, wet or slippery surfaces account for the majority of fall accidents in the United States.
Given that many victims of such accidents sustain broken bones, traumatic brain jury, spinal cord damage, torn ligaments and other debilitating harm, it's no wonder that these cases settle for high dollar amounts – often reaching six and seven figures.
Wet flooring surfaces, whether inside or outside of a building, are a hazardous condition that should be addressed immediately by property owners or managers. At the very minimum, guests should be made aware of unsafe conditions with a yellow warning sign or barred from walking on certain areas where slick surfaces are present. Property managers are also expected to place floor mats or anti-skid rugs where wet or slippery surfaces may exist. When this duty to use reasonable care is breached, and physical harm results, victims may be eligible to sue for monetary damages.
In order to protect your rights, it's imperative to align yourself with a qualified slip and fall lawyer in Los Angeles as soon as possible. The legal team at Salamati Law has extensive experience handling premises liability claims in California, and works tirelessly to achieve maximum compensation for our clients.
Substantial fall injuries result in higher legal payouts
Fall injuries are not only painful to endure, they can be incredibly expensive. From hospitalization and doctor's appointments, to surgery and long-term care, these injuries can cost hundreds of thousands of dollars, putting a huge burden on victims and their loved ones.
Settlements will take into account not only past and ongoing medical bills, but pain and emotional suffering, lost income, and damages such as loss of consortium and loss of enjoyment of life. Historically speaking, wet surface fall accidents resulting in spinal cord injury, paralysis, skull fractures and brain damage have been some of the highest paying claims.
The Los Angeles-based Salamati Law office is committed to helping fall injury victims receive justice. Our firm boasts a stellar reputation for aggressive advocacy and has procured major settlements in complex slip and fall cases.
Through thorough investigations that uncover the truth and pinpoint liability, a personal injury lawyer from our firm can help victims and their families hold negligent property owners responsible. A successful personal injury claim can seek money damages that adequately reflect the pain, suffering and financial losses endured.
Causes of slippery surfaces and common defenses
Slippery and wet floors are often caused by:
Rain that falls into a doorway or is tracked inside
Waxing, polishing or mopping
Cleaning agents that accidentally spill on the floor
Naturally slick flooring surfaces such as marble
Spilled liquids that aren't cleaned up
Property owners can be held accountable in a court of law if it is proven that they knew or should have known about a hazardous condition (i.e. a wet or slippery floor) or caused the dangerous condition and did nothing to remedy or address the situation.  Whether the slip and fall accident happened at a commercial property or a private home, there are several defenses that may be raised. These include:
Assumption of risk – the injured plaintiff was aware of a potential falling risk, as it was obvious, but voluntarily took this risk anyway
There was no breach of duty – the defendant may argue that they were not aware of a spilled liquid (or other condition that caused a wet surface)
Comparative negligence – the injured plaintiff bears some responsibility for the accident. For example, they were texting while walking and did not notice the "wet floor" sign
Superior legal representation in California
Your choice of Los Angeles slip and fall attorney can mean the difference between a successful insurance settlement or having no compensation for your injuries, lost wages and medical bills. When your health and livelihood are at stake, put your trust in Sean Salamati.
Call today for a free case evaluation and discuss your claim with a veteran personal injury lawyer in Los Angeles.
Additional Resources on Wet Floor Slip and Fall Injuries: 
University of Wisconsin, Accident Prevention: Slips, Trips and Falls http://www.uwosh.edu/ehs/campus-health-and-safety/general-safety/occupational-safety/accident-prevention-slips-trips-and-falls
GuideOneInsurance, Wet Surface Slip and Fall Prevention https://www.guideone.com/safety-resources/slips-and-falls-prevention-wet-surfaces