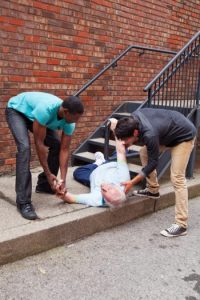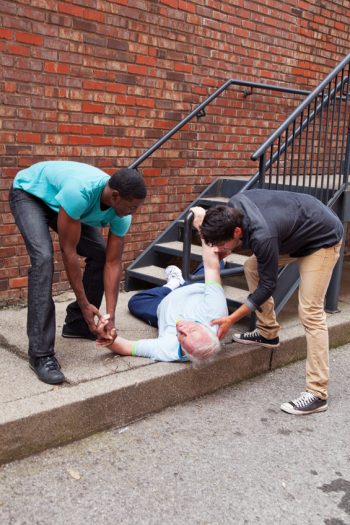 You will likely experience a range of emotions if you suffer a fall accident, including everything from embarrassment and fear to anger and frustration. Los Angeles slip and fall lawyer Sean Salamati understands that in the immediate aftermath of an accident, emotions run high and it may be hard to think clearly. Here are a few simple recommendations for what do after a fall to improve your opportunity to recover damages to compensate you for injuries.
Steps to Take After a Slip and Fall

It is vital to act immediately after your slip and fall accident to maximize your chances of receiving compensation for your injuries. By being a proactive participant in your case, you'll help your lawyer make a stronger claim on your behalf. After a slip-and-fall accident, take these steps:
Report Your Accident
The first thing to do after slipping and falling is to report the event to the authorities. Call 911 and explain the situation to the dispatcher. If you are injured, the dispatcher will send an ambulance and paramedics to tend to your injuries. The police will also be dispatched to create an accident report. Describe the accident as accurately and with as much detail as possible. Do not admit fault.
Inspect the Scene
As you await the arrival of the authorities, inspect the scene that led to your accident. Note the type of flooring, the condition of the ground, and any other relevant details.
Take Photographs
Once you understand the cause of your fall, document the scene. Take pictures, and videos of the area where you fell, any injuries you've sustained, the lighting, and other conditions you think may be significant to your case.
Gather Eyewitness Contact Information
If there are witnesses, politely request that they provide you with their contact information. Ask for their full name, phone number, address, and email address. Then, ask them to describe the event from their point of view.
Go to the Hospital
Once you've gathered the evidence you need to prove your claim, it is important to immediately go to the hospital to have your injuries examined. If you delay this step, the defense may claim that your injuries were not serious.
Retain the Clothing You're Wearing
Since your footwear and other clothing may play a role in determining your case, you should save the clothes you wore during the incident.
Request a Copy of the Accident Report
Once you provide a description of your fall to the police, they will create an accident report detailing the event. Request that the police provide you with a copy of it. This document may be a major component of your case.
Contact Salamati Law
Finally, it is important to contact an experienced personal injury attorney. At Salamati Law, our team will work hard to maximize your damages award so that you can focus on rebuilding your life. Reach out to us for a free consultation.
Document and Record the Scene
Even if you have a great memory, you might have trouble remembering all of the circumstances surrounding a fall accident in the weeks or months after it happens. The key to winning your lawsuit is to show that the negligent party created or knew about a dangerous condition that caused your accident. Collect as much evidence at the scene of your slip and fall accident as you can, or ask someone at the scene to get as much of this information as is possible:
Notations of any dangerous circumstances (ex. water puddles, broken or uneven pavement, debris, etc.);
Weather and lighting conditions;
Contact information for witnesses;
Warning signs for hazardous conditions, or absences of warning signs.
You should also preserve all evidence of your lost income resulting from injuries keeping you away from your job. This includes pay stubs for wages you received before your accident and receipts for your expenses while you recuperate from your injuries.
When to Report Your Accident

If you are in a retail store, restaurant, or other commercial location that is open to the public, speak with a manager and ask him or her to file a report on the accident. Be careful, however, not to sign anything that a manager might ask you to sign at that time. You should only verify that the business has a report of the accident, as that report will prevent the business from later denying that an accident happened on its premises.
If you have fallen and injured yourself on a public street, at a commercial parking facility, or in some other place where a manager is not immediately available, record as much detail about that location as you can and contact its owners or supervisors as promptly after your accident as is possible.
Have a Doctor Evaluate Your Slip and Fall Injuries

Seek immediate emergency room medical treatment for severe slip and fall injuries. Even if your injuries are less severe or you perceive your injuries are minor, do not hesitate to have a doctor assess them. Tell your doctor how the accident happened and have him or her note in your medical records that your injuries proceeded from a slip, trip and fall accident.
Any delays between the injury and a doctor's examination can give a negligent party an opportunity to argue that your injuries resulted from another incident that happened after the accident. More importantly, delays in seeking medical attention can be dangerous. If you hit your head when you slipped and fell, you could have a concussion. Failure to treat a concussion properly could be have serious negative long-term effects, and could even be fatal in some rare cases.
Follow all recommendations that your doctor makes while you recuperate. The negligent party that caused your accident might argue that your failure to follow a physician's recommendations is proof that your injuries are insignificant.
Time Limits for Filing a Lawsuit After a Slip and Fall

The California statute of limitations sets a deadline of two years after a slip and fall accident for you to sue a negligent party to recover damages for your injuries. Although there are limited exceptions to this deadline, if you fail to initiate your lawsuit within the two-year limit, you risk having your case dismissed with no chance of recovery.
Refrain from Signing or Agreeing To Any Written Documents

A commercial business or its insurance company might ask you to sign a statement, a waiver, or some other agreement after you have reported a slip and fall accident to the business's manager. You should not sign any documents, regardless of how innocuous those document might appear to be, without consulting with an experienced slip and fall accident attorney. A document prepared by a negligent party might include language that absolves it from responsibility for your injuries or that otherwise limits or shifts its blame. Your attorney should review all documents that you are asked to sign to verify that you are not waiving any of your rights to recover the full amount of damages that you are owed. 
Call Sean Salamati, a Skilled and Compassionate Slip and Fall Lawyer in Los Angeles

Since 1995, The Salamati Law Firm in Los Angeles County has represented injured clients to recover the compensation that they deserve when someone else's negligence. If you do nothing except call Los Angeles personal injury attorney Sean Salamati after your slip and fall accident in Los Angeles or anywhere else in Southern California, you will be taking a powerful step toward securing your right to collect the largest damages award available for your injuries and lost income. All initial consultations are free, and you owe us nothing unless we win your case!
More information on what to do in the aftermath of a slip and fall injury:
OSHA.gov, Slips, Trips, Falls, https://www.osha.gov/dte/grant_materials/fy06/46e0-ht10-06.html
OSHA.gov, OSHA issues final rule updating walking-working surfaces standards
and establishing personal fall protection systems requirements, https://www.osha.gov/news/newsreleases/national/11172016
EMC Insurance, Slip and Fall Incident Report Form, https://www.emcins.com/Docs/OFILib/AA050001338_20131011.PDF