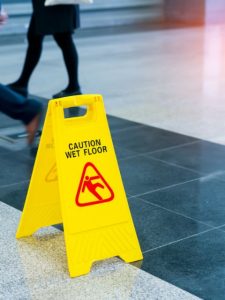 Have you been injured after slipping or tripping and falling on someone else's property? To improve the odds of walking away with a settlement or jury award, the premises liability attorneys at The Salamati Law Firm recommend that you document everything about your slip and fall accident.
Sometimes slipping and falling is not merely an accident. There are cases where a property owner's negligence causes a safety issue or needless hazard that directly contributes to another person's injuries. They may know that there is insufficient lighting, cracked sidewalks, uneven flooring, a spill, wet floors, debris in the walkway, broken railings, or overcrowded aisles – and fail to take action to remedy the situation.
Property owners are required by law to maintain safe premises and warn visitors of known dangers. A breach in this duty may entitle the injured party to compensation for medical bills, lost wages, pain and suffering, and wrongful death benefits.
If you're looking for the best slip and fall lawyer Los Angeles has to offer, look no further than the Salamati Firm, which has been winning multi-million dollar verdicts since 1995. We help clients build strong cases for their premises liability lawsuits with our extensive network of legal experts, medical doctors, and city inspectors. We work on a contingency basis, meaning that we will only agree to take on your case if we know we can win.
Meanwhile, here are some recommendations for how to document your slip and fall injury:
Take pictures of the accident scene.
If possible, take multiple pictures of the area where your Los Angeles slip and fall accident occurred. Friends or relatives can assist you with this task. It is especially important to capture this immediate documentation before anything gets moved or changed — for example, in the case of a liquid spill-related accident, a store employee may mop up the spill after you fall. Taking pictures of any visible injuries will also be helpful to your case.
Write down what happened.
The details of even the most traumatic incidents will fade from memory with time, so try to write down as much as you can remember about the accident right away:
What circumstances caused you to fall?
Was there a hazardous condition?
Were there visible defects at the time?
Were there any warning signs?
Report what happened to the responsible party.
Insurance companies question the validity of accidents that are not reported within 24 hours. If you're on a commercial property, find the highest level person in the building and report what happened. Get a business card (or at least the person's name and job title). If you are injured on public property, report the incident to the city or town municipality, keeping a copy of the letter for your records. Report injuries on private property to the owner, taking care to get their name and contact information. Get the contact information of any eye witnesses, if possible. 
Seek immediate medical attention.
Medical records must match claims reported to the insurance company. Go to the Emergency Room by ambulance if your injuries are severe. Otherwise, schedule an appointment with your doctor right away to discuss what happened.
Be sure to keep record of all the costs associated with your treatment – ambulance rides, hospital stays, surgeries, prescription costs, physical therapies, insurance co-pays, the purchase of assistive devices, and home modifications to accommodate disability.
Discharge sheets and written instructions from doctors are good to include in your file, as well as medical bills.
Contact a slip and fall attorney in Los Angeles to explore your full set of legal options. There's nothing to lose!
Additional "documenting a slip and fall accident" resources:
Justia, California Civil Jury Instructions (CACI) (2017) Series 1000 – Premises Liability, https://www.justia.com/trials-litigation/docs/caci/1000/
Insurance Information Institute, Controlling Liability Risks, https://www.iii.org/publications/insuring-your-business-small-business-owners-guide-to-insurance/risk-management/controlling-liability-risks