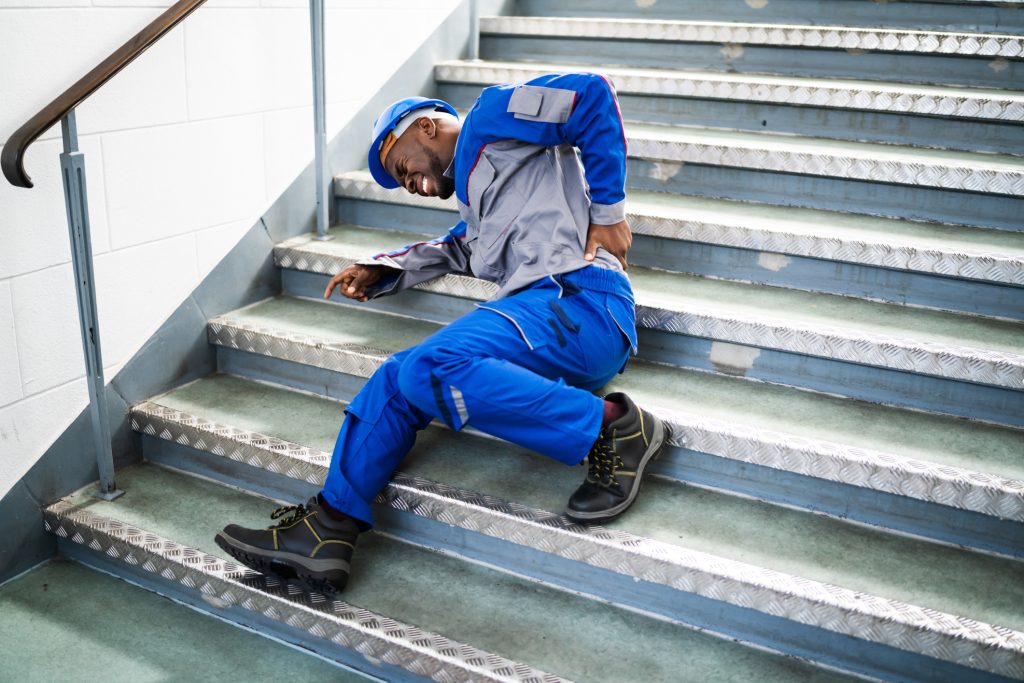 Slip and fall accidents can happen anywhere. No one is immune. They occur in stores, restaurants, private homes, office buildings, parks, and movie theaters. Most of these accidents do not result in serious injuries. However, some can cause long-term and even lifelong disability. In many cases, these accidents could have been prevented if the property owner or manager had fixed a known dangerous condition.
A slip and fall lawyer in Pomona, CA, at Salamati Law, can help you receive the compensation you deserve. Contact us today for a free consultation—we have over 30 years of experience advocating for our injured clients. 
Click here to call now for a FREE consultation!
Slip and Fall Attorney in Pomona, CA
Slip and fall accidents fall under premises liability law. Owners and managers have a duty to maintain their property in a safe manner. A slip-and-fall lawyer in Pomona, CA, must prove that your fall resulted from negligence in a premises liability lawsuit. That means a dangerous condition existed– the owner or manager was aware of it– but did not repair, remove, or warn about it.  
Slip and Fall Causes
Common causes of slip and fall accidents resulting from owner or manager negligence include:
Wet floors
Loose floorboards
Poor lighting
Torn carpeting
Missing tiles
Uneven surfaces
Broken stairs
Holes in driveways or pavement
Debris in walkways
What to Do After a Slip and Fall Accident
If you are physically able, take photos of your surroundings and the issue causing your fall. For example, you may have fallen at a supermarket due to a wet floor without warning signs or caution tape. Photograph your injuries and the condition of your clothes and footwear. If there were witnesses, get their names and contact information.
Always report it immediately to the owner or manager. In most commercial buildings, the management has a report you can fill out. Do not say the fall was your fault. Sometimes, a pedestrian is partially responsible. However, that is something your Pomona slip and fall attorney will discuss in negotiations with the property owner's insurance company.
In addition, you must seek prompt medical attention. Go to the emergency room or an urgent medical care center right away. Failure to do so harms your claim and can affect your health and mobility. Contact a slip and fall lawyer in Pomona, CA, today if this has happened to you. 
Statute of Limitations
In most cases, the statute of limitations in California for filing a personal injury lawsuit is two years. After that time, the right to sue other parties expires. However, there are exceptions.
For instance, bus accidents often occur due to slips and falls inside the vehicle. The two-year statute of limitations should apply if the bus is owned and operated by a private company. However, if the bus is owned and operated by Los Angeles Transportation (LADOT), the statute of limitations is much shorter. In such cases, the plaintiff must provide a notice of claim to the government within six months of the accident. No lawsuit may be filed until the government or public agency denies your claim or until 45 business days have passed.
In a worst-case scenario, a slip and fall accident results in the victim's death. A wrongful death lawyer must file a lawsuit within two years of the deceased's date of death, not the date of the accident.
Many times, the injured person does not realize that their accident took place on public property. This is why it's crucial to contact a Pomona slip and fall lawyer as soon as possible. Waiting too long to seek legal advice can mean that valuable evidence vanishes. 
Slip and Fall Damages
Damages, or compensation, for a slip and fall accident may include:
Medical expenses, current, and future
Lost wages
Lost earning capacity
Pain and suffering
A slip and fall lawyer in Pomona knows a fair settlement amount based on the circumstances of the individual case. While most cases are settled, we will go to trial if the insurance company fails to agree to a reasonable settlement.
Contact a Pomona Slip and Fall Attorney
If you or someone you know was seriously injured in a slip and fall due to another party's negligence, you need the services of a Pomona personal injury lawyer at Salamati Law. Call us 24/7 or complete our online form to schedule a complimentary consultation. After reviewing your claim, we will discuss your options. Because we work on a contingency basis, there are no legal fees unless we win.