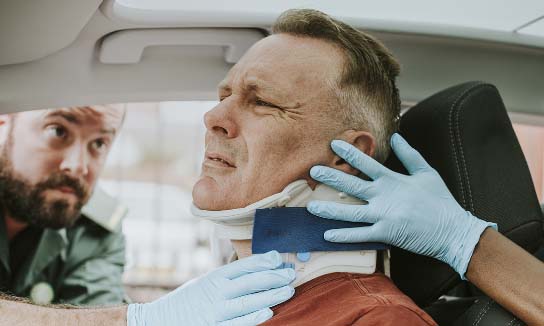 Many people who've been seriously hurt in an accident are concerned about their finances– how will the bills be paid– the mortgage, the children's tuition, utility bills, groceries? In addition, you know you may be out of work for a protracted period of time. You may need rehabilitation, help with cleaning, cooking, shopping, as well as child care. If you've been injured due to the negligence of another party, you have a right to recover these damages.
At Salamati Law, we've advocated for Southern Californians for over 30 years. Contact us today and schedule a free consultation with a personal injury lawyer.
Common Types of Personal Injury Accidents
As noted above, if the negligence of another party caused the accident, you might be eligible to recover financial compensation with the help of a personal injury attorney Pomona. Some of the more common types of personal injury claims include:
Animal attacks, such as a dog bite at a neighbor's cookout in Spadra, may cause permanent scarring or disfigurement
Motor vehicle accidents, such as a car crash caused by a drunk driver rear-ending you at the intersection of Humane Way and Roselawn Avenue. If you were injured on public transportation, contact a bus accident lawyer.
Slip or trip and fall accidents, such as slipping and falling on a spilled drink in the food court at the Rio Rancho Mall, may cause a broken arm or a spinal cord injury
Medical malpractice, such as a doctor at Pomona Valley Hospital Medical Center erroneously prescribing a medication to you that may exacerbate a pre-existing heart condition, which then results in a heart attack
Construction accidents, such as being struck by a falling object at a construction site in Phillips Ranch, may cause paralysis.
Types of Damages You May Receive
Some of the types of damages a Pomona personal injury attorney may be able to help you recover include:
All medical costs
Lost wages
Loss of earning capacity
Pain and suffering
Loss of enjoyment of life
Loss of companionship or
Wrongful death
How to Prove Your Case
To recover these damages, your Pomona personal injury attorney will need to prove by a preponderance of the evidence that the defendant was negligent. These four elements must all be met:
You were owed a duty of care by the defendant, which would be met if you were walking in the food court at Rio Rancho Mall and a patron had spilled their drink several hours earlier.
The defendant breached this duty of care, perhaps by failing to remove, block off, or advise patrons about this large spill in the middle of the food court.
This breach of the duty of care caused your accident, which would be the case if you slipped and fell while walking through the spill that you did not see.
You were injured in this accident, perhaps suffering ligament damage in your knee and concussion due to the slip and fall.
Dealing with insurance companies
Often accident victims accept the insurance company's settlement offer without first consulting with an experienced personal injury attorney in Pomona, CA. Insurance companies are businesses focused on minimizing the amount of your financial recovery. They are notorious for presenting lowball settlement offers early in the process, hoping that you will accept it. This saves the insurance company significant amounts of money. Instead, our attorneys at Salamati Law strongly recommend that you consult with a slip and fall lawyer as soon as possible following your accident. In this meeting, you will be advised of the approximate financial value of your claim, so you will know whether or not the insurance company's offer is reasonable.
About Pomona Courthouse South
If you are injured in Pomona, all hearings and court proceedings in your case will take place at Pomona Courthouse South, which is located at:
400 Civic Center Plaza
Pomona, CA 91766
Should you have any questions, you can call the courthouse directly at (909) 802-1100 or visit their website.
Personal Injury Attorney in Pomona, CA
Since 1995, our attorneys at Salamati Law have been helping injured victims rebuild their lives and achieve justice. In addition, we strive to maximize the financial compensation that each of our clients receives.
If you have been injured in an accident in Pomona caused by another party, call us today to book your free consultation with a personal injury lawyer. You will pay nothing out of your pocket unless you prevail in your case.