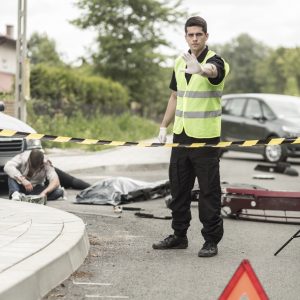 Recent data from the National Safety Council (NSC) underscores the severe economic impact of auto accident injuries in our nation. Every year, millions of Americans suffer serious physical harm in motor vehicle accidents. In 2016, this figure included more than 4.6 million people.  The NSC estimates that the total cost of motor vehicle injuries, property damage and deaths was a staggering $432 billion in 2016. This figure includes hospital and medical expenses, wage and productivity loss, employer costs, as well as property damage.
Whether caused by alcohol impairment, cell phone distractions or just plain negligence, motor vehicle accidents can leave victims with catastrophic injuries that require costly, long-term medical treatment.  According to NSC data, the average economic cost of a non-fatal, yet incapacitating injury was $80,700, while the median cost of a non-disabling injury was $24,000.
Let's take a closer look at the average costs and expenses associated with catastrophic accident injuries that can overwhelm victims and their families. In some of these accidents, litigation is the most effective means to recover compensation from negligent parties needed to pay costs of treatment.
Traumatic Brain Injury
An estimated two million Americans are living with the lasting effects of a traumatic brain injury (TBI), which often causes cognitive impairment, loss of motor function, memory problems and losses in emotional stability. Minor to moderate traumatic brain injuries entail hospitalization, diagnostic tests, medication, and doctor's visits, which can easily rack up bills of more than $20,000. Depending on the severity and nature of the brain trauma, the median lifetime cost of care for a TBI victim can range from $80,000 to over $2 million. Statistics show that TBI patients requiring rehabilitation will incur nearly $200,000 in medical expenses in the first year alone.  Those who suffer moderate to severe traumatic brain injury will typically incur expenses for: hospital stays, surgery, neurologist fees, acute care, in-home modifications, prescription medications, vocational and psychiatric therapy to address emotional changes, as well as assistive medical devices. The CDC reports that direct and indirect medical costs for patients with severe traumatic brain injury can exceed more than $1,875,000 over the course of a lifetime.
Spinal Cord Injury
Falls and motor vehicle collisions are two of the leading causes of spinal cord injuries, which may result in partial or complete paralysis of the limbs. Figures gathered by the Christopher and Dana Reeve Foundation highlight the enormous costs of living with a spinal cord injury. Even minor injuries that cost hundreds of thousands of dollars in medical treatment. The estimated lifetime cost for a 25-year old spinal cord injury victim with incomplete motor function is $1,578,274. Those who suffer high tetraplegia will likely face a staggering $1,064,716 for medical expenses in the first year alone, and nearly $200,000 in medical care expenses each following year. Some patients who suffer spinal cord injuries never fully recover, and the vast majority are saddled with astronomical hospital bills and financial burdens that can place entire families on the brink of bankruptcy.
Severe burn injuries
Fiery car accidents can leave motorists with life-threatening burns over large portions of their bodies. Third or fourth degree burn require lengthy recoveries and, oftentimes painful skin graft surgeries. Victims may suffer from skin loss, nerve damage, injury to the soft tissues, as well as chronic pain. Treatment costs will vary on the severity of the burn, the type of scarring and disfigurement suffered and the number of skin grafting and reconstructive surgeries needed, but can easily exceed more than $200,000.
Car accident attorney in Los Angeles
If you or someone you love suffered serious car accident injuries in California, contact The Salamati Law Firm for a free case evaluation. Our highly skilled Los Angeles personal injury attorneys can determine if you have a viable claim for compensation, and will help you secure monetary damages for related medical expenses, rehabilitation as well as lost wages and future loss of earnings. Call our law firm today to discuss your claim with a veteran car accident lawyer in Los Angeles.
Additional Accident Injury Cost Resources: