If you have survived a motorcycle accident, consider yourself fortunate. Motorcycle injuries are usually severe, and people often have a long recovery ahead. While recovering, you often cannot work, care for your family, or perform everyday tasks. Medical bills and household expenses pile up.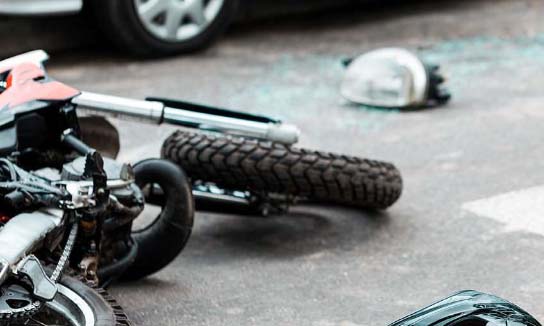 If the collision occurred because of another party's negligence, help is available. A Norwalk motorcycle accident lawyer protects your rights while helping you receive the compensation you deserve for your injuries. Contact us at Salamati Law for a free consultation. We specialize in skilled and experienced advocacy for all our clients.
Motorcycle Accident Injuries
Common injuries in motorcycle accidents include:
Amputation
Broken bones
Internal organ damage
Spinal cord damage
Traumatic brain injury
Motorcycle Accident Causes
Many motorcycle accidents occur because drivers do not see the motorcyclist before impact. Other parties who might be responsible include the city or county if road hazards played a role in the crash. It's always best to consult with a Norwalk motorcycle accident law firm to determine who is liable.
The most common causes of motorcycle accidents include:
Debris in the roadway
Distracted driving
Driving under the influence
Dooring when a car door opens onto the street without realizing a motorcyclist was passing
Failure to yield
Illegal left turns
Lane splitting, which is legal in California, unlike other states
Poor road conditions
Speeding
Tailgating
Motorcycle Accident Damages
Damages, or compensation, for a motorcycle accident, may include:
Current and future medical expenses
Rehabilitation
Lost wages
Loss of earning capacity
Property damage
Pain and suffering
Mental anguish
Because motorcycle accidents frequently result in catastrophic injuries, many victims may require long-term care in a nursing home or need special accommodations for housing or transportation. In addition, they may no longer have the ability to work or cannot work in their former field. All of these needs are taken into consideration as part of settlement negotiations.
How Motorcycle Accident Attorneys in Norwalk Can Help
The statute of limitations for filing a personal injury lawsuit in California is two years. Do not wait to seek legal advice. The sooner you contact a Norwalk personal injury lawyer, the sooner an investigation of your case may begin. Time is of the essence because evidence can vanish quickly. For example, surveillance video from local businesses or residences can establish how the accident occurred, but it is generally available for a limited period.
What to do in the aftermath of the accident
After any motor vehicle accident, the person should call 911, take photos of the accident scene, and exchange contact and insurance information with the other driver. However, for many victims, that is not possible because they are too badly hurt. An attorney can help gather that information when notified promptly.
You must seek immediate medical attention, even if you think you were not harmed in the crash. Some motorcyclists do not appear to have been hurt. However, injuries, even serious ones, do not show up right away. Always go to the emergency room after a motorcycle accident.
While you recuperate, your attorney will negotiate with the insurance company so that you may receive a fair settlement based on your prognosis. Insurance companies want to settle claims for as little as possible. Once a settlement is agreed upon, there is no room to renegotiate. Your attorney collects your medical records, retains accident experts to recreate the scene, and gathers facts about the incident. This is all to ensure that you receive the settlement needed for recovery and rehabilitation.
Contact a Norwalk Motorcycle Accident Attorney
If you or a loved one were seriously injured in a motorcycle accident due to another party's negligence, you need the services of an experienced motorcycle accident lawyer in Norwalk at Salamati Law. Call or text us at Salamati Law 24/7 or submit our online form to arrange a free consultation. We work on a contingency basis, so there is no fee unless you receive compensation. While most cases are settled, we will take your case to court if the insurance company refuses to agree to a fair settlement. Hablamos Español