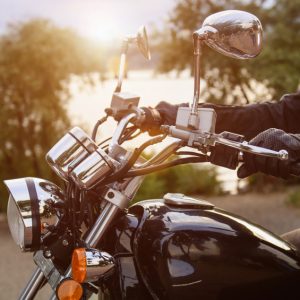 It's a good idea to take a motorcycle driver's education class as part of your journey toward being a motorcyclist. But even so, there are common mistakes that motorcyclists make that imperil their safety on California's — and the nation's — roads. The more you avoid these mistakes, the safer you'll be.
Mistake #1: Not Paying Attention to the Road
Always remember that you are far more vulnerable riding a motorcycle than you are in a car, for several reasons. First, and most obvious, you don't have the protection of several tons of metal and seat belts, like cars do. Second, car drivers don't "see" motorcycles in the way that they do other cars. They pull out in front of you, crowd you from behind, change lanes, and may even open doors as you're driving down the street. Any of these moves can injure you, or even be fatal. Third, obstacles that are no problem for a car, just as a spray of gravel or potholes, can cause severe motorcycle accidents.
The best defense against accidents like this? Pay close attention to the road. Know what drivers around you are doing — and operate your motorcycle defensively for what they may do. It can be very tempting to enjoy gazing around while you're driving a motorcycle. Don't do it.
Mistake #2: Having a Passenger Right Away
It's a lot of fun to take your significant other or a new date out on your motorcycle. But it can also pose a danger to both of you.
Why? Because riding with a passenger behind you is really different from riding by yourself. The weight and balance are different. Your ability to pay attention are different. It's a good idea to hold off until you have had plenty of experience riding by yourself.
Not only is that a good idea, but it's also wise to practice with a passenger in a large parking lot or quiet street until you are thoroughly comfortable with it.
Mistake #3: Miscalculating the Throttle
Beginning riders need practice calculating how much to release the clutch and give it throttle. Too much will stall the bike, and so will not enough. A large parking lot is also a good place to practice before you head into traffic.
Mistake #4: Not Talking to a Lawyer After a Motorcycle Accident
In an accident between a car or other vehicle and a motorcycle, the larger vehicle is often at fault. But because motorcycle accidents are potentially so severe and possibly long-lasting or permanent, insurance companies may try to low-ball you on the settlement, or even blame you. Having a lawyer negotiate on your behalf is a wise move in case of an accident.
If you need an experienced motorcycle accident lawyer in the Los Angeles area, contact us today. The Salamati Law Firm has an excellent record of obtaining justice for clients in motorcycle accidents throughout Southern California.
We will provide a consultation at no charge. Payment will come from any final jury award or settlement amount.
Additional Resources:
Motorcycle Safety Foundation, Quick Tips: General Guidelines for Riding a Motorcycle Safely, https://msf-usa.org/downloads/If_you_ride_a_motorcycle.pdf
Weyant, Curtis. Consumer Safety, 11 Motorcycle Safety Tips for Riders, March 14, 2018. https://www.consumersafety.org/news/safety/motorcycle-safety-tips/