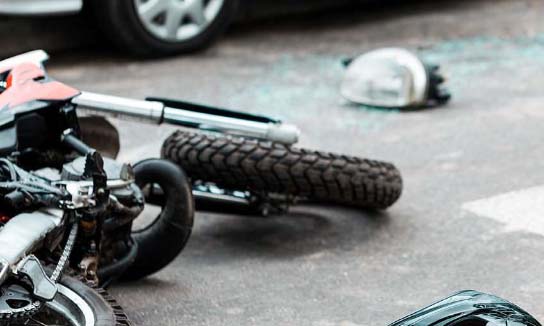 To receive financial compensation for your motorcycle crash, you will need to prove that the other driver was negligent, meaning a duty of care was owed to you. Further, that driver breached this duty, which caused your accident, and your injuries. If this has happened to you or a loved one, and are unsure of what evidence you need, contact us today at Salamati Law for a free consultation.
Duty of Care and Breach of Duty
Duty of care is the easiest to meet, as all drivers on public roadways are charged with a duty of care to all other drivers and pedestrians. This entails an obligation to obey all traffic laws at all times.
Whether or not the other driver breached this duty can be more challenging to prove. Examples of what would qualify as a breach of this duty of care include the following common causes of motorcycle accidents:
Speeding
Driving while under the influence of alcohol or drugs
Unsafe lane changes
Running a red light
Tailgating
Proving That a Breach Occurred
Sometimes the other driver will admit what they did to the police or the insurance company, but this is not always the case. Our team of Los Angeles motorcycle accident lawyers at Salamati Law strongly urge you to hire an experienced attorney as soon as possible after your crash. Your Los Angeles motorcycle accident lawyer can begin interviewing eyewitnesses immediately while they are still available, and the accident is still fresh in their minds.
Another method to prove that the other driver breached their duty of care is to gather video from surveillance cameras that may have captured the accident. Many businesses and private residences are now equipped with 24/7 surveillance cameras for security purposes. Your lawyer can contact nearby property owners to determine whether or not they have video footage and then request that they preserve it and give you access to it.
If possible, you should also take plenty of photos of the damage to your vehicle, the other vehicle, damage to surrounding property, your injuries, the other driver's injuries, current road conditions, and current weather conditions.
Starting the day of the accident, begin keeping a regular journal documenting any injuries you have suffered, your day-to-day challenges, and any additional information that your attorney recommends.
How to Prove Your Damages
Once you have established that the other driver's breach of duty of care caused your accident, the final step in your claim is to prove that you were injured as a result of this crash. Here is a non-exhaustive list of some of the evidence that may help you prove this:
Your medical records, such as hospital visits, surgeries or procedures performed, doctors' visits, physical therapy, medications prescribed, and assistive devices
Time missed at work
Testimony from friends or relatives who have observed how this accident has changed your quality of life
To strengthen your case, seek medical attention immediately. By doing so, you can get all of your injuries documented. Additionally, by doing this immediately, you will eliminate one of the classic defenses of defendants. They might claim there is no way to know whether or not your injuries were caused by the accident– because you waited too long to seek medical attention.
Contact our team of Los Angeles motorcycle accident lawyers
Since we opened our doors in 1995, we have been fighting to achieve justice and maximize our clients' financial compensation. We are accustomed to taking on some of the most complex and challenging personal injury cases and achieving excellent outcomes. If you have questions about the evidence you need in a motorcycle accident case, call Salamati Law today to schedule a free consultation with a Los Angeles motorcycle injury lawyer. We work on a contingency fee basis, so there are no upfront legal costs.