With a narrower and lower profile, motorcycles can be difficult to see. When it is in a car's blind spot, even with modern auto safety systems, that difficulty increases. If you've been injured, promptly consult with a Los Angeles motorcycle blind spot accident lawyer. They can help you to assess your right and opportunity to collect damages for your injuries and losses.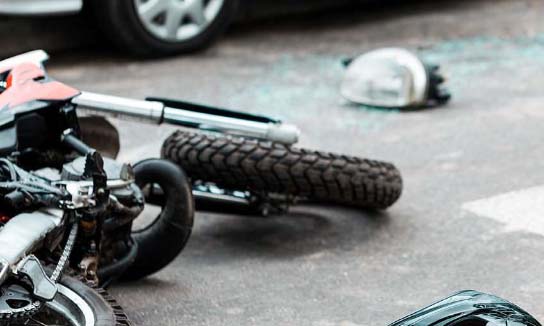 Contact us at Salamati Law to speak with a Los Angeles motorcycle accident lawyer for clear and direct answers to your questions about recovering the compensation you deserve.   
What can a rider do to reduce the risk of a blind spot motorcycle accident?
Most riders know to avoid riding in a car's blind spots, which are the areas immediately to the left and right of the car's front seats. However, if traffic or other road conditions force you to stay in a blind spot, try to alert the motorist with your presence with a "SMIDSY" (i.e. "Sorry Mate I Didn't See You") maneuver. This is where you wobble your front wheel slightly to create a strobe sweeping pattern in the driver's rearview mirror with your headlamp. Further, to reduce injury risks in motorcycle blind spot accidents, wear bright clothing and adequate protective gear and ride as cautiously as possible with the assumption that you are invisible to the cars around you.
How does a motorcycle blind spot accident attorney evaluate a typical accident?
These collisions are only one of several common motorcycle accident causes. Either the motorist or the rider can contribute to the accident by:
Speeding
Driving recklessly or making unsafe lane changes
Driving or riding under the influence of intoxicating substances
Misjudging speed while making left turns in front of oncoming vehicles
Hitting unseen road hazards
Riding into a car door that a driver opens into traffic.
A Los Angeles attorney will carefully peruse all of the facts and circumstances of the case. They will then determine which of these precipitated the accident– as well as what damages the injured rider is entitled to recover from a negligent driver.
What compensation can an injured rider recover from a negligent motorist?
Common motorcycle injuries include:
Head, neck, or traumatic brain injuries
Spinal trauma
Broken and severely bruised bones
Cuts, scrapes, road rash, and deep gashes
Leg and arm injuries, particularly affecting tendons and joints
Whether the rider has a blind spot accident or some other serious riding mishap, they may be entitled to recover compensation for past and future medical expenses, lost wages, occupational and rehabilitation therapy, and pain and suffering.
Will riding in a blind spot preclude a motorcyclist from recovering damages?
Negligent motorists might argue that riders are responsible for reckless driving accidents— when riders fail to pass or get out of the driver's path. An experienced attorney can help riders to defuse these claims. They do this by developing the facts of the case to demonstrate how the rider was operating their bike as safely as possible and how the driver ignored obvious signs of the rider's presence.
It is common for negligent drivers to defend lawsuits with arguments of contributory negligence. A rider's best defense will always be to retain a motorcycle accident lawyer who uses facts to overcome these claims.
Call Salamati Law in Los Angeles if You Have Been Injured in a Motorcycle Blind Spot Accident
Please see our website or call us for a no-fee discussion with an experienced blind spot accident attorney after you have suffered injuries in a Southern California motorcycle accident. We understand the risk and rewards of riding, and we will fight to recover the damages you deserve to get you back on your bike as quickly as is possible.