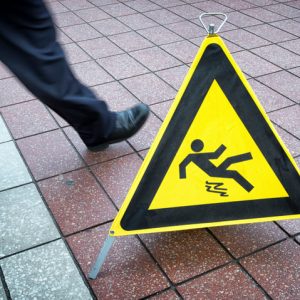 Every year, thousands of people are injured in accidents where they slip and fall due to the negligence of another party. You might slip on a slick surface in a store or office building, because no one has cleaned up rain water or the shattered glass and liquid from another customer's dropped purchase — or any one of the multiple things that cause a slip and fall.
As a result, you might be facing mounting medical bills, time lost from work, and more.
You might be entitled to damages as a result of your injuries from a slip and fall accident. But courts and juries, of course, need evidence. A slip and fall lawyer in Los Angeles will be crucial to making your case.
Evidence Needed for a Slip and Fall Accident Claim
Briefly, you need evidence that you were injured, evidence of the nature of the injuries, and evidence that the conditions were dangerous due to negligence, and that it wasn't simply your own carelessness or actions.
Negligence means that action that should have been taken to make property safe to walk on wasn't taken. Both businesses and private property owners must, under the law, exercise reasonable care to maintain their premises so that conditions are safe. If something happens that may make premises unsafe, such as a broken sidewalk or ice, property owners must take action to make it safe as soon as they know about it. That includes fixing their property, getting rid of ice, and putting warning signs around any unsafe areas.
Here's the evidence you need in a slip and fall, and how to obtain it.
1. Proof of injury
There are several ways to obtain proof of your injury.
First, see a physician right away. If your arm or wrist hurts, for example, they could be broken. Tell your doctor clearly what happened. If you do make a medical claim, the doctor's records and recommendations for treatment can be part of the evidence.
Be sure to keep records of the bills and any other treatment bills, such as physical therapy or medication.
Second, take multiple pictures of your injuries. Remember, you can say you were bruised or had gashes on your arm, but these will go away. You need pictures of them when they were fresh. Use your cell phones camera if you have it, or a friend's camera.
Third, report the incident. If it occurs in a business, talk to the manager in charge or the owner before you leave, if possible. If there is no manager available, call the owner as soon as possible after the accident.
2. Proof of Dangerous Conditions
Second, you also need proof of dangerous conditions.
For this, too, your camera is your friend. Take pictures of the scene from every angle. Was liquid spilled or conditions icy? Make sure everyone who wasn't there can see the conditions.
Second, a report to the owner or manager is needed for this as well.
Third, if you can't find an owner or manager, and the dangerous area is a public hazard, consider calling the police. A broken sidewalk or un-shoveled ice, for example, could imperil many people. They will make a police report, which your personal injury lawyer can use for evidence.
Fourth, if there are witnesses to your accident, talk to them, get their contact information, and take notes on what they say.
When You Need an Experienced Slip and Fall Attorney in Los Angeles
Were you or a loved one injured in a slip and fall accident in southern California? The Salamati Law Firm is experienced and aggressive in premises liability cases. Call us today for a free consultation and speak with a seasoned Los Angeles slip and fall attorney.
Additional Resources:
National Restaurant Association. Don't Trip Up: Preventing Slips and Falls. https://www.restaurant.org/Manage-My-Restaurant/Operations/Back-of-House/Dont-trip-up-Preventing-slips-and-falls
National Safety Council. Slip, Trip and Fall Prevention Training. https://www.nsc.org/safety-training/workplace/slips-trips-and-falls