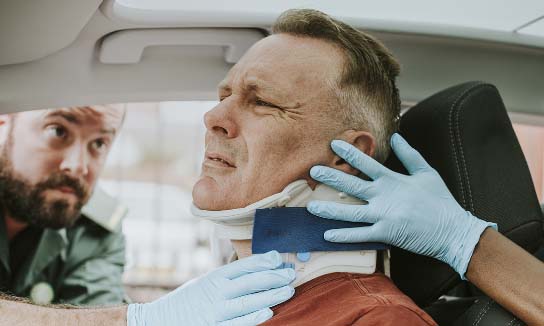 Serious physical injuries happen when we least expect it. From car accidents, and medical malpractice, to a slip and fall, these accidents can upend your life. If you have been hurt due to another person's negligence, a Lancaster personal injury attorney might be able to help.
The victims of negligence have the right to seek financial compensation for their injuries. By making the case that the at-fault party was responsible, it could be possible to secure a monetary award. The attorneys of Salamati Law look forward to helping you fight for the outcome you deserve. We have over 30 years of experience, and we bring all our knowledge and compassion to every case we accept. Contact us today for a free consultation.
Personal injury cases we can handle
A personal injury lawyer in Lancaster, CA, from our firm, has handled many different types of civil lawsuits. Some common examples include:
Car accidents. Motor vehicle accidents cause many injuries in Lancaster each year. These accidents can happen when a driver operates their vehicle while intoxicated, drives faster than the speed limit, or engages in other reckless behavior.
Bus accidents. Bus collisions can lead to devastating injuries not only for the other motorists but also for the bus passengers. A bus accident lawyer can help pursue compensation on your behalf.
Slip and fall accidents. Slipping and falling can be unavoidable in some cases. However, when falls happen due to the property owner's negligence, compensation could be available.
Defective products. Product defects also have the potential to cause serious injuries. These products could be designed for consumer use or commercial purposes.
Medical malpractice. Medical errors can cause devastating illnesses or injuries. These injuries can result from the failure to diagnose your illness or the failure to offer appropriate treatments.
How a personal injury lawyer could help with your case
If you've been hurt through no fault of your own, the guidance you receive from a personal injury lawyer in Lancaster could aid your case in several ways. Our attorneys have a long track record of success with these cases, and we look forward to using our experience to help your claim succeed. Some of the ways we could help include:
Review your case. Building a successful personal injury lawsuit begins with a thorough, in-depth investigation. When our firm investigates your case, we work to identify the person or parties that are responsible.
Advise you. After the investigation, we can provide you with insight into your case. This could include advice on your chances of success or the potential issues that could put your recovery at risk.
Negotiate on your behalf. Many injury cases conclude through a negotiated settlement. While settlements are common, it takes work to secure a reasonable offer from an insurance company. A personal injury lawyer in Lancaster, CA, can help you get the right offer.
Trying your case. Litigation can be necessary for a personal injury lawsuit. When settlements are not an option, our firm could ensure that you are prepared for trial.
Lancaster courthouse details
Several individual courthouses make up the County of Los Angeles Superior Court of California. One of them is located in Lancaster—the Alfred J. McCourtney Juvenile Justice Center. It is located at:
Alfred J. McCourtney Juvenile Justice Center
1040 W Avenue J
Lancaster, CA 93534.
There are several ways to reach the clerk outside of appearing during regular business hours. You can visit them online or call the courthouse at (661) 483-5924. If you need a different facility, contact the North Judicial District of Los Angeles.
Personal Injury Lawyer in Lancaster, CA
Your injury does not have to be a long-term burden. A civil lawsuit could help you address the financial, medical, and psychological hardships. If you are seeking a personal injury or wrongful death attorney in Lancaster, Salamati Law is ready to help. We work on a contingency fee basis, so there are no upfront legal costs. Contact us today for a free consultation.