Motorcycle accidents have the potential to cause severe, life-changing injuries. Many people injured in these collisions cope with health issues, emotional struggles, and financial strain for the rest of their life. The good news is that a civil lawsuit could undo some of those hardships and provide the victim with the quality of life they deserve.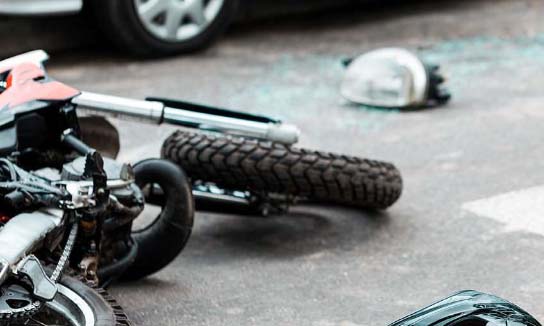 If you are considering a personal injury lawsuit following a motorcycle accident, your choice of an attorney will significantly impact the outcome of your case. If successful, you could recover damages for your lost wages, medical bills, and pain and suffering, among other things. Let an El Monte personal injury lawyer from Salamati Law guide you every step of the way.
Common motorcycle accident injuries
Motorcycle accidents might not be as common as collisions between two or more passenger vehicles, but the outcome of the former is often far more severe. Unlike automobiles, motorcycles provide little in the way of impact absorption during a crash.
Further, riders also face the risk of serious injury when they are thrown from their bikes and strike the ground. If they land in the path of another driver, they could also be at risk of being struck a second time.
Each of these circumstances often leads to severe bodily injuries. Some of the most include:
Cuts, bruises, and lacerations
Internal bleeding
Severe burns
Concussions and other traumatic brain injuries
Broken bones
Eye injuries
Road rash
Sprains and strains
You never have to take on a motorcycle accident case on your own. If you are suffering, an El Monte motorcycle accident attorney can help you recover the financial compensation needed to rebuild your life.
How motorcycle accidents happen
There is any number of factors that will increase the odds of an accident.
Everything from common road hazards to driver error could potentially lead to a crash, and they include:
Drunken driving
Driving too fast for conditions
Following too closely
Street racing
Failure to yield the right of way
Not every motorcycle accident will result in a monetary award. To recover damages, you must establish that the negligence of another party was responsible for your injuries. The guidance of a motorcycle accident lawyer in El Monte will be invaluable during your personal injury case.
Learn about your options following a car accident
A free consultation with Salamati Law is a valuable opportunity to learn about your legal options and discover how our firm could help. If you have never been through this before, you likely have many questions that we are happy to answer. Also, during your consultation, you will have the opportunity to inquire about the value of your claim. While no attorney can tell you precisely what you will recover from your case, our firm can evaluate it and advise you what it could be worth.
Your initial consultation also gives you the chance to learn about the legal process in general. We walk you through each step of a claim, including the potential for a lawsuit. Remember, your consultation is free, and you have no obligation to hire us when our meeting is over. However, we are confident you will see our experience and skill could be invaluable to your case.
Reach out to us following an El Monte motorcycle accident for a free consultation
You do not have to let the injuries stemming from a motorcycle accident haunt you for the rest of your life. By pursuing a civil lawsuit against the person who caused it, you could recover compensation that could dramatically reduce the financial strain that you are under.
Our team at Salamati Law is ready to help you get the most out of your personal injury lawsuit. For a free consultation with motorcycle accident lawyers in El Monte, call right away.