In El Monte, cycling is a popular form of transportation and exercise. The San Gabriel River Bike Path that winds along the Rio Hondo River is only one of many that offers spectacular views and relaxation. Yet, it can be significantly more dangerous to cycle out on the streets of Los Angeles County. Recently a 72-year-old man was struck and killed by a motor vehicle. If you've been hurt in a bike accident, contact us at Salamati Law for a free consultation. We are compassionate advocates for our clients who are injured due to the negligence of other parties.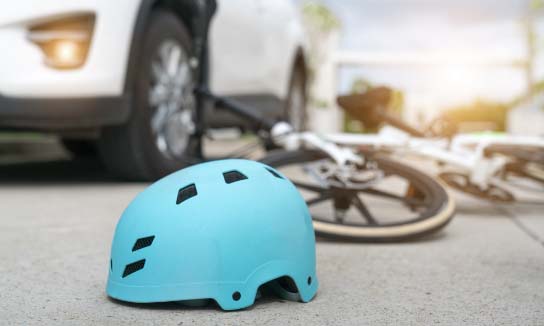 How Dangerous are Bicycle Crashes?
While some bike crash victims may be fortunate and incur minor injuries, others may be so severely hurt that their lives– and the lives of their families– will never be the same.
An experienced El Monte bicycle accident lawyer knows that the following are common injuries:
Lacerations and cuts
Organ damage
Internal bleeding
Bone fractures or breaks
Sprained or torn ligaments
Spinal cord, back, or neck injuries
Head injuries such as Traumatic Brain Injury (TBI)
Paralysis
Amputations
Permanent scarring or disfigurement
How Do I Win My Case?
If you are injured in a bike accident caused by the negligence of another person or entity, you may have grounds to recover financial compensation. You can do this by filing a bicycle crash claim. To prevail, your El Monte bike accident attorney will need to prove that another party was negligent by a preponderance of the evidence.
This means that it was more likely than not to be true. The following are the elements included in a negligence claim:
The defendant owed you a duty of care. All motorists owe bicyclists a duty of care to share the road safely.
The defendant breached this duty of care. Perhaps the defendant was following you too closely, or maybe the defendant ran through a stop sign.
This breach of duty is what caused your accident. Maybe the defendant was following you too closely and then rear-ended you, or perhaps the defendant crashed into your bike after running the stop sign.
You were injured as a result of this crash. You may have suffered a severe TBI or a spinal cord injury.
Negotiating with Insurance Companies
Insurance companies are businesses singularly focused on their bottom line. An insurance adjuster's top priority is to minimize the financial compensation you receive. They will often contact a bike crash victim as soon as possible following the accident. They know only too well the chaos, confusion, and financial instability that follows an accident.
The adjuster may offer you a lump-sum settlement offer. It can be tempting to accept it because it promises fast cash— which you may need to offset some of your medical bills and other financial obligations. However, if you accept this offer, you will forego your legal rights related to this claim. Further, these early offers are almost always far below the true financial value of your claim.
How an Attorney Can Help a Bicycle Accident Victim
At Salamati Law, we recommend consulting with us before accepting any settlement offers. We can help explain your legal rights, who is liable, the strengths and weaknesses of your claim, any looming legal deadlines, and the approximate financial value of your claim. Once you have completed this consultation, you will understand what constitutes a fair settlement offer and  if you choose– begin working with an El Monte bicycle accident attorney.
Tap Here to Call Our Office Now
Contact a Bicycle Accident Attorney in El Monte, CA, for a Free Consultation
For over a quarter of a century, we have been pursuing justice for injured victims who need and deserve it most. We aggressively fight for maximum financial compensation on behalf of our clients.
If you have been injured in a bicycle accident, call Salamati Law today to book a zero-cost case review with an El Monte personal injury lawyer. Because we work on a contingency fee basis, you will never receive a bill unless you win your case.