Despite all of the benefits of riding your bike to work or for recreation, many cyclists know it is terrifying when a vehicle crashes into you. Obviously, this type of collision can cause serious injuries. Contact an experienced bike accident attorney in Carson at Salamati Law for a free consultation– if this has happened to you. Our client-focused advocacy can help you get the damages you need to recover and rebuild your life.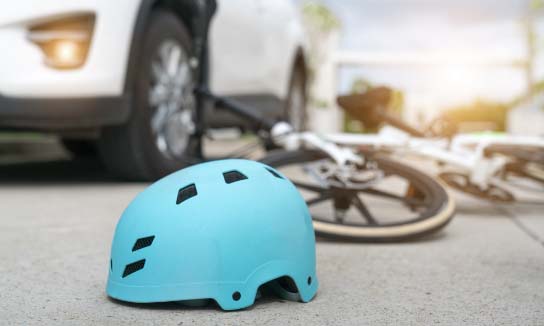 Common Types of Bicycle Accidents
Here are some of the most common types of bicycle crashes:
Violating traffic laws. such as speeding, running a red light or a stop sign, distracted driving, unsafe turns, unsafe lane changes.
Lack of visibility. Drivers are usually more focused on other motor vehicles and do not see the bicyclist until it is too late.
Road rage or aggressive driving. Some motorists quickly become agitated if they feel a bicyclist is going too slow and causing too much delay. If a driver tailgates you to compel you to speed up, it can cause a collision between the two.
Driving while under the influence of alcohol or drugs. Impaired judgement leads to many accidents.
Collisions with a vehicle's open door. Some motor vehicle occupants fail to check whether or not it is safe to open their door just as a cyclist is passing alongside them.
What Can I Do to Maximize My Financial Recovery?
If you are injured in a bike crash, you may have grounds to file a bike accident lawsuit with a Carson bike accident lawyer and pursue compensation. There are some steps that you can take to help maximize the amount of your financial recovery. Here is what to do next after your crash:
Call the police and file an accident report with them
Seek medical attention as soon as possible. If you fail to do so, the defendant may poke holes in your case. For example, they could claim you are either exaggerating the severity of your injuries or that they were not sustained in this crash.
Gather the contact information of anyone who may have witnessed the accident.
If possible, take pictures of your injuries, any property damage, the location of the crash, current traffic conditions, current road conditions, and the weather. Also, images of nearby businesses and homes can be helpful—as they may have surveillance cameras that may have captured the accident.
Limit your use of social media. Do not post about the accident or your injuries on social media. Ask friends and family not to tag you on their page.
Consult with an experienced Carson bicycle accident lawyer as soon as possible. Do not accept any settlement offers from the insurance company. A consultation with a bicycle accident attorney in Carson can make a difference by informing you about bike crashes and statistics and what a fair settlement would be in your case.
Contact Us Today for a Free Consultation
At Salamati Law, our attorneys know the physical, emotional, and financial pain that a bike crash can create. Since 1995, we have stood shoulder-to-shoulder with injured victims here in Carson in our pursuit of justice. If you have been injured in a bike accident, call us today to book a cost-free consultation with a Carson personal injury lawyer. We will never send you a bill unless you win your case.