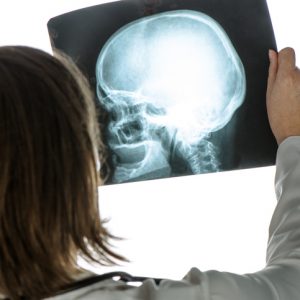 Traumatic brain injury (TBI) is a major cause of mortality and long-term mental and physical disability in the United States. The three major causes of brain injury are motor vehicle accidents, falls and firearm injuries.
Due to their complex nature, traumatic brain injuries do not heal like other types of trauma to the body. Whereas a broken bone will eventually heal and regain function, the degree of recovery from a brain injury is never certain. People who suffer "minor" TBIs – such as a concussion – may heal completely and experience no lasting side effects.
On the other hand, a moderate to severe brain injury can have a host of negative consequences, impacting nearly every facet of the victim's life. Some people experience cognitive deficits, memory problems and emotional instability. Others may have limited speech abilities, personality changes, or diminished motor control and mobility.
Brain injury linked to psychotic disorders
According to a 2004 cohort study published in the British Journal of Medical Practitioners, there is a higher rate of mental illness following brain injury. Researchers found evidence of psychotic disorders in nearly 50 percent of patients who suffered moderate to severe TBI, and 34 percent of the mild TBI group had evidence of mental health problems.
Needless to say, the long-term effects of TBI are often profound in nature, affecting not only the survivors, but their families and loved ones. The Brain Injury Association refers to traumatic brain injury as "the silent epidemic" because many victims have few notable symptoms following a closed head injury. Symptoms are diverse and may impair sensory functions, thinking ability, reasoning, information processing, physical functions and language.
Prevalence of TBI
The Center for Disease Control and Prevention reports that every day, and average of 153 Americans die from injuries caused by TBI. The following brain injury statistics from the CDC reveal the magnitude of the problem.
Traumatic brain injuries contribute to 30 percent of all injury-related deaths in the U.S.
In 2013, traumatic brain injuries were responsible for 2.8 million emergency department visits, hospitalizations and fatalities
In 2012, nearly U.S. 330,000 children were treated for TBI caused by for sports and recreation-related injuries
An estimated 1/3 of all children (under the age of 19) who sustain moderate to severe TBI are left permanently disabled
From 2007–2013, the incidence of TBI-related emergency room visits increased by 47 percent
Motor vehicle accidents are the leading cause of TBI-related hospitalizations for people 15-44 years of age.
Motor vehicle collisions are responsible for the largest percentage of TBI-related deaths (31.8 percent)
Any type of event that jolts the brain inside of the skull can result in TBI. Today an estimated 1.7 percent of the U.S. population is living with long-term impairments caused by traumatic brain injury. The financial demands of recovering from TBI are incredibly high – easily reaching six figures. When negligence plays a role in the injury, victims may entitled to compensation to pay for medical bills, lost income, rehabilitation and other injury-related expenses.
Los Angeles head injury lawyers
The Salamati Law Firm understands the economic burdens placed on TBI victims and their families. Our head injury attorneys accept challenging claims that other firms shy away from. Leveraging our in-house resources and legal expertise, we fight for maximum damages for your injury and losses. We are proud to offer superior legal representation to personal injury victims and have served residents in the greater Los Angeles area for over 20 years.
Our multi-lingual legal team speaks Spanish, Farsi, Thai, Mandarin and Armenian. Call today for a free consult with a Los Angeles traumatic brain injury lawyer at our firm.
Additional Traumatic Brain Injury Resources: