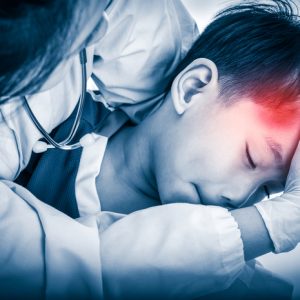 The sports concussion lawyers at The Salamati Law Firm in Los Angeles understand how the damaging effects of head and brain injuries can persist long after the injuries have occurred, particularly if they are not treated properly. We know that younger athletes who are still developing their athletic skills might feel pressured to continue to push through an injury, which only worsens the problem. That's why our personal injury attorneys have made it their mission to determine who is legally liable for the medical costs, personal expenses, and damages associated with traumatic brain injuries caused by sports injuries.
Fans of professional football are probably aware of the long term disabilities suffered by athletes who experienced concussions during their playing days. This problem is not limited to professional athletes and sports leagues, and other groups are now taking steps to reduce the incidents of these injuries. In California, for example, a law went into effect on January 1, 2017, that dictates new safety protocols for school-aged athletes. The protocols are designed to educate coaches and other youth sports league managers on concussion risks and to recognize the symptoms of brain injuries.
Laws can raise awareness of the problem, but they will not eliminate it altogether. If your child has suffered a concussion injury during sports activities, we invite you to contact our Los Angeles brain injury lawyers for a free, no-obligation consultation to determine how much your case might be worth.
Sports Concussions Can Have Long-Lasting Effects
The attorneys at The Salamati Law Firm understand that a younger athlete's brain continues to develop into his or her twenties. Traumatic brain injuries that occur during the athlete's teen years can have long-lasting effects that may not be apparent at the time of or shortly after the injury. Consideration of those injuries is crucial for a full assessment of any sports concussion settlement.
Highest-risk Sports for Concussions in Children and Teenagers
Traumatic brain injuries among young football players become more of a problem when young athletes with different abilities play in the same youth sports league. A child or teenager who is more physically mature than other youth athletes on the team can elevate the danger for those other athletes who are unable to protect themselves or react quickly in full-contact playing conditions.
Children and teens have commonly reported concussions resulting from the following activities:
Football
Bicycling
Skiing
Snowboarding
Skateboarding
Soccer
Basketball
Helmets and proper safety gear can reduce the incidents of brain injuries, but the risks of those injuries will remain in any situation where young athletes might collide with each other or with stationery objects when they participate in their sports.
Short- and Long-term Effects of Concussions
Over both the short- and long-term, a traumatic brain injury can impair a young athlete's memory and reasoning, sight, and physical balance. An athlete who has experienced a concussion, where his or her brain has been jarred or jostled, might also have trouble talking, experience depression or anxiety, and feel anger, hostility, or other personality changes.
Serious concussions can make an athlete very sensitive to light, forcing the athlete to remain secluded in darkened rooms until symptoms abate.
Risks of Permanent Disabilities from Traumatic Brain Injuries
Even athletes in their early twenties who have experienced repetitive brain injuries can exhibit signs of chronic traumatic encephalopathy (CTE), which is a degenerative brain disease that most frequently takes a serious toll on its sufferers in their 30's and 40's. A recent study revealed that more than 87% of all football players and 99% of professional football athletes show CTE symptoms. Sufferers of CTE experience serious memory issues, personality disorders, and depression. 
Sports Concussion Recovery Protocol
The U.S. Centers for Disease Control and Prevention recommend that athletes who have suffered even a mild concussion should get rest and avoid physically demanding and mentally taxing activities. A second blow to the head in a sporting contest can lead to an even greater concussion that increases the chance of a longer-term brain injury.
No person who has had a concussion should return to all normal activities until a medical professional has verified that the concussion's symptoms have fully subsided. Younger athletes in particular should get plenty of sleep and avoid activities that increase the risk of another head injury.
Sports Concussion Lawsuits and Settlements
In 2014, a group of California parents and players sued FIFA and the American Youth Soccer Organization (AYSO) in a class action lawsuit, alleging that those organizations had been negligent in implementing their concussion protocols in the youth sport arena. Individual sports concussion lawsuits in other states followed more specific fact patterns. For example:
A school board in Florida settled a brain injury case for $2 million in 2016 after a high school football player sustained a head injury during practice while he was not wearing a helmet. The boy's coach and athletic director allegedly gave him only a cursory evaluation after he sustained the injury, left him alone in a locker room, and allowed him to drive himself home afterwards.
Also in 2016, a high school football player in Texas sued a school district when his coaches allegedly did not follow established concussion protocols and pressured him into continuing to practice.
A Connecticut case in 2016 alleged that coaches and athletic directors did not adhere to state-mandated sports concussion protocols when a cheerleader fell and hit her head on a hard gym floor during practice.
These and other cases suggest that athletic trainers and coaches are being held to a higher standard for recognizing signs of traumatic brain injuries and concussions, and that failing to do so will expose their employers to negligence liability.
The Florida case that settled for $2 million further reveals the damages that an injured athlete might recover in the event of a traumatic brain injury.
Neurological effects of brain injuries may not manifest until weeks or months following the event that caused them. An experienced traumatic brain injury lawyer can help an injured athlete and his or her family to understand the scope of a potential case and to secure the full amount of damages they are entitled to. Our attorneys use their extensive experience crunching the numbers to estimate how much money an injured youth athlete will need to treat the effects of a brain injury both now and in the future.
Los Angeles Sports Concussion Lawyers Who Will Fight for Your Rights
The Los Angeles brain injury and sports concussion lawyers at the Salamati Law Firm represent clients throughout California who have suffered personal injuries as a result of another party's negligence, including negligence that relates to a failure to follow concussion protocols like those in California law. We have the knowledge and experience to demonstrate how a traumatic brain injury can have chronic effects that might require lifelong medical care and treatment.
If the youth athlete in your family has experienced a sports concussion or other traumatic brain injury, do not take chances with his or her future. Contact the Salamati Law Firm for professional representation that will help the injured athlete to recover full compensation for that injury.
Additional Sports Concussion Lawsuit Resources: