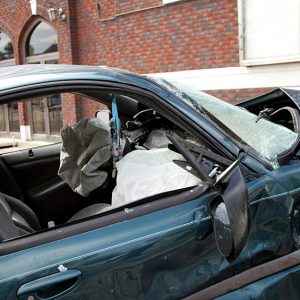 Intersections are one of the most dangerous areas motorists encounter. Why? Because intersections are sites of high rates of accidents and fatalities. Every year traffic accidents result in 32,000 fatalities and 2 million injuries. One-quarter of the deaths and about half of all injuries occur at intersections.
The U.S. Department of Transportation refers to intersections as "conflict points." What that means is that the routes of multiple vehicles cross, separate or join at intersections, along with the routes of bicyclists and pedestrians.
Intersection Accidents in Southern California
How do accidents at intersections happen?
Collisions with side impact, often referred to as "T-bones." These are most frequent if a driver goes through a red light and hits a motorist whose light has turned green. Some drivers try to beat a yellow light before it turns red and don't succeed. Other times, drivers simply blow through a red light.
Collisions in which one vehicle side-swipes another, often if one or both are turning.
Head-on collisions, especially if one vehicle is turning across traffic.
Rear-end collisions, frequently because the driver following the rear-ended car is distracted or because the first car stops suddenly at a red light or stop sign.
Collisions with pedestrians and cyclists, often because the driver is focusing on the turn and doesn't register the presence of a pedestrian or cyclist until it's too late.
Collisions at rail crossings. These are special types of intersections, and collisions between trains and vehicles can be fatal to the occupants of the vehicle.
Common causes of intersection crashes
In addition to the ways that accidents happen, drivers need to focus on why intersection accidents happen.
The two most frequent causes are ignoring safety precautions and reckless behavior. In urban traffic, for example, drivers often try to beat a red light. Drivers may also ignore yield signs and stop signs.
Driving too fast into an intersection is another common reason for intersection collisions.
Poor visibility at night or inclement weather may also contribute to intersection accidents.
Motorists should always drive defensively. Follow an adequate number of car lengths behind the car in front of you. Obey the speed limit. Slow down at intersections, and obey all safety signals. Never try to run a red light or stop sign. Don't drive distracted, using your phone or texting.
Seasoned Car Accident Attorney in Los Angeles
Traffic accidents, at intersections and elsewhere, cause too many deaths and injuries in southern California every year.
If you or a loved one has been the victim of a car crash due to someone's negligent or reckless behavior, we can help. Please call the Salamati Law Firm today at 800-957-9898 for a free initial consultation with a car accident lawyer Los Angeles trusts.
Additional Resources on Intersection Accidents:
United States Centers for Disease Control and Prevention. Motor Vehicle Crash Deaths. https://www.cdc.gov/vitalsigns/motor-vehicle-safety/index.html
United States Department of Transportation. Federal Highway Administration. Intersection Safety. https://safety.fhwa.dot.gov/intersection/