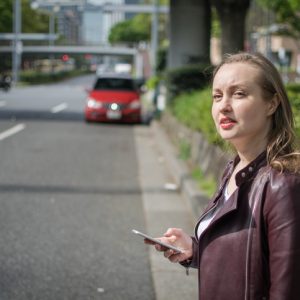 Thanks to ride-sharing apps like Uber and Lyft, all you need now to flag down a ride is a smartphone. But which one is best? Consider the following Lyft vs. Uber comparisons when making your choice.
Scheduling a ride in advance
Lyft and Uber are both relative newcomers, although they've both had jaw-dropping growth. Because of this, and because these companies are engaged in fierce competition with each other, their policies are likely to evolve frequently. For instance, both recently introduced a new policy that allows riders to schedule rides in advance.
Lyft enables riders to schedule rides up to seven days ahead of time. As soon as the ride is scheduled, the rate is locked in, and riders don't have to worry about rate increases. The ride can be canceled without a fee up to 30 minutes before the time window. After that, there's a $10 cancellation fee.
Uber's new advanced scheduling feature allows riders to request a ride anywhere from 15 minutes in advance to 30 days. However, Uber doesn't guarantee that a rider will connect with a driver, even for a scheduled ride.
Requesting different car options
Both Uber and Lyft offer different vehicle options. Lyft has two main choices: Lyft and Lyft Plus. Lyft Plus just means that you'll get a vehicle that can accommodate up to six passengers. There's another option, called Lyft Line, which is a carpool choice that will pair you with another rider whom you don't know. Uber has a similar carpool feature, called Uberpool.
Compared to Lyft, Uber has more types of ride experiences available. The most commonly used are UberX, UberXL, and UberBlack. UberX and UberXL are both casual ride experiences. Feel free to sit up front and chat with the driver. UberXL is a larger car for group transport. UberBlack will get you a professional chauffeur in a black luxury sedan.
Select cities offer additional options, like UberLux, which is exclusively for Los Angeles residents and visitors. UberLux features upscale vehicles, including Rolls Royce and Tesla. UberAssist, also available in just a few select cities, are for riders who need assistance or need to accommodate a wheelchair.
Paying your driver
From requesting a ride to paying your driver, the entire experience for both Lyft and Uber is meant to be completed inside the app. When you set up your account within the app, you'll save your payment method. Uber strongly discourages cash payments, and Lyft strictly forbids them. Instead, the app will charge your account when your ride ends. Lyft drivers are forbidden from accepting cash tips—they must be tipped within the app. Uber drivers may be tipped electronically, or they can accept cash tips.
What happens if my Lyft or Uber driver gets into a crash?
Ridesharing car accidents venture into complicated legal territory. You'll need to find a seasoned lawyer who can help you sort through the issues, and get you the compensation you deserve. To request a free consultation with an experienced car accident lawyer in Los Angeles, call our offices right away. The Salamati Law Firm is here to help. We'll talk you through your legal options, which may include filing a lawsuit or negotiating a ridesharing accident settlement.
Additional Resources for Uber and Lyft Accident Victims:
Time, My Uber Got Into a Wreck. Can I Sue? http://time.com/money/4851877/my-uber-got-into-a-wreck-can-i-sue/
Uber, In Case of an Accident, https://help.uber.com/h/039f5d2f-1361-4d63-98f3-3474e625575b