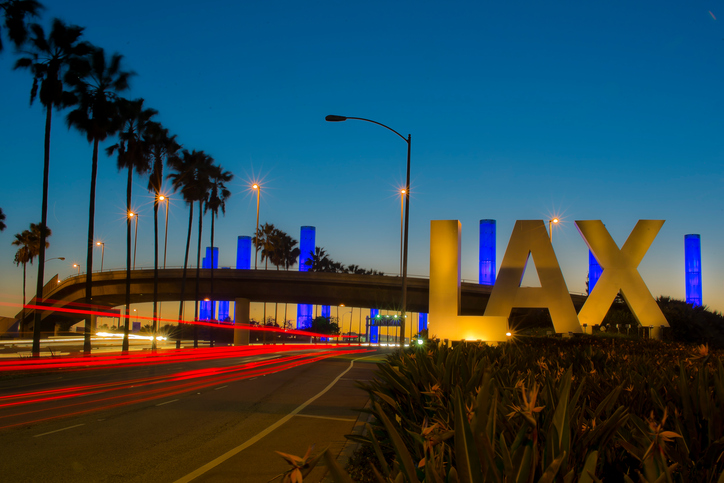 Air travel can be exceedingly frustrating, especially when you're flying in and out of Los Angeles. Serving more than 72 million passengers each year, LAX is the world's 5th busiest airport and the second most trafficked in the U.S. While long check-in and security lines can be a nightmare, getting to and from LAX has gotten much easier, thanks to ridesharing services like Uber and Lyft. In recent years, taxicab drivers in L.A. — like those in countless other cities — have struggled keep up with this new competition and lower fares.
Last August, LAX eased regulations on ride-sharing companies to help reduce the traffic that so often congests the terminal loop, giving Uber and Lyft users shorter waiting times in the process.
Ride-hailing services continue to gain traction, becoming the most popular mode of transportation at the SFO and Oakland airports introducing the potential for car accidents for Uber and Lyft. Here are three reasons why ride-hailing is the smarter choice at LAX.
Save big bucks
It comes as no surprise that lower prices will win over customers. When you consider that the base taxi fare between LAX and downtown is a flat $46.50, plus a $4 surcharge and tip, it pays to shop around. Taking an Uber or Lyft instead of a taxicab from LAX has the potential to net you $15-$35 in savings, depending on your final destination. You will still pay a $4 pick-up or drop-off surcharge, but a tip is not mandatory or expected with Uber drivers, keeping things simple if you have little cash on hand. Your fare is automatically charged to your debit or credit card.
For steeper cost savings, UberPOOL lets you share a ride with someone going in the same direction, essentially cutting your fare in half. UberPOOL allows one companion per ride and is a convenient and cheap way to get to or from LAX.
Shorter wait times
During holidays and other peak travel times, the wait lines for LAX taxicabs can be ridiculously long. If you're eager to get home quickly, hailing an Uber just got faster. Lyft and Uber drivers who have just completed an airport drop-off are instantly notified of arriving passengers who request a ride. Not only does this minimize wait times, airport authorities believe that by reducing the number of airport trips ride-sharing drivers make each day will help ease traffic in the terminal loop. In many cases, Uber and Lyft passengers are picked up curbside in under 5 minutes.
Better customer experience
Ridesharing drivers are very eager to please in exchange for a top-notch rating. If you have never taken an Uber, you may not be aware that upon reaching your destination, you can rate your driver, giving them from one to five stars. This rating affects the driver's overall score and helps determine their future success and ability to get passengers. Beyond this, Lyft and Uber drivers are generally known for their friendliness and engaging conversations, with some keeping drinks and snacks on hand for passengers. Ratings are also based on the cleanliness of the vehicle, which is often questionable in taxis.
If you were hurt in a ridesharing accident in California, legal compensation may be available. Learn more about your options for legal recourse by calling Los Angeles car accident lawyer Sean Salamati. For more than two decades, The Salamati Law Firm has been advocating for auto accident injury victims throughout the greater Los Angeles area. Arrange a complimentary case review by calling today.
Read More on Uber and Lyft accidents:
Read More on Ridesharing Services at LAX:
LA Mag, LAX Just Made It Easier to Catch a Lyft/Uber from the Airport http://www.lamag.com/culturefiles/lax-lyft-uber-from-airport/
Daily Breeze, LAX changes the way Uber and Lyft do business at the airport https://www.dailybreeze.com/2017/08/28/lax-changes-the-way-uber-and-lyft-do-business-at-the-airport/
Uber, Ride with Uber Los Angeles International Airport (LAX) https://www.uber.com/en-CR/airports/lax/