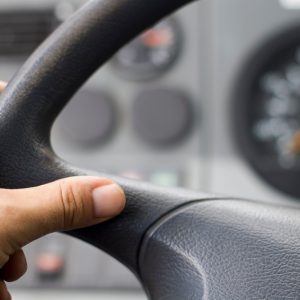 Great pay, benefits, job security — these are just some of the advantages of a career as a truck driver. For those who have a longing for the open road and a constant change of scenery, this occupation is highly attractive. But before you can get behind the wheel of a big rig, you need a truck driver's license. So how do you get a truck driver's license in California?
You Need a Commercial Driver's License
Anyone who drives a truck for a company in California needs a commercial driver's license (CDL). These are different than the standard driver's license that allows you to drive a personal car, van, or pick-up truck.
CDL licenses come in several different classes (A, B, and C), which depend on the weight and size of the truck and the materials carried in it.
While a CDL and a personal driver's license are two different things, many of the steps you take to obtain a CDL are analogous to getting a driver's license. Briefly, you need to pass a written test, obtain a permit, practice on the same type of vehicle you are going to drive, pass a driving test, and obtain several certifications.
CDL license-holders must be 18 years old, at a minimum.
Written Test and Permit
For the first step, you'll have to go to the California Department of Motor Vehicles (DMV) and apply for a CDL permit. You'll need to obtain the California Commercial Driver Handbook and study it in order to pass the written test.
When you are familiar with the Handbook, it's time to complete an application and take the test. Visit a DMV office. You will need to fill out an application. You'll need proof of your name, age, and Social Security number. Check the DMV website to make sure you have an updated list of acceptable forms of ID, as they may change.
You will need to submit a medical examiner's certificate saying you are healthy enough to drive as well. A doctor needs to sign the form. A doctor of osteopathy (D.O.), licensed physician assistant (P.A.), chiropractor, or advance practice registered nurse are also legally allowed to sign off on these forms.
If you pass the test, you can move on to the next step.
The Driving Test
Learning to drive a truck is like learning to drive a car. You need to practice driving under the supervision of someone who already knows how.
Once you have a permit, you will need to practice driving the type of truck you will get a license for, under a currently licensed CDL holder. There are many schools that offer driving certification. Your employer may offer it if you work for a trucking company.
Need a Los Angeles Truck Accident Lawyer?
Getting a truck driver's license in southern California can be time-consuming and requires a lot of work and dedication.
But what if, after all this work and dedication, you have an accident in the truck? Or what if you or a loved one has been injured in a Los Angeles-area truck accident?
Truck accidents can be especially serious due to the size of the vehicles and the weight of the load. If you need an experienced truck accident lawyer in Los Angeles for any reason, contact the Salamati Law Firm at 213-372-0218. We will provide a consultation at no charge.
Additional California Truck Driver's License Resources:
DMV.com. Apply for a California Commercial Driver's License (CDL). https://www.dmv.com/ca/california/cdl-commercial-drivers-license-application
State of California Department of Motor Vehicles. Commercial Driver License Information. https://www.dmv.ca.gov/portal/dmv/detail/commercial/commercial